Tour of The Mouse For Less Download Section
|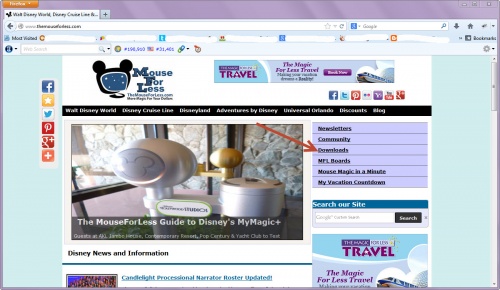 The Mouse For Less website has a ton of helpful information!  It also has a lot of downloads that are fun to help prepare for that next Disney trip, help remember that Disney trip, or even downloads to help teach your child or grand child to write.  I know I have shared a few of these resources with you in previous posts before, but this time, I want to do a quick overview of everything that is available.  I was using The Mouse For Less resources a long time before I started writing here.  I'm not sure how I found the website, but I was so thankful that I did.
Now, I'm going to share some screenshots with you.  They may be a little difficult to read, so why don't you open a second browser window to http://www.themouseforless.com/ and follow along step-by-step through the screens.  With the second window open, you can keep your place on this post while you explore the different options.  That way, you can peek back here to see what else I'm sharing.  So, let's start at the very beginning.  From the main page, you will click the "Downloads" link where the red arrow is pointing in the screenshot above.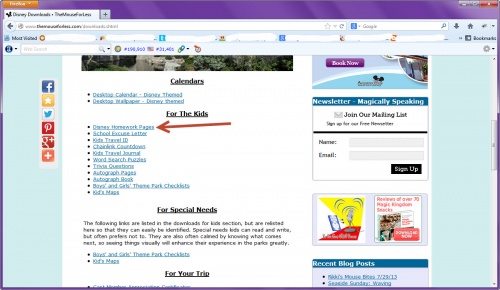 At the top of the downloads page, you'll see a cute graphic about our Free Disney Downloads.  Just below the graphic, you'll see the list.  What you see in the picture above is really only about half of the list of topics!  One of my favorite pages from the For Kids section (and the one I'm going to focus on below) is the option by the arrow:  Disney Homework Pages.  There some other downloads you will want to see in this section, though.   You'll love the travel journal pages!  Are you going to be taking your child out of school for your trip to Walt Disney World?  Check out our sample School Excuse Letter.  There's also autograph pages, word search puzzles, and more.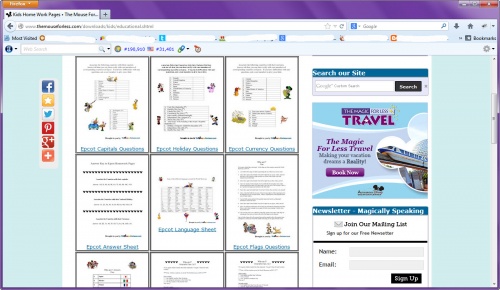 At the top of the Disney Homework Pages, there are several pages about the different countries at Epcot.  These pages are a great learning tool to teach your children about the different countries.  They can be taken along to be completed at the park, or they can be done during trip preparation.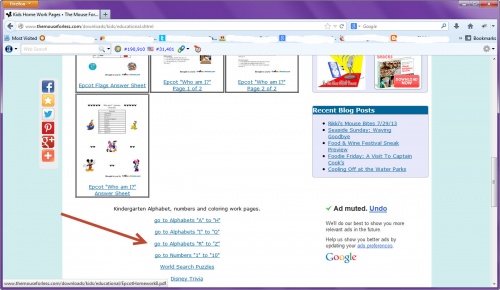 If you scroll down past the Epcot pages, you'll see a list of pages.  Do you have a child who loves Disney and is learning how to print or needs a refresher?  Then, you need these sheets!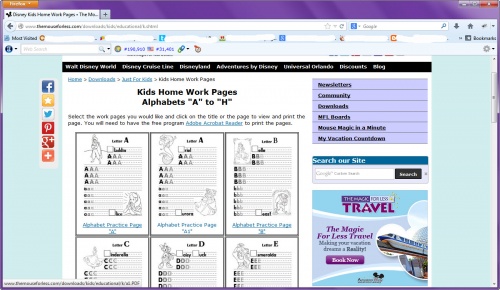 My son learned how to print with these pages.  They were the only lettering pages that he would work on.  Each sheet has a couple of Disney characters with names that start with the letter on the page.  For instance, one of the sheets with "A" on it has Ariel.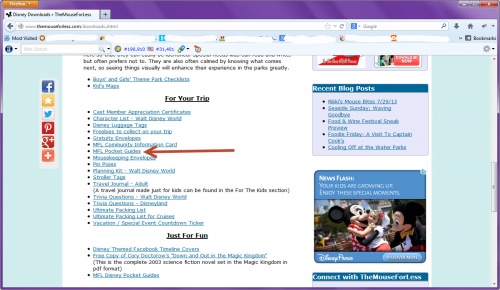 Now, we are going to back up one level to the Downloads page with the list.   When you scroll down below the For Kids section you will find the For Your Trip section that contains adult trip journal, luggage tags, and the ultimate packing list among other things.  One of my favorite from this list is the MFL Pocket Guides.  Ok, my kids love these, too!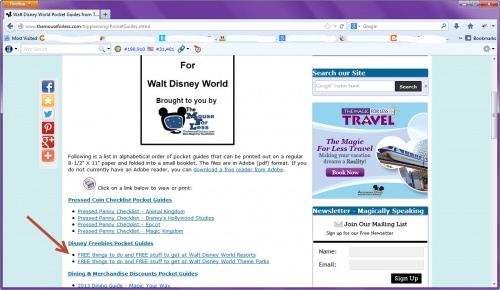 Make sure you click over to this page because I'm only highlighting the two new Pocket Guides:  FREE things to do and FREE stuff to get at Walt Disney World Resorts and FREE things to do and FREE stuff to get at Walt Disney World Theme Parks.  There are so many more on a variety of subjects, all Walt Disney World, of course.  I know my kids will be asking me print off some new ones before our next trip.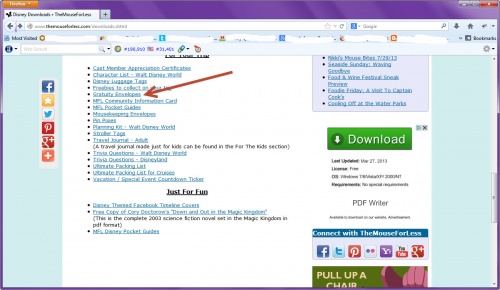 From the main Download Page, you'll see the Gratuity Envelopes option under the For Your Trip section.  These are definitely for the ultra-planner who wants to have everything in place, but the kids enjoy getting these ready, so I'm sure we will use them again.
I hope you will peruse the different options we have to help you plan your trip and/or keep the magic alive at home.
Similar Posts:
Incoming search terms:
disney kids travel journal