Monsters University Storybook Deluxe
|
I received this app free of charge for the purpose of this review.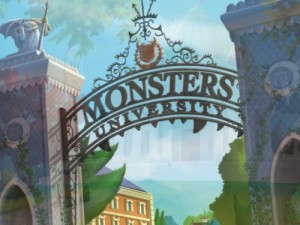 Monsters University…  Who else is eagerly waiting to see this movie when it comes out?  My family certainly is!  When I downloaded the Monsters University Storybook Deluxe app on my iPad, the iPad quickly disappeared from my hands.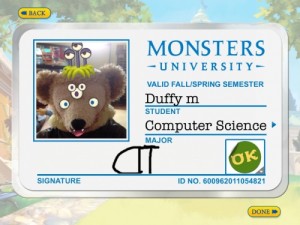 Soon, I heard the kids talking about their Monsters University ID.  Each university student should have an ID, and making an ID is the first step in this app before the story.  My son has made many versions of the Monsters University ID.  He uses his own pictures, and he likes to use his stuffed friends, too.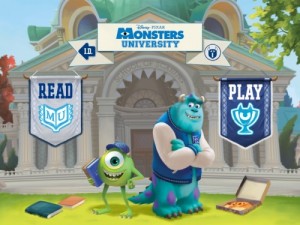 After the ID is finished, it is time to decide whether to read the story or play.  I prefer to start with the story.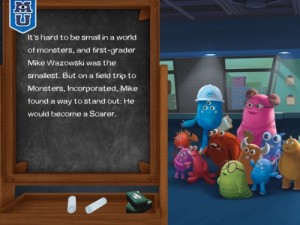 The story is like many of the storybook deluxe apps in that the story is in print and read aloud.  There are both still pictures and video clips used in the story.  One of the special effects that I like is the realism of the chalkboard.  When it is moved to change the page, it swings naturally, up-and-down.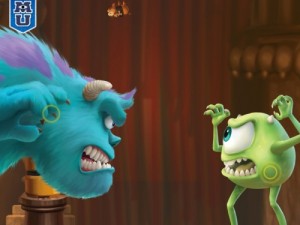 Also, like many of the storybooks, there are circles that appear on some pages.  Touch the circles, and there are extras like movement or extra words in the characters' voices.  Watch out for Archie poking his face in the picture.  If you can touch him, he will run along the screen as you can see above.  Sometimes, he is chased.  Yes, I may be easily amused, but kids really like this, too.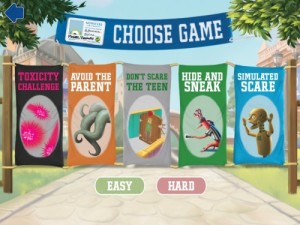 After I finished the story, it was on to the games.  All the games are similar but with different props.  I played a few of them, and yes, it did take me a little bit to realize that I could actually avoid some of the obstacles by running on the ceiling.  Some of the games may seem harder than others, but each one has an "easy" and "hard" setting.
I like Monsters University Storybook Deluxe.  If your kids liked Monsters, INC., they will probably like the Monsters University Storybook Deluxe.  This app sells for $6.99 and is available for iPhone, iPod Touch, and iPad.  Make sure to verify that your device and iOS version is compatible before purchasing.
Disclosure:  I received this app free of charge for the purpose of this review.  I received no other compensation from Disney, nor was I required to write a positive review.  All opinions are mine. 
Sponsored Ad:  Would you like to help support The Mouse For Less website in continuing their mission of being THE Disney vacation planning resource?  You can do so by purchasing Monsters University Storybook Deluxe from our affiliate link.
Similar Posts:
Incoming search terms:
monsters university storybook deluxe
www universitystorybook com