Disney Junior Magazine Is Now Digital!
|
Disney Publishing provided me with a free issue for the purpose of this review.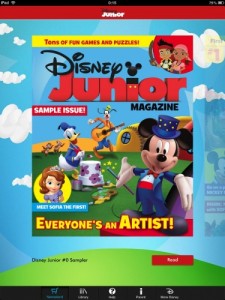 Over the years, I have purchased Disney magazines for both of my kids.  From Disney Princesses to Cars, my kids have learned to read and write with these magazines.  The one downfall to the Disney magazines is that they don't come every month, and it is hard to wait for the next issue.  Now, there is another option for Disney Junior Magazine, and I hope their other magazines follow suit.
The Disney Junior Magazine is now available in a digital format for the iPad and iPad Mini!  Even better, it is now available monthly on the 4th Wednesday of the month!  Now, my son won't have to ask me when his magazine is coming.  It will come on a schedule, and he can check it for himself.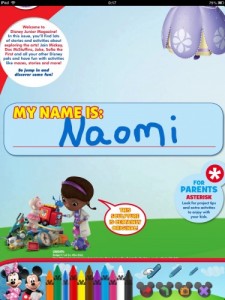 The magazine can be personalized by the child.  As you will see in another picture, there are opportunities to draw lines, so it is nice to have the ability to choose the line width.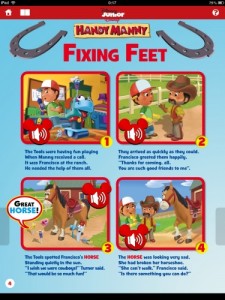 Disney Junior Magazine contains short stories and activities based on the characters on Disney Junior.  In this sample issue, the story is about Handy Manny, but I have also seen stories and activities about Mickey Mouse Clubhouse, Little Einsteins, Sophia the First, and others.  Do you see the Mickey heads in the picture above?  Those provide sound effects when pressed.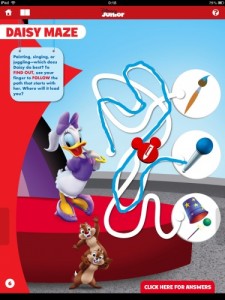 There are also activities and coloring pages.  Of course, these activities will vary from magazine-to-magazine.  If the Disney Junior monthly digital magazine continues to live up to the print version, it will definitely be worth the $1.99 per month or $9.99 (12 issues) for a subscription!  Now, when is the Phineas and Ferb Magazine going digital?  Just remember that the Disney Junior Magazine is only for iPad and iPad Mini.  Make sure to verify that your device meets the minimum requirements.
Disclosure:  I received a free issue of the Disney Junior Magazine (digital version) for the purpose of this review.  I received no other compensation from Disney, nor was I required to post a positive review.  
Sponsored Ad:  Would you like to help support The Mouse For Less website in continuing their mission of being THE Disney vacation planning resource?  You can do so by purchasing Disney Junior monthly digital magazine from our affiliate link.
Similar Posts:
Incoming search terms:
disneyland digital printing sample