An Evening with Mary Poppins
|
Recently my husband and I attended one of Disney's hottest Broadway shows when the tour of Mary Poppins made a stop at our local performing arts center. This memorable musical, while somewhat different from the original 1964 movie, proved to be a delightfully entertaining performance with a heartening emphasis on the importance of family.
Upon arriving at the theater and resisting the urge to purchase an item from a variety of Mary Poppins memorabilia, we made our way to our seats just before the show began. At promptly 7:30pm, Bert opened the musical with "Chim Chim Cher-ee" – the first of several times this classic tune would be heard.
Other well-known hits from the movie were sung throughout the performance, such as "Jolly Holiday", "A Spoonful of Sugar", and "Let's Go Fly a Kite". New numbers were added as well, like "Practically Perfect", a song that shares its title with one cut from the original movie. Of all the songs in the Broadway version, my favorite was the ever-popular "Supercalifragilisticexpialidocious", whose seemingly impossible dance moves were outstanding. To the delight of the audience, an encore of this crowd-pleaser was performed after the final bows were taken.
While the central story – the Banks family's adventures and transformation under the watch of Mary Poppins as the "practically perfect" nanny – remained the same, notable changes include some additional plot twists, like a visit from Mr. Banks' former nanny Ms. Andrew and the absence of certain memorable scenes from the movie, such as the laughing scene in which Bert and Mary's happiness causes them to float to the ceiling.
The choreography and scenery were top-notch, and overall the actors and actresses performed superbly well; yet no voice can compare to that of Julie Andrews, who emanated both authority and benevolence in the title role of the movie. The Broadway Mary exuded more arrogance than self-assurance and more sternness than loving discipline. In fact, I felt she was a rather distant character, not a female lead with whom I could identify.
On the contrary, the character of Mrs. Banks in the stage performance quickly earned my sympathy as she sincerely, although often ineffectively sought to please her husband and bring their family back together, an ongoing struggle throughout the show. In fact, this storyline pointed to the theme of the musical that time with family is more important than any other pursuit, including a career. Of course, Mary Poppins is meant to be the heroine who accomplishes the great feat of reuniting the Banks' family, but I give Mrs. Banks' much credit for this success due to her perseverance and strong desire to strengthen the bonds within her home.
In an arguably better way than the movie, the Broadway version of Mary Poppins reinforces Walt Disney's own desire (and the inspiration for his famous amusement parks) to see parents, and especially dads, make time for their children and have fun with them. After the final bows were taken and the curtain was closed, my thoughts immediately drifted to the man whose name stands above the title on the playbill, and I thought, "Walt would be proud!"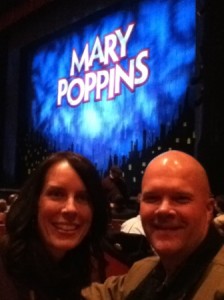 Similar Posts: