Disney Christmas Gifts: Bringing Cheer Throughout the Year!
|
The decorations are down. A new year has begun. Now it's time to reap the harvest and enjoy all of those delightful presents. For me, many of those gifts were Disney related and are now bringing more of the fun of Walt's magical world to our own home.
Two new board games have been added to our collection: Disney Headbanz and Disney Family Cranium. We played Headbanz with some friends on New Year's Eve. Hilarious and amusing, this game is certain to cause laughter right away as both children and adults adorn Mickey ears that hold a card identifying a character or object. Each player is allowed to ask questions from the others in order to determine who or what is on the card. Under pressure and with limited time, we often guessed incorrectly; yet, most characters and objects were recognizable and a strategy quickly developed, giving each of us a fair chance, some success, and an enjoyable time playing together.
Disney Cranium still sits on the shelf wrapped in plastic. Unfortunately, we have not yet found the time for it. However, I expect this version with its emphasis on Disney characters and movies to be even better than the original, which is one of my favorites, and I can hardly wait pull it out this weekend and play with my family.
Another Christmas present, the Wii game "Just Dance Disney", has already added much amusement in our house. My homeschooled sons beg to play this game for our P.E. class each school day. Challenging yet entertaining, this aerobic workout makes exercise seem like pure fun as we dance to our favorite classic Disney songs, like "The Bare Necessities" and "Under the Sea".
A new stuffed Mickey Mouse now resides in my room, thanks to my oldest son who purchased this Christmas present for me while at the Disney Store in New York City on a recent vacation. My adorable new Mickey wears a tourist t-shirt showing his love for NY!
My sister-in-law gave me a Mickey Mouse ears shaped basket that is perfect for holding chips and dip. I have already used it at a gathering with friends and look forward to taking it more places in the future.
The movie Brave was added to our Disney DVD collection and the soundtrack to Mary Poppins was added to our Disney CD collection. Along with the CD, my husband surprised me with tickets to see the Broadway version of Mary Poppins when it comes to our nearby performing arts center next month. I am excitedly counting down the days until this Disney date!
Although the holiday celebrations have passed, my fun continues with all of the new Disney delights in our home. What about you? Did you receive Disney gifts this Christmas, and how are you enjoying them?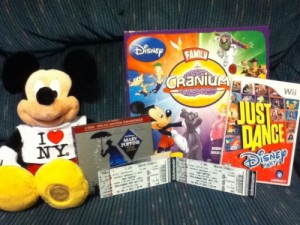 Similar Posts: