Disney's Main Street Electrical Parade
|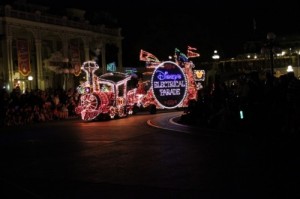 I LOVE lights, and I LOVE parades, so the Main Street Electrical Parade is one of my favorite all-time attractions.  The first time I saw the Electrical Parade was when my father took me to Disneyland right after I graduated from high school.  It was a celebration of my graduation, but it was also a celebration of his being able to actually take a trip like this.  I didn't grow up going to Disney.  We lived too far away, and money was tight, so that graduation trip was extra special.
Fast forward to this year.  My husband and I have taken the kids to Disneyland and Walt Disney World several times, but during those trips, we never had the opportunity to see the Main Street Electrical Parade.  I'm not exactly sure why it happened that way, but it did.  On this trip to Walt Disney World, we decided that this was something we absolutely had to see.  So, on a Saturday night, I staked out a spot on Main Street while my husband took the kids to ride Big Thunder Mountain, among other things.  I ended up having a nice conversation with a grandmother saving spots for her daughter and grandchildren.
Shortly before the parade started, my husband and the kids came back to claim their spots.  The air got tense as other people tried to find spots to see the parade.  Did I mention it was a Saturday night?  It was crowded, but not as crowded as I thought it would be.  With my children seated in their spots (and my son with his ear protectors on), the lights dimmed.  The music started, and the crowd got quiet.  The first float rounded the hub…
Because my son doesn't do well with intense, pushing crowds, I had chosen a spot right near the door into a shop on Main Street.  That way, when the parade was over, I took his hand and led him straight into the store out of the crowds.  This is a great trick if you have children with sensory processing problems.  We stayed in the store until the crowds thinned out and then made our way out of the park before the fireworks began.
I know some people prefer Spectromagic over Main Street Electrical Parade.  I've seen them both, and I must admit that I like Main Street Electrical Parade better.  However, I would happily watch either of them.  Which is your favorite?
Similar Posts:
Incoming search terms:
disney world main street electrical parade