Without a doubt, I love vacationing at Walt Disney World! But another of my favorite places to go is New York City. So imagine my delight upon hearing of the opening of a Disney Store in Times Square!
My husband and I just missed its arrival when we first traveled to NYC for our fifteenth wedding anniversary two years ago.  My thoughtful spouse, however, made a few phone calls once the store officially opened, eventually speaking directly with a sales attendant who helped him shop over the phone. After having various products and their sizes described to him, my husband chose to purchase two shirts for me, which were mailed to him with no additional charge for shipping. Is that not fantastic Disney customer service!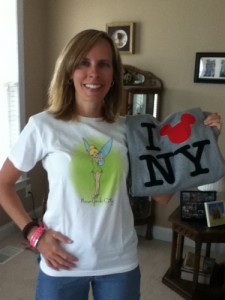 When planning our recent family road trip through the Northeast, I knew New York City must be a stop for us.  We would see the Statue of Liberty, the Empire State Building, Rockefeller Center, and the Disney Store in Times Square!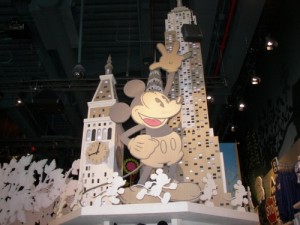 Of course, we had to meander past a few suspicious Disney characters on the way. Times Square is filled with multiple Mickeys and Minnies offering to pose for pictures with tourists and hoping to receive a tip for the effort. We chose to bypass these suspect imitators and instead wait for the real ones on our next Disney trip!
A huge jumbotron greeted us at the Disney store.  This one-of-a-kind giant screen consisted of smaller pictures, each working together to display a color-coordinated theme, ranging from general Disney fun to Broadway hits like the Lion King and Mary Poppins.  It was a delightful site to behold for Disney fanatics.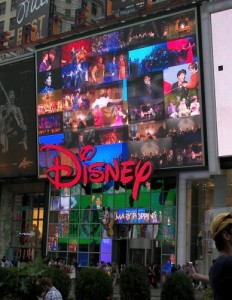 Upon entering the store, I found what I had anticipated most: merchandise combining my favorite Disney characters with my favorite big city.  Shirts, snow globes, mugs, picture frames, you name it! Beyond the New York merchandise, all other products were pretty typical of any other Disney store in which I had been and included items such as stuffed animals, costumes, and Disney apparel.
We cheerfully explored the two-story shop, noting multiple displays of Mickey and his friends in the Big Apple.
The wall beside the escalator revealed various characters such as Tinker Bell, Peter Pan, and Winnie the Pooh floating across the evening New York City skyline with fireworks in the background.
Before leaving, we made our purchases. I chose a shirt with Minnie dressed up as the Statue of Liberty with "New York City" embroidered beneath her and a snow globe with a similar Minnie surrounded by popular New York sites.  My husband picked out a t-shirt that said "NYC" with Mickey holding his hands out to form the "Y".  I suspect other purchases were made, but that will not be confirmed until Christmas! We received our own magical moment of sorts when we discovered the Disney Store gave us a discount for paying with our Disney Visa card.
This trip to Times Square was without a doubt the best Disney experience while on a non-Disney vacation!
Similar Posts: