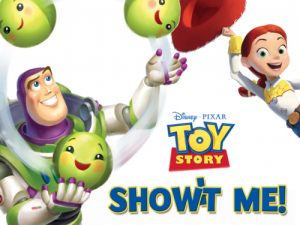 Toy Story Showtime is an interactive storybook app based on Toy Story characters and recommended for kids ages 4 – 6 years old.   This Disney Learning app is designed, so children interact with "age-appropriate sight word vocabulary."  This app works on compatible iPod Touch, iPhone, and iPad devices, and it sells for $4.99.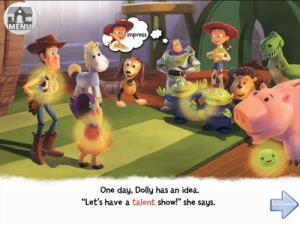 There are many surprises awaiting children when they click on the characters with the yellow circles on them.  The story line follows the toys preparing for and putting on a talent show.  As soon as Dolly mentions having a talent show, Buzz immediately thinks about how he can impress Jessie.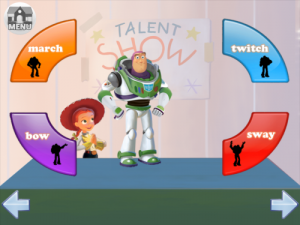 After the story, there are some games.  The one above is like the old Simon game, only it uses words.  For example, the app says "kick", and after pressing the button that is labeled kick, Buzz kicks.  A different move is added in sequence each time.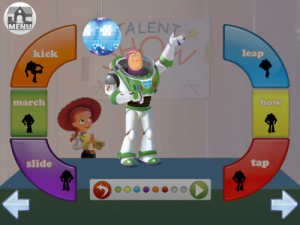 In the above game, the child presses different moves in the order he would like, then after pressing the play button, Buzz dances the moves chosen by the child.
I have to admit the Toy Story Showtime app just did not impress me as other apps have.  While the games are fun, I didn't think the story had as much depth as many of the other storybook apps do.
Disclaimer:  I received this app free of charge for the purpose of this review.  The opinions stated above are my own.  There are affiliate links contained within this post.
Similar Posts: