Have You Signed Up for Disney Family Deals?
|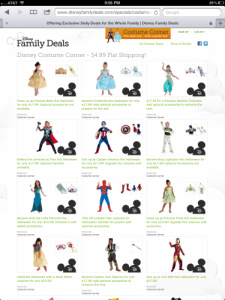 Have you heard about Disney Family Deals, yet?  It is a new website by Disney Interactive, and it is a great place to find exclusive offers on Disney products and experiences.  There are also daily "Disney-curated" local and online offers brought to you via Plum District.
See those Halloween costumes in the top photo?  Those costumes are on a very limited-time and limited-quantity sale with flat-rate shipping.  Are you still looking for a Halloween for your princess or super hero, you might find the right one at this sale.
Disney Family Deals also offers "limited-time-only deals on all types of Disney products and services including Disney toys, clothing, collectibles, vacations, music, videos, games, and more, as well as links to top Disney discounts and promotions from Disney Parks and Resorts, Disney Store, Disney Movie Rewards, Disney Consumer Products, Disney Junior, Disney Theatrical Group, Disney Games, and other."  Wow!  Disney Family Deals has it all covered!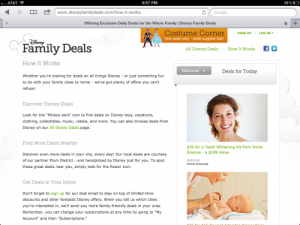 Are you interested in learning more?  Head on over to Disney Family Deals to sign up to get these limited-time deals sent directly in your email inbox.  There is an option for "National" deals, as well as local deals depending on where you live.  I signed up recently and am waiting for just the right deal to use for a Christmas present.

Similar Posts: