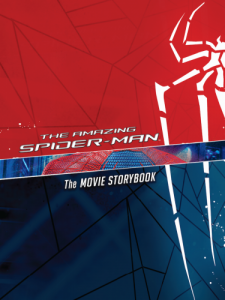 Disney Publishing Worldwide Publications has released the Spider-Man AR Book for $2.99.  A very important thing to note is that you need an iPhone 4 or 4s, iPad 2 or higher, or iPod Touch (4th generation).  The easy way to put it is that you really need a camera on your device to use all the functions of this app, and the functions are really cool!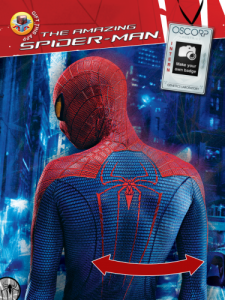 I reviewed this app with a combination of an original iPad and an iPhone 4.  The story part of this app will work fine with an original iPad, but the app will tell you that you need a camera when you try to access certain games; although, I did find one game that I could play without the camera.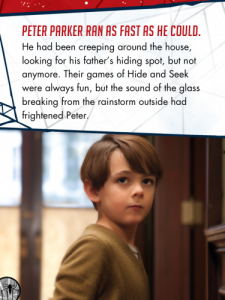 I like how the story used pictures from the movie.  While I'm sure there is much more story in the movie than in this app, I thought the edited story flowed well.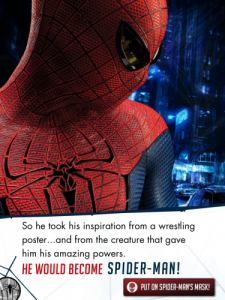 On several pages, there is an opportunity for an "augmented reality" experience.  Since my iPad was not able to perform these experiences, I used my iPhone to check them out.  First of all, I'll say that these are really cool and just over the top in interaction.  Next, I have to say that I am not talented enough to line my face up and take a screen shot at the same time.  I found the lining tool to be very precise because it sometimes took a little bit to get the face outline to turn green, but the tutorial that showed how to line up was very clear.  You can see some of the augmented reality on the iTunes Preview page.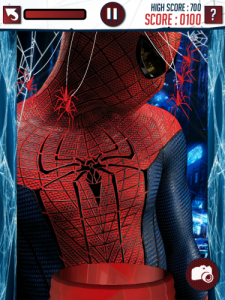 Here is one of the games that I did play.  The object of this game is to get the swinging and climbing spiders into the container at the bottom of the screen.  These spiders were swinging very fast!
So, what did I think about it?  Well, I thought the story was a little short; however, the app made up for it with the "augmented reality".  For $2.99, I think this is a really good deal if you or your kids are Spider-Man fans!  So, are you looking forward to getting the Spider-Man AR Book?
Disclosure:  I received this app free for the purpose of posting this review.  The opinions listed above are mine and mine alone.
Similar Posts: