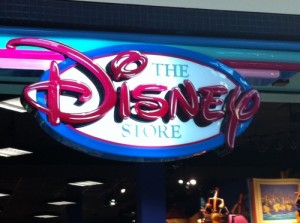 Near the beginning of this year, we moved from just a day's drive to Disneyland to the center of the USA.  Because of the move, there are no more impromptu trips to Disneyland.  We plan to get our Disney-fix this Fall when we go to Walt Disney World, but what do we do until then?
Well…  We've been to three different Disney Stores during the few months after our move.  We've been to a Disney Outlet, one of the newer Disney Stores, and one of the older Disney Stores.  Of course, I love the great prices that can be found in a Disney Outlet, especially when it is during one of the times when there is a sale going on.
I can see the draw of the newer Disney Stores with the screens projecting characters on the wall.  We also had an interactive experience involving villains, but we found the store we visited to be small and cramped.  In some areas, it was hard for more than one person to look at a time.
But last week, I got to take the kids to an older Disney Store.  We have always enjoyed looking at the displays in the older stores, so I was happy that we were able to go.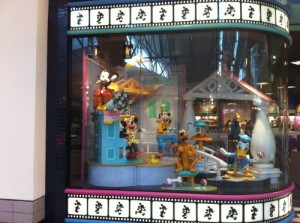 I know some people who passed us by probably thought we were strange just standing and watching the window, but there is so much detail that it's easy to miss it if you don't take the time to look.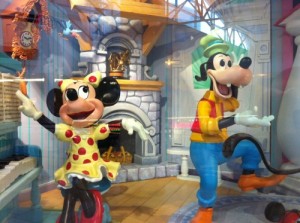 This is a little closer view of the window.  While we were looking, my son said, "Mom!  Look at…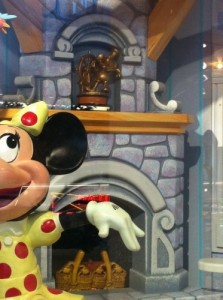 the fireplace!  It's the brooms!"  He was so excited to see some of the little details.  Of course, he didn't look just at detail…  No, he looked at EVERYTHING in the store!  I had to use the word "No" many times throughout our time in the store…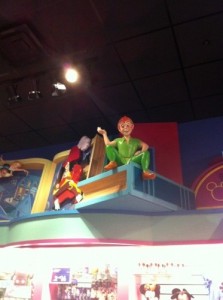 And while we were looking around at the merchandise, we also enjoyed looking at all the characters around the perimeter of the store.  They looked almost as if they had been lifted right out of the movie.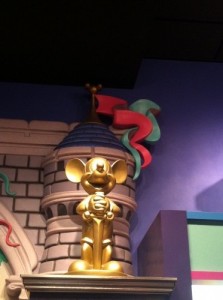 Yes, so much detail went into this store, and it made us feel that much closer to our "Happy Place" while not wandering too far from home.  And look at what we got to look at while checking out at the register and while trading Vinylmations…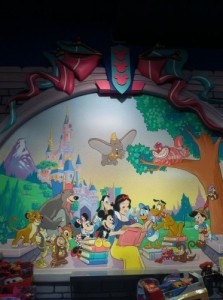 Isn't that beautiful?  Don't get me wrong.  I will go to any and every Disney Store I can, but I guess the older style of Disney Store will always hold a special place in my heart.  What about you?
Similar Posts:
Incoming search terms:
disney store themouseforless