I haven't been to Cars Land, yet, but the pictures make it seem so lifelike.  As a person who has lived most of my life near Route 66, I love to take side trips whenever and where ever I can to see little bits of history.  When I saw Cars, I noticed how the Cozy Cones looked very much like some place I had been.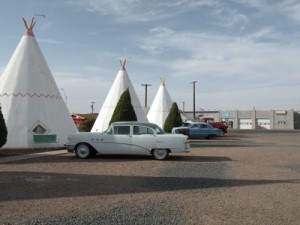 These are the wigwams of the Wigwam Motel of Holbrook, Arizona.  My kids and I liked to visit here and look around, but we never actually stayed in one because we lived nearby.  We loved how they kept old cars parked out front.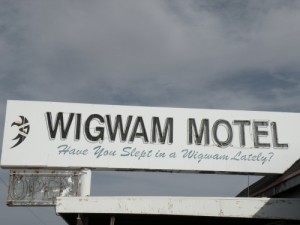 In doing my research for this post, I found that there were seven wigwam or teepee-style motels built nationwide, and today, there are only three that have been preserved.  Of the three, two of these are on Route 66: The Wigwam Motel in Holbrook and The California Wigwam Motel in San Bernardino.  Make sure to visit the website linked to for The California Wigwam Motel because that page has a really good history of the Wigwam motels.
By comparing the signs of the Cozy Cone with the signs of the two Wigwam motels, it appears that The California Wigwam Motel was the model for the Cozy Cone.
On to Ramone's!  My family and I stumbled on what could likely be the inspiration for Ramone's purely by accident.  We were traveling from Arizona to Arkansas a couple of years ago, and there are so few places to stop for the night between Amarillo, Texas and Oklahoma City, Oklahoma.  We found a hotel with vacancy in Shamrock, Texas.  When we got there, it was almost dark.  We started to see neon lights appear on a building.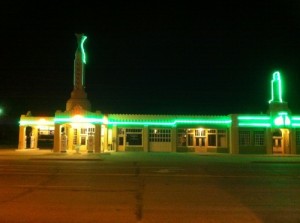 We found a postcard in our hotel that had an old picture of this building from 1936.  It said this is the Tower Station and U-Drop Inn Cafe. (The link is to the National Park Service.)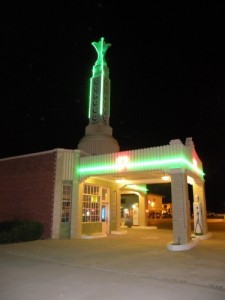 We were able to get closer; although, it wasn't open while we were there.  The detail on this building is just amazing!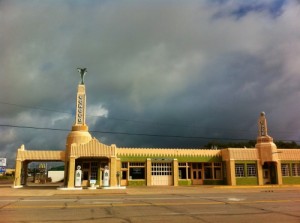 Here's a look in the daytime.  It has been restored inside and outside.  The U-Drop Inn Cafe is on the right-hand side, and we were able to look in the windows to see the seating area looks as if it were ready to open for business.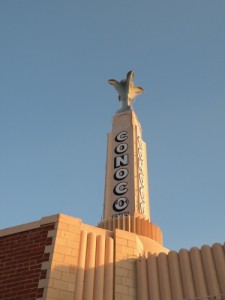 Obviously, I don't know for sure that this was the inspiration for Ramone's, but it sure has an uncanny resemblance if it wasn't.
My family and I like to explore Route 66.  When we are driving on the Interstate alongside the Mother Road, we will typically take exits that we hadn't planned on.  Just to see what we can find.  It's the search for the unknown.  Someday, maybe I will find Flo's…
Similar Posts: