Planet Explorers Walt Disney World 2012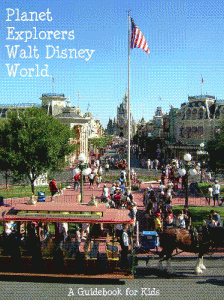 I have an obsession with planning books!  If you saw the storage ottoman in my living room, you might be a little shocked!  I don't just use my planning books for planning; I use them for school work, too.  My son doesn't like to read, but he will read IF it is a Disney planning book.  Because of this, a planning book that is specifically for kids is like gold to me!
As many of you Disney-loving parents know, there aren't a lot of Disney planning books for kids, and many of the ones out there are not cheap.  Now, I'm going to tell you something that will blow your mind!  Planet Explorers Walt Disney World 2012 is a planning book that is inexpensive and is written specifically for kids.  Planet Explorers Walt Disney World 2012 is available from Amazon for $3.99.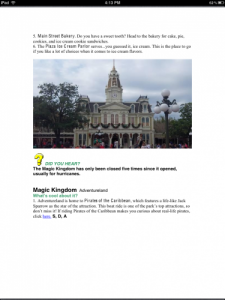 The author, Laura Schaefer takes great pains to not only give the highlights of Walt Disney World but to also make it more informative for kids.  With informative tidbits, links to external websites containing more detailed explanation, and codes to give an idea of what each attraction is like, this is a great way for your child to do his own planning.
I do want to take a moment to say something about links in ebooks.  Sometimes, links end up broken later or may lead to something other than what the author intended.  Since we homeschool and use many online sources, we have seen this happen on occasion.  If your child is on the younger end of the age range suggested for these books (ages 8-12), I would definitely check out the links to make sure that they are appropriate for your child's maturity level.  That being said, I did not check every link because my almost 13 year-old was doing the navigating.  I did find the links that I did check to be appropriate for this age range.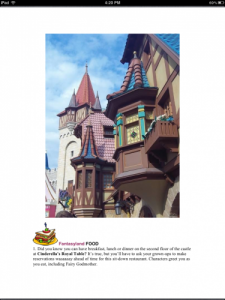 I also enjoyed the author's humor as she called the parents "grown-ups".  The thing is that there is so much packed into this book (with the external linked information) that I'm sure many adults would like it, too.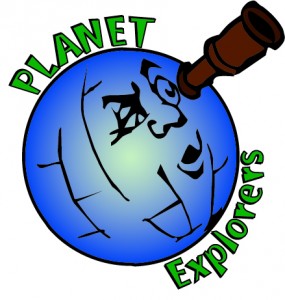 I think this ebook is well worth the $3.99 price and would recommend it.  This is not a huge book like some of the adult planning books that you find in the store.  It will not tell you what attraction to be at and what time to be there.  It is not intended to be that kind of book.  It is aimed toward providing an interesting overview for kids ages 8 – 12 years of age.  Watch your kids read this book and then say, "Hey, Mom! Did you know…?"
There are other books in this series.  There's Planet Explorers Walt Disney World Swimming Pools 2012, Epcot 2012, SeaWorld Orlando 2012, Planet Explorers Disneyland, Planet Explorers Disneyland Paris Resort, Planet Explorers New York City 2012, Planet Explorers Chicago, Planet Explorers Philadelphia, Planet Explorers Las Vegas, The Walt Disney World Character Finder 2012, Planet Explorers Disney Cruise Line 2012, Universal Orlando Resort 2012, The Wizarding World of Harry Potter 2012, and LEGOLAND Florida 2012.
Now, we here at The Mouse For Less get to give away on of these ebooks! 
Please read the full rules here.  Also remember, I was given a copy of this ebook, so I could provide you with this review.  I have received no further compensation. 
Similar Posts: