Tangled: Storybook Deluxe
|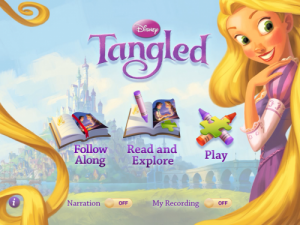 Today, I'm back with a princess app.  Tangled: Storybook Deluxe.  My daughter really likes Tangled, so she was pretty excited to try out this app.  {Don't say anything, but I think my son liked this movie, too…}
As you can see in the picture above, this app is laid out similarly to several of the other Disney storybook apps:  Follow Along, Read and Explore, and Play.  I prefer the Read and Explore because the "Play" options are interspersed throughout the story.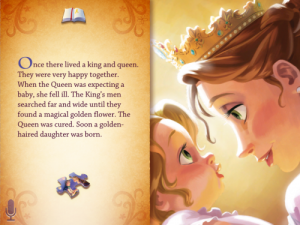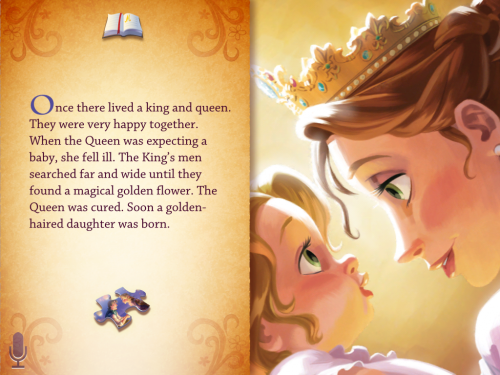 The first part of the story starts out with a puzzle to play if you click on the puzzle piece.  The story is mostly told with still pictures; however, there are a few places where the photo magically turns into a short clip from the movie.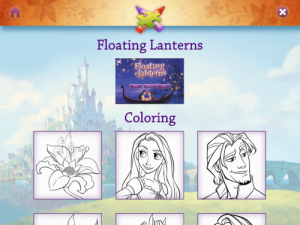 Besides puzzles, there are pictures to color and a lamp game in which you have to…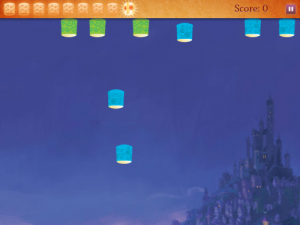 swipe lanterns of the same color in a row.  I played the "Easy" mode and found that it didn't take long for the speed to ramp up and lanterns to come flying fast.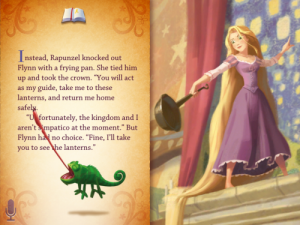 I have to admit that there are times that it doesn't take much to really amuse me.  When you see Pascal anywhere on the story page, click on him.  He will hang, roll his eyes, change colors, or throw his tongue out for a fly.  I could play with Pascal all day long if I could…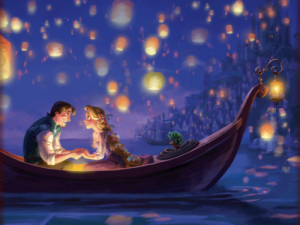 Tangled: Storybook Deluxe was a hit with my daughter and was of interest to my son.  This app was designed for iPhone and iPad and is priced at $6.99.
FTC Disclaimer – I received a free download of Tangled: Storybook Deluxe to be able to write this review.  The opinions listed above are my opinions and those of my children.  There may be affiliate links included in this post.

Similar Posts:
Incoming search terms:
tangled story book
tangled book
tangled story
tangled story with pictures
tangled storybook deluxe скачать бесплатно