Random Thoughts on Signage
|
I think I am going to start a new series entitled "Random Thoughts".  Why random thoughts?  Well, sometimes I sit down to write about something, but what I want to write about doesn't fit any particular theme.  This way, I can write in the direction my thoughts are going at the moment.  Of course, the next moment, it might change…
I am a people-watcher.  I could sit on a bench and happily watch people walk by.  Sometimes, I see things that make me happy, and sometimes, I see things that make me think a little.
Also, my family doesn't tour Walt Disney World or Disneyland in typical fashion.  We don't usually do "rope drop".  GASP!  Sometimes, the crowds are too intense for my son.  He has a hard time with large crowds pressing in on him, so we usually go in fairly soon after opening when the entrance is a little less packed.
Well, one day, we were watching the crowds in Disney California Adventure Park get ready for the race to Toy Story Midway Mania.  The pack looked like…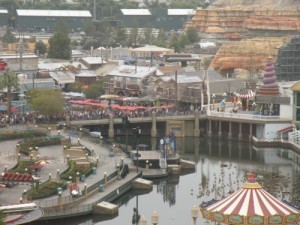 this.  If you look at the walkway over the water, you can see the line up of people ready for their sprint.  Watching this made me think of a sign that I had seen over the bag check tables.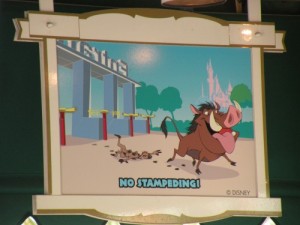 I love how this sign uses humor to portray the rules so that people don't run or push over people.  I just had to share this random giggle.  I hope you have one, too.  🙂
Similar Posts: