Disney Favorites Through the Alphabet – "P"
|
Wow! I just looked through some of my pictures and found a plethora of "P" pictures! Oh, I guess plethora is a "P" word, too, so we are off to a good start. So, as I pondered my photos, I realized that I was going to have a hard time deciding what to put in this post.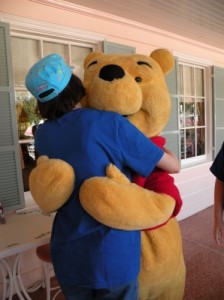 Watching my children interact with the characters brings joy to my heart!

In the above picture, my daughter is getting a big bear hug from Pooh at the Plaza Inn (Disneyland) "Minnie & Friends – Breakfast in the Park". This was actually the first time that we had been to this particular character meal because it is really loud in the Plaza Inn when it is busy. I knew that my son wouldn't be able to handle the noise there. Of course, I shouldn't have worried. On our first day that trip, we noticed that there weren't many people at the breakfast. When I went to see if we could get in, I mentioned my son's sensory problems, and we were seated outside in a quiet area. A very nice cast member made sure that we got to see all the characters. That was the best character meal of the whole trip!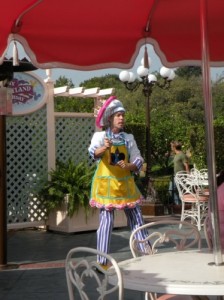 Also at the Plaza Inn (Disneyland), is the "My Disneyland Birthday Party" hosted by Pat E. Cake. The kids enjoyed this adventure, especially, when Mickey and Minnie came out together to greet the guests. The kids got to have their picture taken with Mickey and Minnie at the same time. That is probably the best picture from that trip.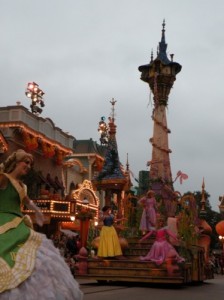 Here we have the princess float from Mickey's Soundsational Parade in Disneyland. Of course, this was my daughter's favorite float.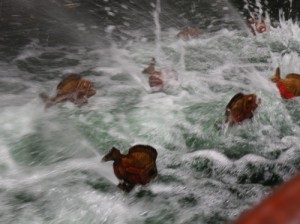 It's no secret that I really like the Jungle Cruise. It just has Walt Disney's touches all over it. One of my favorite parts of the ride, other than the hippo pool, is when the piranha start jumping because quite a few guests jump at the same time. It's one of those things that sneak up on you every time.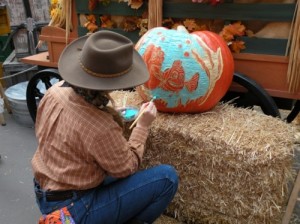 I will admit that Halloween is not one of my favorite times to go to a Disney Park, but we've been a couple of times during Halloween because it was convenient. One of the things that I do enjoy about it is Big Thunder Ranch. There is pumpkin carving done there like no other that I have ever seen. It is just amazing how they bring the scenes to life on a pumpkin.
Similar Posts:
Incoming search terms: