Disney Food Friday! Hollywood Studio's 50's Prime Time Cafe
|
Take a step back in time and possibly back to your grandmother's kitchen at the Disney's Hollywood Studios 50's Prime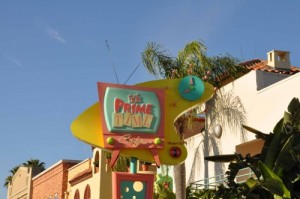 Time Cafe. Servers who remind you to wash your hands or keep your elbows off the tables,  kitschy collectibles, and Formica tables all set the stage for a one-of-a-kind dining experience.  The best part of this restaurant is that it is fun!
This unique eatery allows guests to dine on favorites like  meatloaf, pot roast or fried chicken while watching clips from the original Mickey Mouse Club, Father's Knows best and other 50's favorites.  Make sure you save room for desserts like milk shakes, Boston Cream parfait and even s'mores.
Guests who have purchased a Magic Your Way Package with one of Disney's Dining Plans can use Table Service Credits at this restaurant.  The 50's Prime Time Café is open for lunch and dinner. The complete 50's Prime Time menu is available on The Mouse For Less website.
Similar Posts: