Disney Dream Part 24 – Signs and Menus From the Pool Deck
|
Disney Cruise Line – Disney Dream signs and menus from the pool deck
Hungry after a swim or exercising on the sports deck?  There are plenty of quick service choices on the pool deck!  Flo's Café, a Quick Service eatery that's themed after the Disney animated feature film Cars, has many choices for your enjoyment.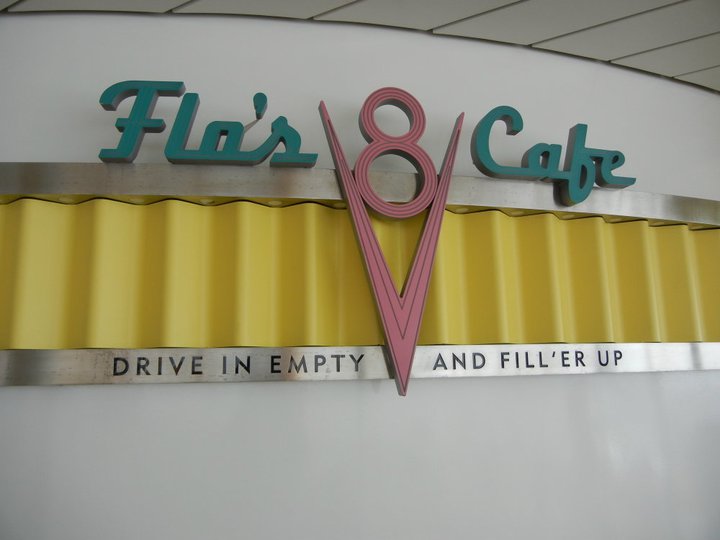 Want a burger?  Then Tow Mater Grill is the place for you.  This snack location will grill to order one of several favorites for you – Lightning McQueen's Burger with or without cheese; Mac's grilled chicken, The Sheriff's hot dogs and Bratwurst sausages or Mater's Favorite, cirspy and crunchy chicken tenders.  These favorites can be ordered with or without french fries.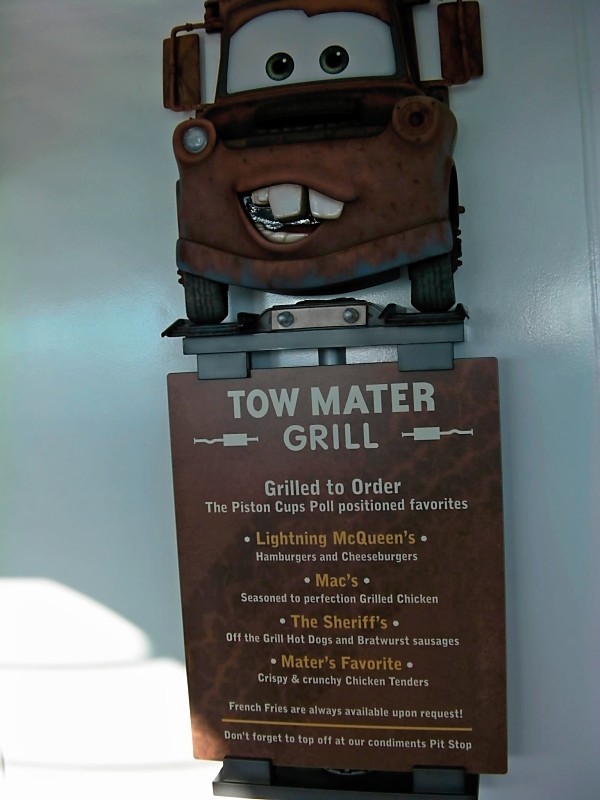 If a pizza pie is more up your alley, then head on over to Luigis Pizza, where they feature hand crafted pizzas freshly made throughout the day.  There is Guido's – Mozzarella Cheese Pizza, Flo's – Chicken and BBQ Pizza, Lizzie's – Pepperoni Pizza, Sally Carrera's – Vegetarian Special of the Day, or Ramone's – Daily Specialty.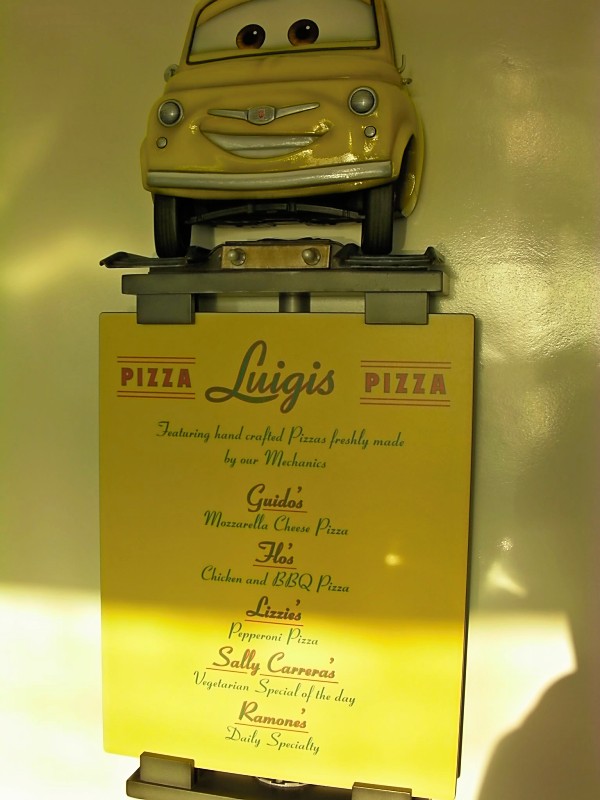 Don't feel like anything greasy?  Then Fillmore's the place to be.  At Fillmore's you can get your fill of tooled sandwiches, paninis, fresh fruits, wraps and salads made to order for you.  There is Sarge's Choices – filled rolls, wraps and sandwiches, Standley's Selections – Freshly prepared to order Paninis, Radiator Springs Salad – make your own salad with your favorite ingredients from the salad bar, freshly hand tossed with your choice of dressings, and there's always Fillmore's sliced and diced fresh fruits to cap off your meal.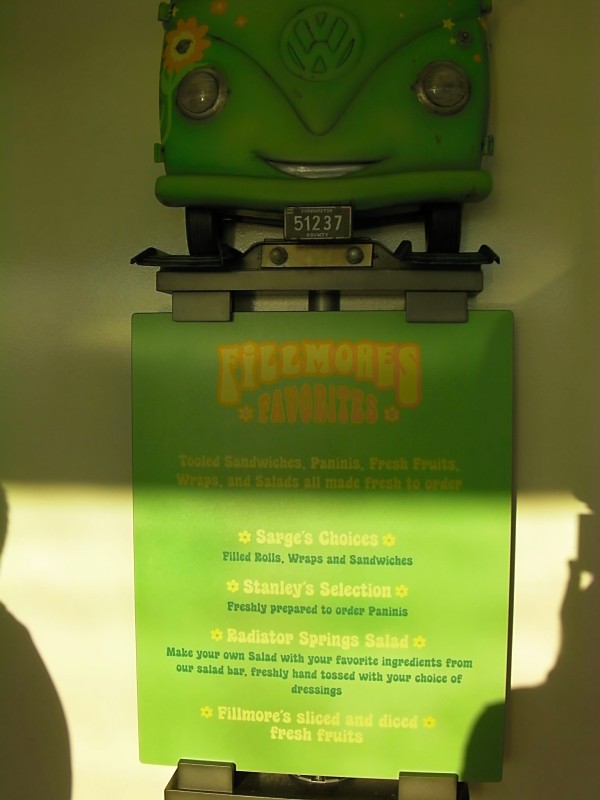 Thirsty for a drink?  You can fill up to your heart's content at the drink station.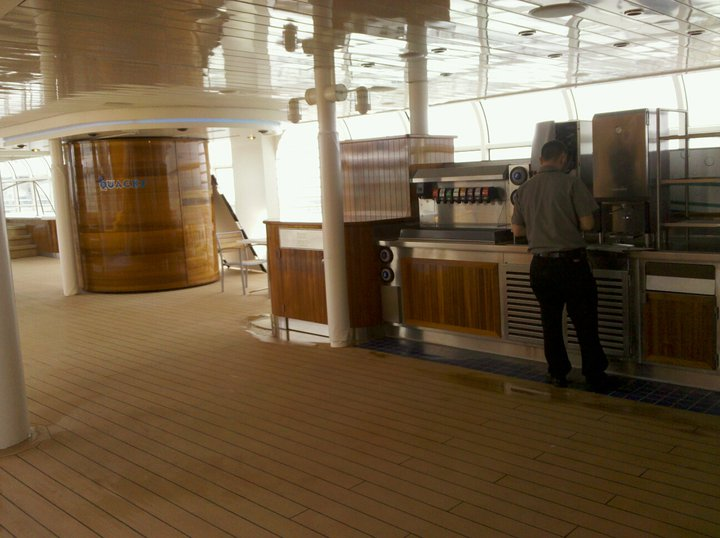 Want a little dessert before or after your meal?  Eye Screm's got you covered in frozen goodies with choices of ice cream flavors and toppings.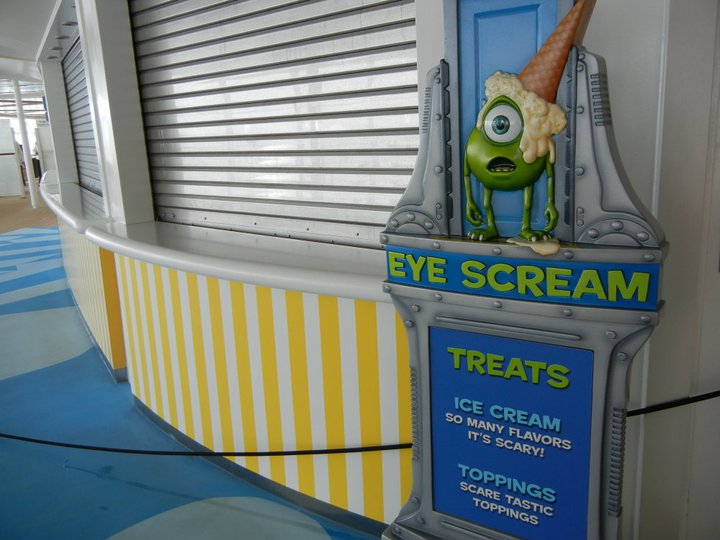 If you feel like a special treat, you can head over to Frozone Treats for some yummy smoothies.  There is a charge of $3.95 for small smoothie and $5.25 for a large smoothie.  Choose from Berrilicious Mirage, Gazerbeam, Synergizer, Peachy Dash, Mode Chai or Jack-Jack favorites.  Bottled and draft beers are also available for adults that want something not so sweet and a little more kick to their drink.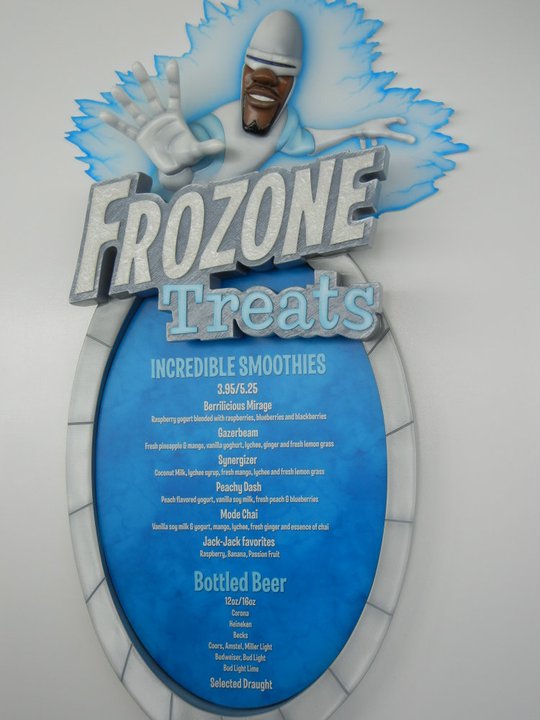 More pictures of the Disney Dream will be brought to you each day.  Tomorrow, it's all about the food again as we show you the food, menu and decor of the Royal Palace.
Visit The Magic For Less Travel to book your next Disney Dream Vacation!
Visit us The Magic For Less Travel on Facebook: http://www.facebook.com/TheMagicForLess?ref=ts
Pictures compliments of Deb Chambers, Susan Kirby and Lisa McClure of The Magic For Less Travel.
Similar Posts:
Incoming search terms:
disney dream tow maters grill
flos v8 cafe