Disney Dream Part 5 – Oceaneer Club
|
Disney Cruise Line – Disney Dream's Oceaneer Club
Disney Cruise Line is well known for it's fantastic youth clubs.  The attention to detail in each piece of decoration, each planned activity is flawless.  In fact, youth activities are so important to Disney Cruise Line that the entire 5th deck public area is dedicated to them!  The Disney Oceaneer Club is one of the major youth area on Deck 5 and is designed for children ages 3 – 10.
When you walk in to the Oceanner Club, you begin in the central rotunda, the main gathering place.  This is the portal to the other lands in the Oceaneer Club.
Oceaneer Club's central rotunda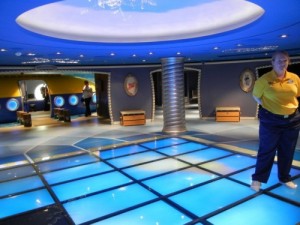 In the Oceaneer Club there are many trained counselors to entertain the children.  You may even seen an occasional Disney character pop in to say "hi" to the kids.
Jessie from Toy Story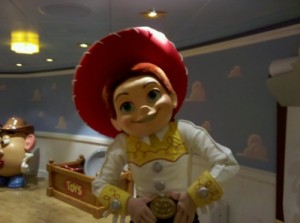 One of the four lands from central rotunda is Andy's Room.  In Andy's Room you will find yourself immersed in Toy Story. Everything is larger than life here and children will feel toy sized playing among the characters from Toy Story.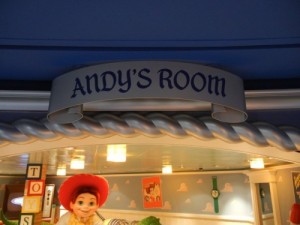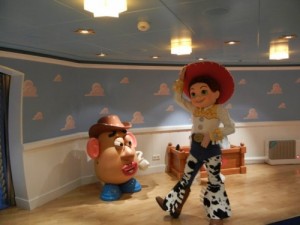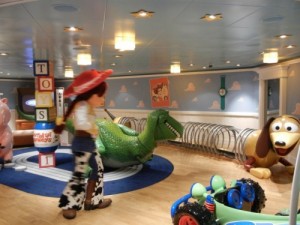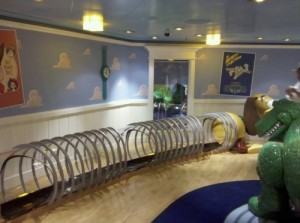 In the Tinker Bell inspired Pixie Hollow a pixie dust tree stands in the corner of the room with glittering lights twinkling among its leaves, and fun acorn and mushroom stools are sprinkled about for children to sit on. This room is designed for dress-up play, individual craft projects and storytelling sessions.
The Monsters Academy  is based on the Disney•Pixar animated film Monsters, Inc. Kids will love the world of Monstropolis.  This area boasts computers with unique interactive games.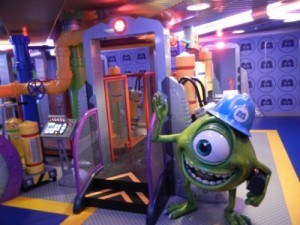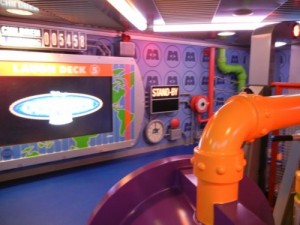 In the Explorer Pod children can explore the Nemo Sub—a scaled version of a submarine inspired by the Disney•Pixar animated film Finding Nemo. The bright blue and yellow submarine surrounded by a seascape features virtual environments for children to discover. Onboard the blue and yellow submarine has 16 interactive computers stations for fun-filled individual or group games.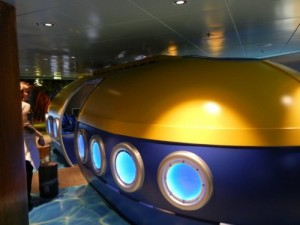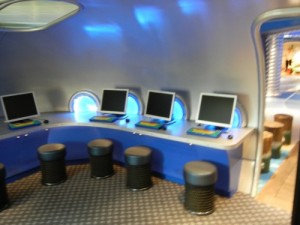 Disney's Oceaneer Club includes areas that are geared toward every child, whether the child likes physical activity, reading, computer games, dress up or games it is all there at the Oceaneer Club. What makes Disney's Oceaneer Club even more magical is an endless supply of toys and games, an open seating area for arts and crafts, and ongoing Disney movies. Mats for naps are also available. Unlike other cruise lines where the kid's club closes during most meal times, on the Disney Dream your children can dine with their friends for lunch and dinner every day of the cruise. Additionally, snack and beverages are served throughout the day.
Registration is required for children to participate in the kids activities on the Disney Dream.  Registration can be done either prior to sailing or on board the ship.
More pictures of the Disney Dream will be brought to you each day.  Tomorrow, pictures of Disney Dream's Aquaduck.
Visit The Magic For Less Travel to book your next Disney Dream Vacation!
Visit us The Magic For Less Travel on Facebook: http://www.facebook.com/TheMagicForLess?ref=ts
Pictures compliments of Deb Chambers and Susan Kirby of The Magic For Less Travel.
Similar Posts:
Incoming search terms: