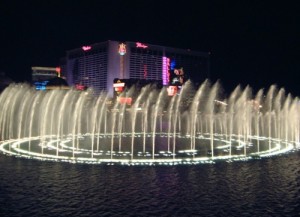 Over the course of our marriage Chris has learned a few things about me the hard way. One of these is that if you make me watch the same movie over and over I will eventually point out big plot holes and ruin it for you. Another thing is that I tend to remember a lot of random stuff that I read.
So, how does this intersect? I'm glad you asked!  Chris really loved the George Clooney remake of Oceans Eleven. We watched it on dvd. A lot. So much so that it was kind of ingrained in me that the ONLY place to stay in Vegas was the Bellagio, where the movie is set.
One day I was reading a spa magazine and read about a new therapy called Watsu. It is a type of "massage" that takes place in a warm pool with just you and the therapist. I was intrigued. The article also informed me that the only place in the US that offered it was the spa at the Bellagio. (This is no longer true)
Then the idea of a trip to Vegas with some friends came up and that is where the two collided. We booked the Bellagio, as there was no other option, of course, and I made an appointment at the spa for a treatment.
The Bellagio is an amazing hotel and the spa certainly didn't disappoint. I checked in and was escorted to the locker room and given a locker, robe and slippers. After changing into my swimsuit I was taken to a lounge area that has everything you can imagine. There is a full locker room, a quiet lounge area with snacks, tea, water and fruit. A separate room with four hot tubs and sauna and steam rooms round out the offerings.
I had a brief wait in this area and then I was taken to a second lounge, which was more of a Zen garden feel. I was only here for a few minutes before my therapist came to get me and take me to the treatment room.
The room was fairly large for a treatment room, and in the center there is a pool that looks more like an oversized hot tub. My therapist asked the usual questions and then gave me a quick overview of the treatment. With Watsu, you are floating with your head always in the therapists hand or elbow. They use their other hand to stretch the rest of your body while they twist and turn you through the water. You are never underwater, though you may get water in your ears.
With that, we climbed into the pool and did a quick float test, which I passed. Apparently, if you are nervous or not as float-y they do have floats they can put on your legs for you.  After that, I pretty much literally put my head in her hand, laid back and closed my eyes.  I spent the next hour being swirled, twirled and twisted through the water.  It was a really unique experience as there are basically no limitations on movement, the therapist is able to take your limbs through their full range of movement and stretch them through that range.
I really wasn't sure what to expect because, on land I tend to be a pretty firm pressure if not deep tissue kind of girl.  So, I had my doubts about how effective Watsu would be, but it turned out to be as thorough as any of the other more traditional massages that I have had. It was just a totally different experience.  I would do it again in a heartbeat, and would definitely recommend it for someone looking for a new therapy to try!
Similar Posts: