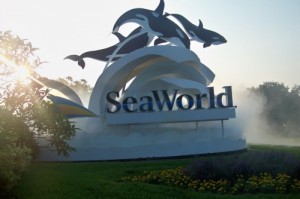 One choice of many, many choices in Orlando is to spend a day at Sea World.    This is an easy day excursion from the other major theme parks in Orlando and a great way to spend the day.   Unlike the other theme parks, Sea World can be done in one day if you plan your day out once you get there.  They also have a great feature with their one-day tickets where you get a second day free if you want to come back within seven days.  Sea World's tickets are in line with the other theme parks, but when you get two days for the one price it makes it a great value.  Just be sure before you leave to turn your ticket in for the free day and you can come back any one day within 7 days of that first visit.   With this option you can take your time and not feel like you have to visit all attractions, or just come back to revisit your favorites.
Sea World is more about shows than rides, although they do have their thrilling rides as well.  Great for the hot Florida days is Journey to Atlantis, where you'll probably leave wet.  It's got some fun little differences from most water rides so it's worth getting wet at least once.  If you like roller coasters you have Kraken, a floorless coaster that takes you upside down seven times, so it's not for the weak.   New to Sea World is Manta, which is a unique coaster that takes you face first and lying on your stomach.  For something a little tamer, you have the Wild Artic Ride, which is a simulator that is the beginning of your walk through the Artic animals where you'll see polar bears, beluga whales and walruses.  This ride also has a side with less motion for those that don't care for the motion of the simulator.  Sea World also has the Skytower which gives you a great view of the entire park and surrounding area.  There is a small additional fee for this attraction.
The best part of this park, though, is the shows.  You'll be amazed by the feats of the animals, from cats to pigs to killer whales.  When you enter the park be sure to grab a map, which also has all of the show times listed.  During slower times of the year they'll have fewer shows but if you plan out your route when you first get there (and you will need to be there at opening to get them all in) then you won't have any problem seeing all of the shows.
My favorite show is Blue Horizons, where you'll see a theatrical show that includes dolphins, false killer whales and beautiful birds.  The divers and trainers do a great job and I always leave this show with a smile.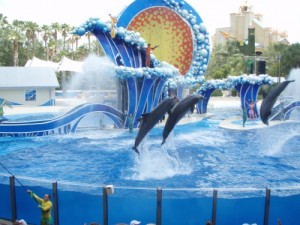 Pets Ahoy showcases the talent of cats, dogs, ducks and even a potbellied pig.  This is a cute show that uses many animals that were rescued from animal shelters.  What a great life for these animals that only saw doom in their future.  It's a fun show plus a great place to get in out of the heat for a short time.
Clyde and Seamore features sea lions, otters and a walrus in a fun show about a stranded pirate ship.  Go early for this to watch the mime that entertains prior to the show.   During certain times of the year this show also has a nighttime show that is not to be missed.  This is normally seasonal, but if it's showing during your trip be sure to see it.
A'Lure the Call of the Ocean is another show where you can get out of the heat for a while and enjoy the aerial performers and tumblers.
Of course, Sea World's signature show features Shamu, the killer whale.  The current show is Believe and their nighttime show Shamu Rocks (this is replaced with a holiday show during the Christmas season).   Both shows will amaze you with what these beautiful creatures can do but beware of the first section of seats—you may get very wet!   Shamu Rocks is a great way to end the day with this high-energy show that will have you dancing in your seat.
Enjoy your day at Sea World!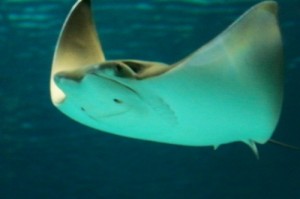 Similar Posts: