Like many people the possibility of ghosts, spirits and haunting have always fascinated me, but more as I enjoy reading about them or even taking tours, I do not have any desire to experience one.     With Halloween on the way, my sister and I decided to take a tour or rather what they now call Adult Staycations through our school district's community education program.   We have done several other tours through community ed and enjoyed them.     Often times my mom would join us but as this one included touring a cave, she decided to sit this one out.     The name of the tour was "A Spirited Tour: Graves, Caves and a Haunted Home" and it took place on Saturday October 30.   This was an all day tour, most likely the longest one we have ever done.    We met at a local middle school to board the coach bus; there were 40 people on the tour, plus the driver and our tour guide.   Again we had taken tours with this particular guide and driver before and were excited to see them again.    Our bus headed towards St. Paul while the tour guide told us some of the history of the Wabasha Caves, our first destination.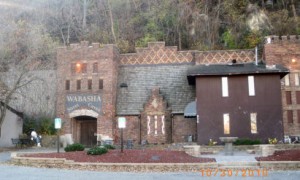 We arrived a little early and had time for a cup of coffee or a quick breakfast at "Grumpy Steve's Coffee" right next to the caves.  Turns out Grumpy Steve is the owner of the operation.   The caves have quite a long history dating back to the times of bootleggers and gangsters, were a speakeasy, and went through a bad period of being a disco before being purchased by Steve and his family.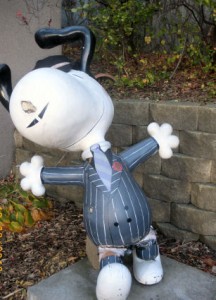 It is now an event center and hosts Big Bands on Thursday evenings.   (Swing bands not Jo-Bro).  We were met outside of the cave entrance by our ghost host Nurse Cratchett.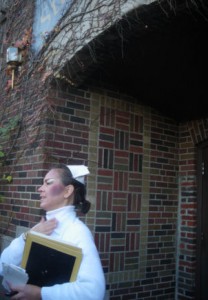 We were taken in to the caves and told different stories in different caves about experiences people had had there, as well as what research had been done to try to identify the ghosts.   Many pictures were shown that had glowing orbs on them, which is claimed to be a spirit.   Other pictures were shown where people supposedly could see ghosts, but to be honest, I would have really had to strain and squint to see them.  The caves definitely ARE dark and creepy; walking sometimes seemed a bit treacherous (again I was glad my mom opted out of this one).     The caves were mostly lit with candles although there were a few electric lights turned on as well.   Following a wonderful tour, we were shown a slide show showing some of the pictures guests had taken and telling the stories behind them as well.    This is a very cool place, and some day maybe I will return for Swing Night, if not in this life, than my next?   For further information on the tour offered visit: http://www.downinhistory.com/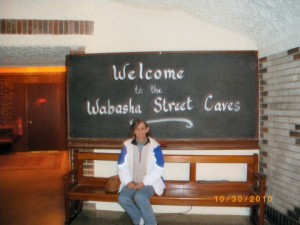 Following this our ghost host Nurse Cratchett hopped on the bus with us and we headed for the 2nd most haunted spot in all of St. Paul (the caves being dubbed the first) Forepaws mansion.     Forepaws is now quite a well known and rather exclusive restaurant.   Nurse talked about how Mr. Forepaws had built the home for his family, and who the ghost was that haunted it.   (I do not want to give away any stories!!).
We then took a tour of an area of St. Paul that I was not familiar with, the neighborhood near Indian Mounds Park.   We heard many more stories, and then we visited Oakland Cemetery.    This is a beautiful old cemetery where many of St. Paul's well known historical figures are laid to rest.    Nurse again was full of some of some stories and little tidbits about things.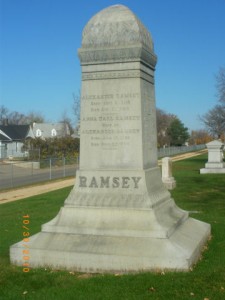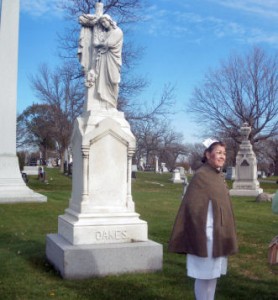 We then drove to what is considered the third most haunted place in St. Paul, a house right off Summit Avenue.   The current owner has a lot of fun decorating for Halloween as was seen from the street.   One interesting fact we learned was that in Minnesota, it is required by law to include it in your disclosure when selling your house if you suspect it is haunted.   After this it was time for Nurse to return to her caves and time for us to head to a small river town southeast of St. Paul.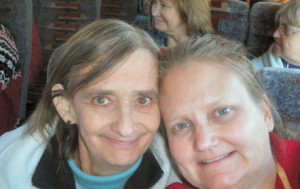 We had lunch on our own, and then our group was divided into two groups of 20 for the tour of the haunted home.   This historic house has been lovingly restored by the current owner Annie Wilder.    Even without the intrigue of the ghosts and haunting in the house, anyone who appreciates old homes, architecture, and original decorating ideas would enjoy touring this beautiful home.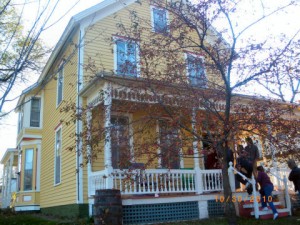 My sister and I were lucky enough to be in the first group and were greeted by Annie and her friend upon arriving.   Annie graciously offered us hot cider, coffee or ice water as she showed us through her house and related tales of her families experience in the home.    As with most ghost stories, unearthing history is usually part of the deal, so we also got to hear some of the history of the house and its former inhabitants, and were shown the floor plans for how the house had been divided into 3 apartments when Annie first purchased it, she had removed those added in walls and returned the house more to its original state.   Annie also played us some EVP (electronic voice phenomenon) that had been captured in here house.    For more information about Annie's experiences, or even to hear the EVP's yourself, visit her website www.AnnieWilder.com.    She hosts Haunted Tea Parties as well April through October.
In addition to this tour that happened to be in my own backyard, I have enjoyed doing a nighttime tour in Savanna, GA via horse and wagon, my family did two tours in Williamsburg, one is a walking tour with a guide and you visit the areas and hear the stories, the other was more of a ghost story telling in several different pubs and homes.   It seems many cities offer haunted tours; I believe there is even one in downtown Orlando if you need something different for your next Disney trip.
Similar Posts:
Incoming search terms: