Things that make LOWD more special!
|
At least once a year a busy woman needs to take time out for herself, to recharge her batteries. That is what the club LOWD is all about.  It started out as two women planning a little getaway.  It has now grown to our second annual Walt Disney World trip.
As co-Founder and occasional host of LOWD meetings, I try to make our gatherings as special as possible.  There are many things that myself and the other Ladies have come up with to make our get together's extraordinary.  I'd like to share a few examples of some of the memorable 'touches'.
During our August 2010 Party Meeting, I found some reusable letters and numbers on sale at the arts and craft store.  They were a shiny, tin foil material.  Putting them on the front door was a wonderful way to greet the Ladies as they arrived to the meeting.  The letters remove nicely with no mess and were such a cool touch.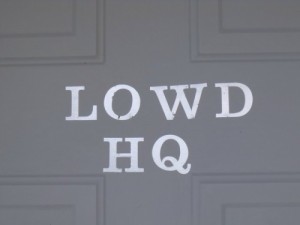 I wanted to make an official logo for LOWD.  Most of the members had never been part of a club before.  Even as children the Ladies were never involved with club activities.  To make our members feel like they were part of something exceptional, I designed several different logos for the gals to vote on.  This logo received the most votes and so it became official.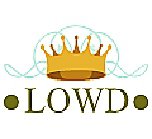 LOWD is having a small gathering in October, one month before our big trip.  As another something special I decided to make all our original core members and the invited guest members their very own membership card.  Someone had made the suggestion a few months ago and it was a perfect idea!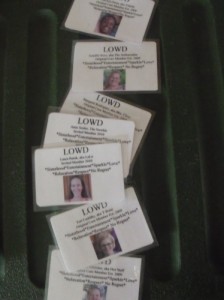 Seeing we take our big trip every year and there are so many members, we keep everyone organized by handing out LOWD travel folders at our April planning meeting.  We keep printed information about our dates, resort, dining reservations, menus, cocktail party info and so on, in them.  It is an ideal way to stay coordinated.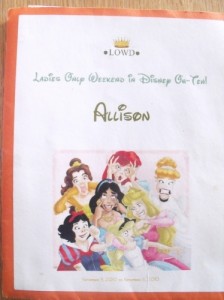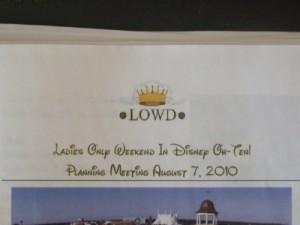 Here is a peek into the LOWD travel folder.
Our resort info.
Our 'Welcome' Cocktail party menu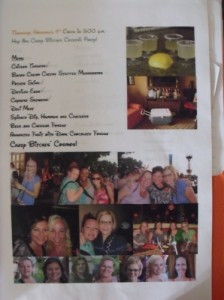 All the Food and Wine Festival info we need.  With our dinner AR info and the menu.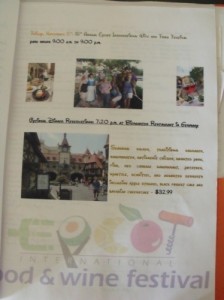 LOWD agreed to make a few certain unique decisions about our November 2010 trip.  Extra monies were needed to purchase the additions.  A printout is always a plus in helping with our organization.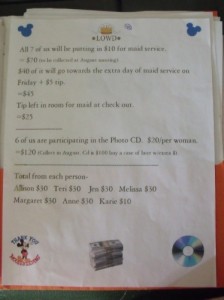 To help us navigate the Food and Wine festival a bit more efficiently booth cards were printed and laminated.  The booth name, location, dishes, prices and drinks were listed.  Reviews of the booths were already online before our trip so marks were made next to dishes that were received well.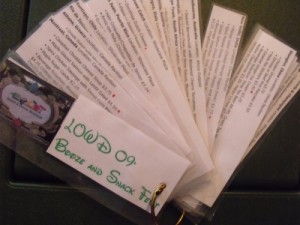 In order to commemorate each year LOWD has an official adult beverage glass.  In 2009 we purchased zebra striped margarita glasses.  Seeing our resort last year was Animal Kingdom Lodge the theme was perfect.  Well in 2010 we decided we wanted etched glasses.  To save on money and to give the Ladies an activity, we etched the glasses ourselves.  Simple, inexpensive etching cream and reusable stencils made for an exciting arts and craft session.  Everyone got to choose their own 'type' of glass, ie; martini, wine, champagne, ect.  Then you were able to pick what kind of lettering you wanted and what size.  Soon all the Ladies were stenciling and etching away.  Below is a sample of what a 2010 LOWD glass looks like.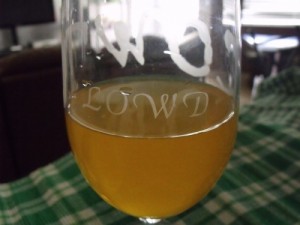 and Of course the most exceptional thing about LOWD are the members themselves!  It wouldn't be the first-class club that it is today without the beautiful, fun-loving women.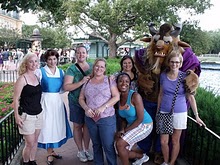 Similar Posts: