Royal Caribbean Liberty of the Seas – July 7, 2010: Ocho Rios, Jamaica
|
Day 4 – Ocho Rios Jamaica (July 7, 2010)
Last night I was reviewing shore excursions in Jamaica and almost booked one, but chickened out at the last minute, so we had nothing to do.  After pondering whether or not we would get off the ship I decided to go to the cruise port shopping areas and wander around.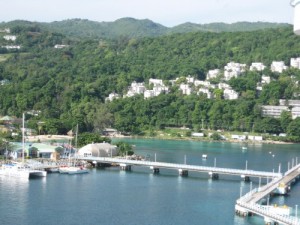 I woke up around 8:45am as the ship was sailing into port.  From here Ocho Rios didn't look like anything special, and sort of reminded me of Nassau with hotels and old and somewhat run down buildings.  The Emerald Princess had already arrived, which is the sister ship to the Crown Princess, which I sailed in October 2008.  I went out to the balcony and took some photos and waited for breakfast to arrive.  Another date with room service but its food detox time so I had ordered  Special K cereal with skim milk and fresh fruit.  Suzanne discovered she does not like Special K but I thought it was fine.  By the time I got my work sorted out it was after 11am, and we headed off the ship.
Closest cruise port shopping is located in Island Village, which is your typical cruise port shopping with nice shops and some vendors in the walkways.  We visited Jablum (which stands for Jamaician Blue Mountain) for coffee and it really was excellent coffee, and I bought some.  This ended up being the cheapest price we found as we visited stores.   There were several nice people selling jewelry and woodcrafts and other gee-gaws.  Even had a lady weaving on a loom too, which my daughter had never seen.  Bought a small purse/bag from her for $15 and she gave us a bracelet too.  (I didn't haggle with her  because I thought the bag was actually worth what she was charging but I did ask to throw in the bracelet, her choice of colors.)  Another person was making bracelets out of cotton with names in them, and I bought a few of these too.  Didn't have the colors we wanted so she actually made one with my daughters name in about 15 minutes.   Visited a t-shirt shop with a good selection of shirts for $5 and bought several for gifts back home.
After Island Village we went over to the area where the Hard Rock Café and Harley Davidson shop was located (called Taj Mahal.)  Saw a guy with a small donkey, parrot, chicken and rabbit standing there posing for photos, and it was so kitschy I had to put a couple of bucks in his bin and take photos of my daughter with this menagerie.  At the Harley store they had the least expensive t-shirts I've encountered in cruise ports and although we are not Harley folks I did buy one for Suzanne as it was not screaming with the logo.  We also went to Piranah Joe's and bought a shirt too.  Pricing was less than in Nassau for both places.  Hard Rock Café had the usual shirts at $22-26, and they do charge a tax.  I also paid a $1 surcharge at Piranah Joe's for using a credit card, which I understand because those guys have to pay to run a card.  Visited a jewelry store where $9.99 tanzanite earrings were being advertised and I told them I wanted to see a pair.  They had to "run next door" for the earrings, and I bought them.  Of course they're little, but sort of pretty.  While I was waiting for the earrings they tried to sell me some other items, but pricing was pretty steep, which I mentioned was probably due to the price of gold. By now I think they figured that I was not the typical cruise port tourist and during the usual chit-chat I mentioned that I cruise regularly  but this is my first trip to Jamaica.  The probably figured that I knew what I was buying as I mentioned loose stones and having them set at home.  My earrings materialized pretty quick after that, I parted with my $10, and went on my way.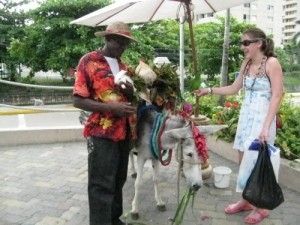 By now DD was tired and we were hungry and it was after 1pm.   I wanted jerk chicken I left the shelter of the "approved" shopping and headed down the main street.  There we were approached by people offering island tours, but a simple " no thanks, we're just shopping and looking around" sent them on their way.  Seriously, I have been approached more in Nassau than in Jamaica.  I did venture into a tiny hole in the wall shop for the chicken but didn't care for the variety meats on the menu, and was questioning sanitation.  Of course now I had to get out of there gracefully and with tact, so I mentioned to Suzanne "Do you want anything, or are you still not feeling well?"  She said she really was not doing well and probably needed to get back.  I thanked the people in the shop for explaining the menu and hustled out of there.  Since I had no idea what jerk chicken actually looked like, I didn't want it to be substituted for some of the other stuff on the menu.  The people of Jamaica don't seem to let anything go to waste and if it can be eaten, they'll eat it.
We headed back to the ship and on the way back I stopped in to the Duty Free liquor store to get some Appleton Rum, which they boxed up and will deliver to the ship—I hope. Last year I went to St Croix and bought a lot of Cruzan Rum, but had a car in which to haul it home.  Now I'm dealing with airlines so I've got to figure out what I can put in my suitcase.  We actually have an empty bag with us because that is what I used to bring the water and soda on board so I think we'll be fine with all of the stuff I've purchased.  In the port security area we stopped in to immigration to have our passports stamped.  (Had them done in Haiti yesterday too.  With cruises in the Caribbean a passport is not required so we drag them with us but never have them stamped.)  They looked in our bags briefly before we were permitted to pass.  Obviously a 40-something mom and teenage girl did not fit any of the profiles for a more detailed search.
All in all, shopping at the Jamaica cruise port was much worry over nothing.  Or as they say here in Jamaica… "No problem mon."  Granted, I did not venture into Dunn River Falls so I did not experience those vendors, but we did not encounter anything unpleasant at all.  Never had anyone offer to sell us anything illegal (like in Belize), nor did we see anyone drinking on their job (like the taxi drivers in Nassau.)
On the ship we went to the stateroom to drop stuff off and headed to Windjammer for lunch.  Lots of variety and hot food was hot, and cold foods were cold.  It started filling up as shore excursions were ending and we decided to go to the pool.  But first I had to change my Chops Grille reservation as it was booked for 5:30pm and we were finishing lunch around 3-ish.  Headed over there and got it rescheduled for Friday.  I also cancelled my Portofino reservation too as the menu just didn't excite me, and for Italian food it would be tough to beat Palo on the Disney Cruise.  Didn't want to be comparing the two so I decided to stick with Chop's rather than run the risk of disappointment.
I have a confession to make:  I have NEVER been in a swimming pool on a cruise ship!  (Here's a joke for you:  what one question will you never hear on the Disney Cruise on the Lido deck by the pool?  Where's the bathroom.  Badda bing!) Because the cruises I travel on have mostly kids under the age of 12 and small pools (sorry Disney but your swimming pools really ARE small on your ships) it has never appealed to me to actually swim in the family pool.  Royal Caribbean and this class of ship has done a great job with the pool situation with many hot tubs and two separate pools for families, as well as the H2O Zone splash area.  Plus they seem to drain and clean one pool every night.  We swam for a little bit, sat in the hot tub, and got some sun.  At 4pm we left the pool area as Suzanne had to meet her friends for trivia and she had to get dressed.
Its always fun watching the ship leave port and I always like to be on my balcony when we pull away.  Today's "All Aboard" was 4:30pm.  Well, we didn't have the gangway pulled back in until 5pm due to passengers being late.  I'm really surprised they didn't leave, as this was not a late shore excursion—just stragglers who could not tell time.  By the time the last person boarded the entire starboard side was applauding her arrival.
Suzanne left to meet her friends and I worked for a little bit and caught some emails.  Dinner was at 6pm and we went to the dining room.  I couldn't get the theme to tonight's menu but among the entrees was a Panko and Cilantro fish dish, and a pork loin.  Most of us at the table ordered the pork.  I also ordered a crab cake appetizer and the fruit.  There was a spinach salad with a balsamic dressing already on the table which was quite good.
The crab cake was good, and I probably would have been happy with just that and the salad.  When dinner came out I was given a cut of meat which was very unattractive.  Taste wise, well, it was cooked and not bad, but not the quality of pork to which I have become accustomed.  It was served with green beans (which were very good) and a lentil something which also was really good.  I did not eat much of this dinner except for the few green beans and the lentils.  First of all I was not that hungry and it was just not very appetizing looking.  Even my tablemate, Craig from Georgia, commented on my meal.  The dessert menu included raspberry sherbet and an apple pie.  I ordered both of these, and most of the table ordered the pie too.  The sherbet was quite good, but the apple pie was not very good at all.  The crust was fine, but I couldn't figure out what they did with the apples.  (Actually had a phyllo on top but the apples had some sort of pasty stuff in there.  This was NOT the same pie as they have in Johnny Rockets, which was excellent.)
After dinner Suzanne went to meet her friends and I headed to the Promenade area to do some shopping.  I wanted to buy a "grown up" watch.  The one I'm presently wearing has Mickey Mouse on it, and while I love Mickey, its time to replace the nice watch I have beat up.  (Which ironically was purchased on a cruise three years ago.)  I wanted a Citizen Eco Drive, but did not want any 'bling' on it.  The guys in the shop told me that they would bring more out on the Ocho Rios night, and it was worth the wait.  I was able to get the watch I wanted at a good price which was less than a sale in a store in the USA.  And with it being an Eco-Drive, no more batteries.  I'm happy.
Grabbed a couple of bucks (OK, more than a couple, but I was bored) and decided to donate to the casino again.  Came back upstairs around 11pm , worked a bit and went to bed.  Need to be up early due to our Stingray excursion/snorkel  in Grand Cayman.
Similar Posts: