Driving to WDW – The Savannah Gateway!
|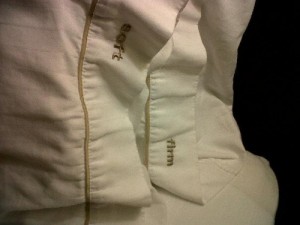 Driving to Walt Disney World from the northeast is fairly straight forward.  You get on I-95 and head south until you run into I-4.  That's pretty much it, but, depending on where you start out, it can make for a very long trip.  So, the question becomes, where to stop?  That's where my hometown comes in – Savannah!  Now, this isn't the historic-Paula Deen-Savannah, but, right off of 95 you'll find the Savannah Gateway which is the perfect area to stop for the night on the way to your Walt Disney World vacation.
Exit 94 on I-95 is known as the "Savannah Gateway", and stopping here will leave you with a 4 to 5 hour drive the next morning (depending on who is driving, if it was me, 4 hours, if it's Chris, closer to 5 hours! LOL!) There are a variety of hotels, in a safe area that is easy to get to.
You'd have your choice of the Holiday Inn Express, a Wingate Inn, and a La Quinta Inn.  There are also the Best Western, Spring Hill Suites, Comfort Inn and Suites, Quality Inn and Suites, Ramada, and the Econo Lodge.  You can easily find a hotel room with the amenities that you need at a great price for the night.
The Wingate Inn is going to offer you free high speed internet, as well as a free fridge and a microwave.  They even have whirlpool suites.
The Holiday Inn Express will offer free high speed internet, a complimentary continental breakfast, and a microwave and mini fridge.
The Spring Hill Suite has an In-Suite kitchenette with a microwave and a mini fridge. The hotel offers free wi-fi, and a free, hot buffet breakfast.
The La Quinta Inn offers free wireless internet as well as a free Bright Side Breakfast.
There are also some great food options in the area.  Since you're in the "low country" you may want to try the seafood, and I highly recommend The Shell House Seafood Restaurant for that.  Great place for crab!  But, if you're in the mood for something quicker, there are the usual fast food options, with McDonald's, Subway, Hardee's and Sonic.  You can also hit Cracker Barrel, Waffle House or Huddle House.
If you want to do some shopping, you'll even find an outlet mall nearby!  You can get everything you need for your trip from new luggage to new shoes!
Similar Posts: