Disney's California Grill (or Learning to Like Sushi)
|
Part 1 – the meal.
Ok, I must confess… I have never been fond of sushi.   You know, the real stuff with the nori, rice and whatever fish stuff is inside of it.  Its beautiful but I have never tasted anything locally here in the Midwest–or even on a cruise ship–which was agreeable to my palate.  I sort of cringed and shuddered when I ate it.  Seems the nori (green wrapper that holds it all together) was always too salty, or the contents of the sushi "too fishy"  and the rice holding it all together had a weird taste.  Because of this aversion to sushi I avoided the California Grill at Disney, despite this restaurant being one of the best on Disney property.
On my last trip in July 2010 with just my daughter (Suzanne, age 13, who has been to Disney way too many times and enjoys fine dining moreso than a sandwich or hamburger) I had the opportunity to do some upper end dining and cross some restaurants off my list of places never visited (yes, there will be more posts as to where I ended up dining.)  Suzanne and I and met one of my travel friends and her daughter in Epcot for the Captain Eo passholder opening.  My friend C (and her daughter T) are sushi lovers and C has eaten sushi  all over the world and had a seat that night for the California Grill because she loves their sushi.  C is also half-Japanese and I trust that she knows her sushi pretty well and if she says its really great and the best she's had anywhere, I'm likely to believe her.   She invited us to tag along and I accepted.  It was either California Grill, or some fast food place out in Cocoa Beach on the way home.  Hmmmm…… not exactly a tough choice!
After a small comedy of errors involving our trip to the CG including pouring rain in Epcot, and a broken key for my rental car (yes folks, the key actually broke out of the plastic holder making starting the car quite a challenge) we finally made it to the California Grill a little bit wet and late.  Normally I would have valet parked in the rain as I am a Disney passholder with a Tables in Wonderland card and valet parking is one of the perks of the TiW, but the key situation meant that one was a no-go as I did not want the valets messing with this problem.  Anyways, we checked in on the second flor and were seated at a window table around 8:30pm.  I don't know how we managed to score such a beautiful seat, but it was going to be wonderful when the fireworks started.  I've not seen fireworks from the California Grill since about 2002 when I was up there for drinks with my husband one night… and no sushi then either.
C and her daughter visit the CG quite regularly and we quickly ordered our meals.  Here's what we had to look forward to:
C : Tempura Malibu Roll.  She skipped an entrée.
T: Spicy Kazan Sushi, and for an entrée the Grilled  Pork Tenderloin with Goat Cheese Polenta, Button Mushrooms, Zinfandel Glaze and Sage.
Me:  Pan Roasted Wild Line Caught Halibut with Stir Fry Vegetables, Sticky Rice, and Ginger-Soy Hijaki Broth.
S:  Crispy Seared Chicken with some substitutions.  Instead of gnocchi she had mashed potatoes.  We kept the wax beans though and the sauce.
Menus change seasonally at the California Grill.  Here's the menu for July 1, 2010: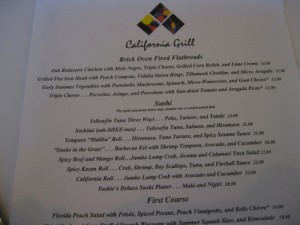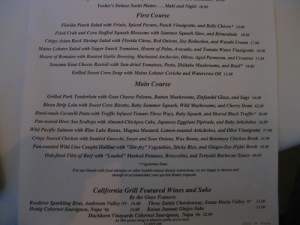 Our friendly and efficient server Topher brought us some delicious bread, and pretty quickly the sushi was brought to the table.  My friends started eating and said how wonderful it was, and offered both of us a taste.  I thought it was beautiful… but really was apprehensive about trying it as my previous attempts to choke down sushi did not go well.
After much prodding by my dinner companions I decided to take a little taste of C's Tempura Malibu Roll.  I  was pretty amazed at the wonderful flavors which entered my mouth.  She had a seaweed salad on her plate and that too was absolutely delicious.  (Who'd have thought I'd be eating sushi and seaweed salad and absolutely loving it?)  Since I was marveling at how wonderful it was,  T offered to share her Spicy Kazan.  That too was wonderful, including her little cucumber salad with the edible flowers.  My daughter also thought that the sushi she tried was excellent and she asked to return to the California Grill.  Suzanne  actually finished the seaweed salad on C's plate by the end of our meal.
The entrees arrived and I have to say that this halibut was probably one of the best meals I have ever eaten anywhere besides Palo on the Disney Cruise Line.  I absolutely loved how the fish and the veggies worked with the rice and the sauce.  Each morsel was wonderful.  The chicken was also excellent too, and Suzanne ate her dinner as well.  The other entrée on the table, Pork Tenderloin with the Goat Cheese Polenta, was also excellent.
By now the entrees were over and we were about 10 minutes from the 10pm Magic Kingdom fireworks.  It had been raining but no thunderstorm so fireworks were good to go.  So why not enjoy dessert and coffee from the comfort of the restaurant.  T ordered the Bananas and Caramel, and Suzanne ordered one of the signature desserts of the California Grill—the Warm Valharoma Chocolate cake.
The girls went to the observation deck to see the fireworks while C and I sat and chatted.  The lights dimmed inside and the music started for the fireworks and the girls came back inside–the weather was not good and it was too windy for them to be out on the observation deck.  They came back in time to get dessert, which of course was wonderful like the rest of the meal.  After the fireworks we split up our tickets, paid the bill, and leisurely strolled out.  I still had to swap the rental car to Orlando International Airport and get a new one because of the broken key (despite Budget's request to take it to a Toyota Dealer and have them fix the problem) so we had several hours yet to go.  C and T got in the car and we headed back to Disney's Beach Club Resort to drop them off.
The California Grill was a great meal with great company, and I will make it a point to return to there. and I will order sushi.  I'm not sure if I am brave enough to eat it locally as most likely it won't be as good, but I will head back to Disney and try it again.  (For Disney resort guests with a dining plan, the California Grill is Two Table Service entitlements on the plan… and "worth it.")
Part 2 is next–photos.
Similar Posts: