Last day of Annual Passes
|
Thursday, December 30th was the last day of our annual passes. Since I have the Disney Cruise booked for Spring Break (March 28-April 1) and I have no trips planned to WDW, we were not renewing the APs. even though they were offering a 15 month renewal for the price of a 12 month. The 15 months won't get me through Spring Break 2011, so it was not worth it. We were planning on going to the Magic Kingdom until 3am for evening Extra Magic Hours so we had to sleep in.
Woke up around 10:30am and I let Suzanne sleep. A couple of my agent friends were at Disney the same time as we were, and one of them sent me an email. Turns out she was planning on playing mini golf so I asked if we could tag along. Her daughter is just a year older than Suzanne and I figured they might have fun. We made arrangements to meet at Fantasia Gardens later, and Suzanne and I headed to All Star Music (food court was closer) to eat lunch. Discovered they had a "tossed to order" salad bar, made by them, and it was really great. Had a huge salad and a nice piece of grilled chicken for $9.99–which was a bargain for Disney. (Heck, that same salad would probably be $16 at Gaylord Palms plus 21% service charge and $3 delivery–and yes, I am being very sarcastic!) Ate our salads and headed towards the mini golf course.
Mini golf was really busy and we had to play the Fairways part of the course. This is a really difficult course without the fun obstacles of a regular course. Players were: Pam, Steve, H, Chris J, Suzanne and me. After a 45 minute wait we started playing and things went down hill pretty quickly! None of us were very good, except for maybe Steve, and Chris was pretty much done by hole two. Suzanne held out to about 10; I gave up around six. Finally someone had to leave and the rest of us bailed out. We were all going to meet for dinner at Kona Cafe later that night and go into the Magic Kingdom.
Went back to the resort and worked a little bit, and drove over the Polynesian. We were very early but sat and waited for our table. I broke down and had a Lapu Lapu, which is the alcoholic concoction (mostly alcohol) served in a pineapple. Finally were seated (there were 10 of us total) and we had a pretty good meal. Suzanne ordered my favorite Shrimp and Scallops and didn't really care for the scallops, so I swapped her some chicken from my Chicken Noodle Bowl. (I got the better end of the deal but she was happy.) Suzanne shared a dessert with H, and Chris let me have a taste of the white chocolate cheesecake, which was divine. Jessica had a chocolate molten cake, which looked good. Don't know what the other end of the table ate. Finally done with dinner we moseyed over to the MK on the monorail.
Surprisingly we had no problems getting in to the park. It was pretty crowded as they were doing the New Years Eve fireworks "Fantasy In The Sky". But plenty of people were leaving too. We went to Tomorrowland and wandered around for a while and did the "lame" stuff. Wait times not too bad: Buzz Lightyear was only 80 minutes. Space Mountain though was 120–and none of us were waiting in line for two hours as we would miss the fireworks. Watched "A Totally Tomorrowland Christmas" and then walked the path to Toontown. Suzanne, H, Chris, and V rode the Barnstormer–which is a kiddie coaster–while the rest of us chatted. Wait time less than 15 minutes. They then went on the teacups and not much of a wait there either.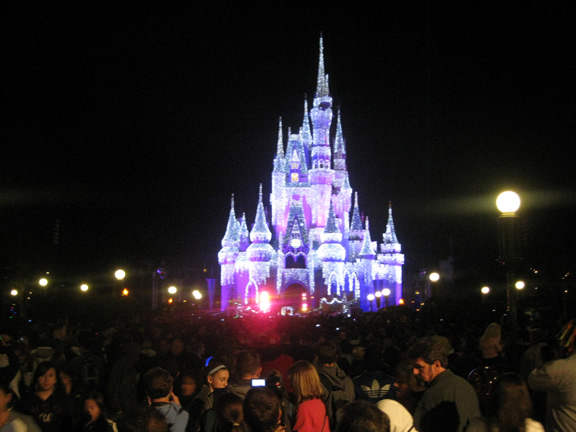 Finally we had to mosey to the front of the castle to stake a claim for the fireworks. We ended up in a decent location and by now the two girls (Suzanne and H) were having a blast hanging out together. The MK was a huge "dance party" and lots of people were doing the Cupid Shuffle and the Macarena. Finally the fireworks went off and then it was time to hit Extra Magic Hours.
By 1am the Magic Kingdom was slowing down. We were able to pretty much ride anything without too much of a wait. Got most of the attractions done, and we left the park right before 3am. Bye Bye Magic Kingdom….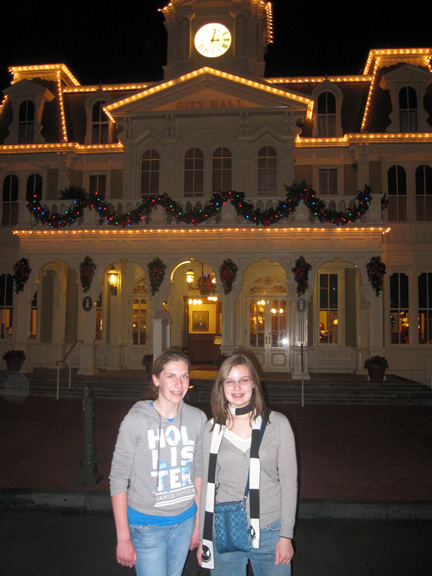 Unfortunately we got back to the resort around 3:20am, and we had to vacate the hotel by 11am checkout. Fortunately I noticed a luggage card from Bell Services on the end of our floor and I hoped it would be there when I woke up.
Similar Posts: