By Teresa Pitman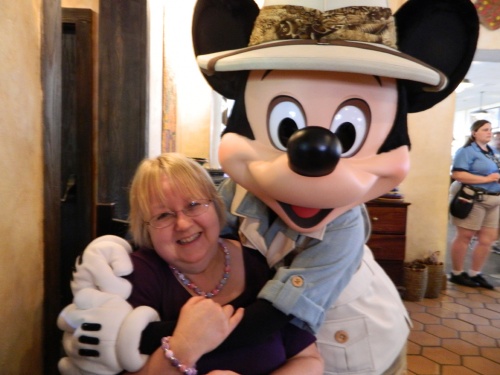 Sometimes Disney makes changes that are – in my opinion – more disappointments than improvements. Journey into Imagination (oh sure, they brought Figment back but it's not really the same) comes to mind, and removing appetizers and tips from the Dining Plan.
But other times Disney's changes can make a good thing even better.  And that's the case with Tusker House. I liked it when it was a quick service place because they had some tasty options you didn't find anywhere else (like mashed potatoes and green beans). I liked it even more when it became a buffet, especially because they had lots of vegan options (yes, I'm vegan). Then they added characters at breakfast and, more recently, at lunch, yet another improvement, in my opinion. (I love to see the characters, but really hate lining up for them.)
Right in the heart of Disney's Animal Kingdom, Tusker House is located near the Kilimanjaro Safari ride and is nicely themed to match; you'll see posters and signs on the restaurant walls reminding you about not feeding the animals, the times for the next safari and other information. The restaurant podium where you go to check in is outside in a sheltered area. On the roof above, you'll see chairs and laundry hung to dry, and if you listen carefully you'll hear voices talking. Often you'll be entertained by drumming and dancing in the open area to your right. To your left is the Dawa Bar. If you manage to arrive a bit early, you can relax at the bar with a tasty drink or two while you wait for your table.