By Erica Colmenares
My Disney friends know that my first encounter with a Segway Personal Transporter was less than pretty. I'll admit that the Segway got the better of me, right around Italy, in Epcot's World Showcase. Never let it be said, though, that I'm easily daunted (or that I learn from my mistakes). Earlier this year, my pal Holly and I signed on for another Segway adventure, this time at Disney's Fort Wilderness.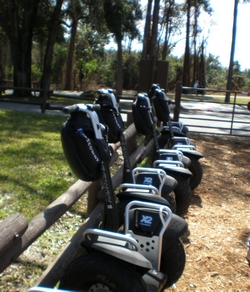 The Wilderness Back Trail Adventure at Fort Wilderness is a two-plus hour "off-road" Segway tour, with training for the first part of the experience, and lots of ride time afterward. The Fort Wilderness tour uses the Segway X2, a more rugged transporter with wider wheels than its Segway cousin at Epcot. To book, we called 407-WDW-TOUR (407-939-8687). This tour isn't cheap, but AAA, DVC, AP, and Disney Visa discounts may be available. Currently the price, including tax, is $85. We were told we'd meet at the Mickey's Backyard BBQ pavilion. (When I called for updated information for this article, I was told that now the group meets at the less centrally located Meadows Bike Barn.) Tours are available Tuesdays through Saturdays, starting at 8:30 a.m. and 11:30 a.m. The booking CM had quite a spiel of rules to read: everyone must wear helmets (provided); participants must be 16 take the tour (16- and 17-year olds require the signature of a parent or guardian); and there is a 250-pound maximum weight limit. Being slightly above 16 and slightly under 250 pounds, we were good to go.
The day of the tour dawned. I was not (very) scared. Our plan was to go with friends to Magic Kingdom's "rope drop," enjoy an hour or so of uncrowded touring, then depart for Fort Wilderness via the Disney boats. If we'd chosen the 8:30 a.m. tour, we would have had to use our own car, or a taxi, as there's no Disney transportation to the early tour. The Magic Kingdom–Fort Wilderness boat worked great, as it dropped us off back in the Settlement area, which is where the group met (for the Bike Barn, it is probably a wash as to whether the Disney boat or Disney bus is better). If you drive, remember that you'll need to allow about twenty minutes to catch the internal campground bus system from guest parking to the tour meeting area.