By Erica Colmenares
As a nuclear family, we came relatively late to the Disney vacation game. Our son, Max, was seven before he first set foot on Disney property. But since then, he's made up for lost time, and has grown up with Disney. He's experienced the birth of attractions, and experienced offerings that are no longer. And now he's ready to usher a new family member into the Disney fold. Let's look at his journey in photos.
2004 In 2004, we were far from home. My husband was a medical officer with theU.S. Navy, and he was stationed in Sigonella, Sicily (just off theboot tip of Italy). As our time overseas came to an end, the children of Disney-mad Navy family talked Max's ear off about how much fun they had on their Disney vacations. They shared stories of their favorite rides, and gave him advice about what he should do, if his silly family ever got their act in gear and took him to Disney World. We were convinced; Max needed "in" on this magical experience.
We set it the visit up as a surprise for Max. While we talked about going to Disney

World, it was always in a "later, with your cousins" way. In actuality, however, I was to take Max to Disney right after he and I returned stateside. In this photo, Max is getting the early morning call at our hotel from his Papa (still overseas), letting him know that he's a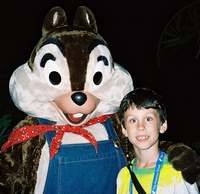 bout to board a plane to Disney!
Later the same day, here's Max at the Garden Grill, at the no-longer-offered Ice Cream Social. Max still looks a little shell-shocked to find himself all of a sudden at Disney World!
2005 The previously-Disney-deprived Max got to go to Orlando twice in 2005. At the beginning of the year, we took Max's Uncle Ben, a true Disney fan. We stayed at the newly opened Pop Century resort, and enjoyed the Donald's Breakfastosaurus character meal (which has since moved to Tusker House and is called Donald's Safari Breakfast.)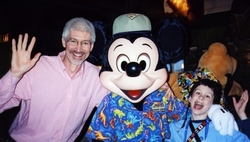 At the end of the year, we journeyed to Florida for MouseFest 2005, and attended the MouseForLessFest Tony's Town Square Grand Gathering Breakfast. In this photo, Max is center stage, wearing his red hat with a white strip. (Photo 4 Grand Gathering MouseFest breakfast). We miss MouseFest.