By Kevin Smithson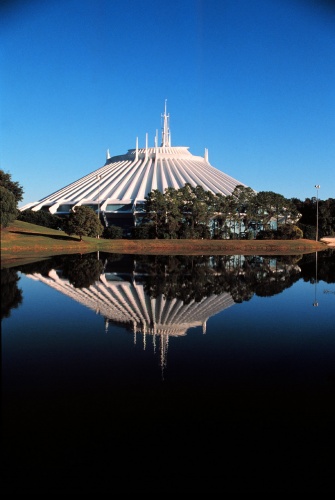 Tomorrowland at the Magic Kingdom was as much in an unplanned state during its early years as Disneyland's was. The general layout was two signature buildings on either side of an entrance plaza. A racing track attraction, an indoor roller coaster and, for a while, quite a few bodies of water. Early plans route the monorail from the Persian resort through Tomorrowland with a station found inside the land.
By 1970 with construction underway, plans still changed regularly. By October 1971, the buildings were finalized however there was still a lot of empty space and unfinished plans for what would eventually fill the space. The main route into Tomorrowland would be flanked by two water features on the hub walkway, though these plans would go through several revisions before concrete was actually poured. The rush was on to finish what could be finished by opening day.
On October 1, 1971, Tomorrowland opens with two attractions. The southern end of the land is still a building site and even at that point, plans were still changing. The final entrance design had a pair of sloping concrete walls on either side of the plaza bridge; water would cascade down the slopes and fall from the top of a pair of 85 feet high 'monoliths.' At first the waterfalls on the slopes weren't visible enough; the row of jets wasn't that strong. Soon after opening 'ripples' were built onto the slopes to break the falling water more.