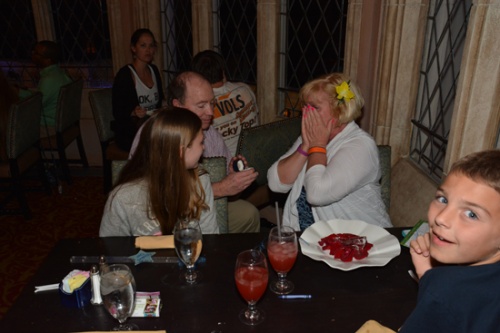 Ten years ago I met my Prince Charming. We also soon found out that we are both Disney fanatics. He is a longtime owner of 2 Disney Vacation Club resorts so over the years we have enjoyed many blended family adventures in Walt Disney World.
In March we took my 2 grandchildren for a 5 day vacation to our favorite vacation spot. On March 31st, Steve had made dinner reservations in Cinderella Castle. We had the perfect table in the window and enjoyed the amazing fireworks display from our seats. I turned to thank Steve for an amazing magical experience and realized he was on his knee next to me proposing by saying "in the happiest place on earth will you make me the happiest man". Of course I said yes and my 2 grandchildren ages 12 & 8 were as thrilled as we were.
The staff made the occasion more amazing by presenting us with a glass slipper surrounded by rose petals and desserts of a solid chocolate slipper and strawberries and beautiful champagne glasses to toast with. We are beginning to make our wedding plans and are sure to incorporate a Disney theme! (Submitted by Nancy R.)
In each issue we feature a magical memory submitted by one of our readers. We look forward to sharing your memories in upcoming issues! To submit your memory, email a photo with a short description to info@magically-speaking.com.
Similar Posts: