Published On Dec 27, 2012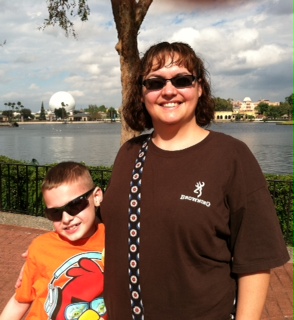 We recently took our son Logan (9 yrs old) to Disney for the first time. He truly enjoyed Epcot and visiting all the countries. (Submitted by Lisa F.)
---
Published On Dec 12, 2012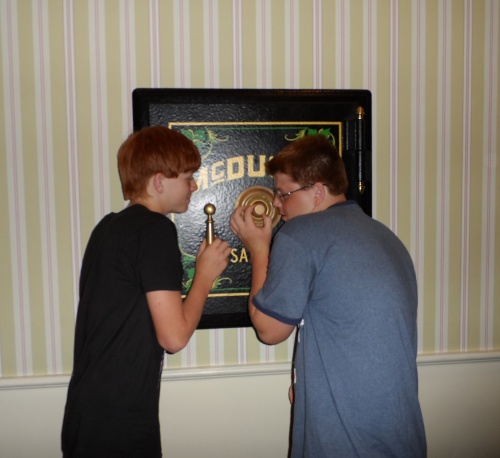 I love this picture of my sons Lucas and Ethan trying to open the safe while waiting to meet Mickey. (Submitted by Christy M.)
---
Published On Nov 28, 2012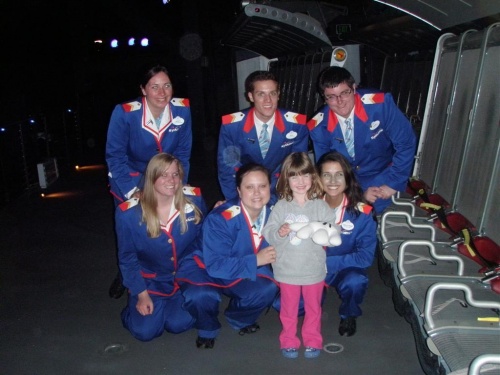 A magical 4th birthday ride on Soarin'! (Submitted by PJ)
---
Published On Nov 15, 2012
The time when our daughter Abby got to meet her favorite princess Ariel.(Submitted by Sue D.)
---
Published On Oct 31, 2012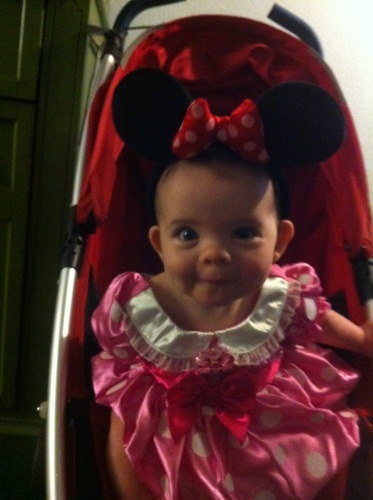 I took my 6 month old granddaughter to see the giant mouse for the first time in August. This was the first day of our vacation and she was all dressed and ready to go. She loved every minute of it. Can't wait to take her back. (Submitted by Jackie M.)
---
Published On Oct 17, 2012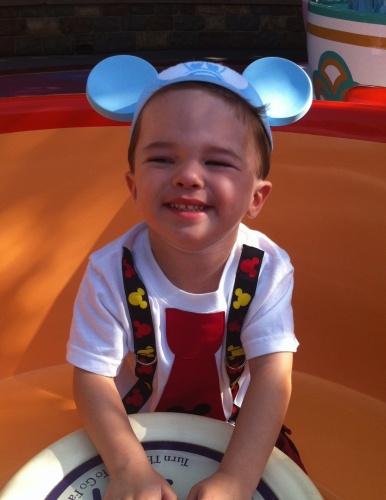 This sums up what Disney is all about; pure childlike joy! Who knew a spinning teacup could elicit such a perfect memory! My 3 year old is hooked, just like his mom. (Submitted by Amiee B.)
---
Published On Oct 3, 2012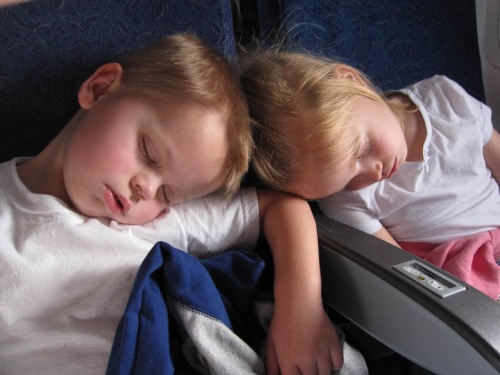 The sign of a fun filled Disney vacation – two kids fast asleep before we
even reached cruising altitude! (Submitted by Kathryn C.)
---
Published On Aug 19, 2012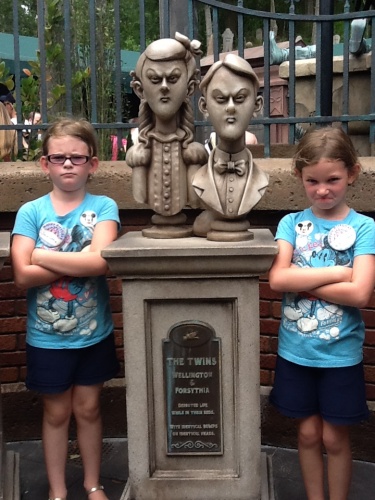 Haunted Mansion cemetery…twins Samantha and Alexandra with Wellington and Forsythia. (Submitted by Matt D.)
---
Published On Sep 5, 2012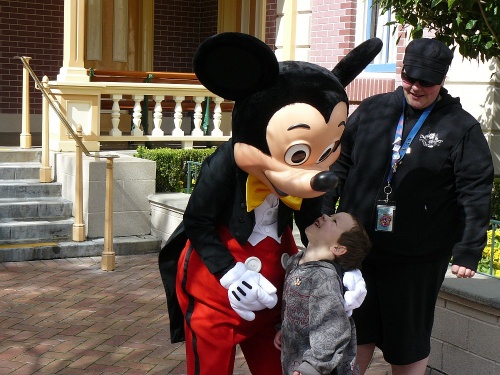 This photo taken at Disneyland in February 2011 in front of City Hall. My daughter and grandson meet the main mouse! (Submitted by Barb B.)
---
Published On Aug 22, 2012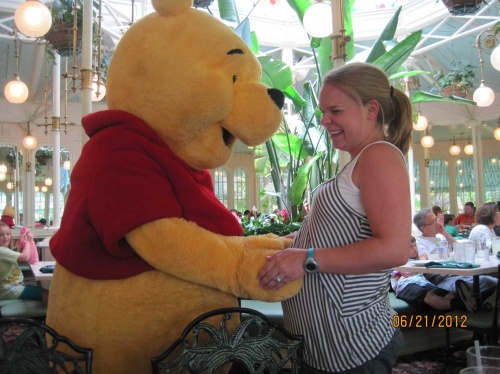 My daughter-in-law, Sara, has been a big Winnie The Pooh fan her whole life. During our visit in June she and my son, Matt, loaded up on all things Pooh for their upcoming bundle, little Cali who arrives in September. Our visit to the Crystal Palace rewarded all of us, especially Sara, with an unforgettable moment between Sara, Cali and Pooh. (Submitted by Peggie C.)
---
Published On Aug 8, 2012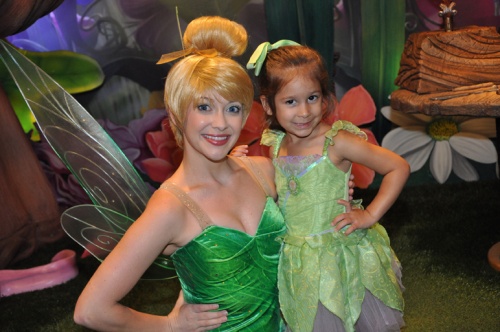 This is my daughter Sydney and this was her first trip to Disney World. She wore her costume that morning to eat breakfast at the castle and little did we know that we would run into Tinker Bell that afternoon. Tinker Bell was so sweet to her and told Sydney how beautiful she was. After the picture Tinker Bell gave her pixie dust and I teared up seeing the sparkle in my little girl's eyes. An experience Sydney will always remember and one I can't wait to have again. I am always thinking about our next trip! (Submitted by Jessica C.)
---
Published On July 25, 2012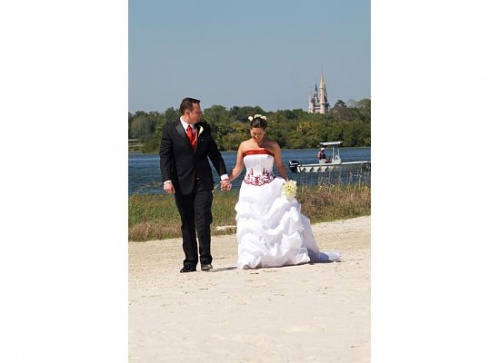 Our Disney Wedding at the Polynesian with the Castle in the background on 4/1/11. We returned this year for our one year anniversary. (Submitted by Phinion W.)
---
Published On July 11, 2012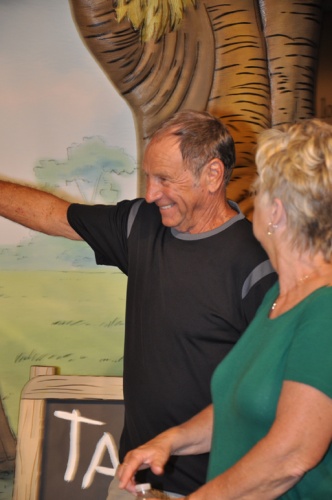 My character visiting the characters.
We did a Disney trip without grandkids and had a wonderful time. Even though we were on a solo trip, my husband did not want to miss the meet and greet at Epcot… As you can see we love all of Disney… (Submitted by Brenda S.)
---
Published On June 27, 2012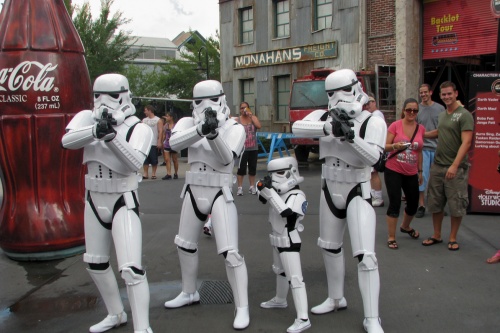 My son, Danny, is 7 and loves Star Wars. We've gone to Disney's Star Wars Weekends for 3 years now. He has the real Stormtrooper armor and insists on wearing it all day, even in 90+ degree weather. He believes he is on the Darkside now and will hardly take any pictures with the good guys. He also believes he's been personally invited by Darth Vader to guard him and gets to do that along with the other Stormtroopers when he's there. The cast members are magical. It makes his whole year. That's why we love Disney!
---
Published On June 13, 2012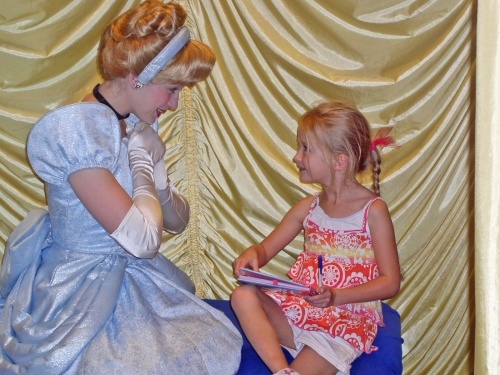 This is our 7 year old Goddaughter, Elizabeth, on her first trip to Disney World in 2010. Since she was old enough to recognize the castle on her Disney movies, we had been promising to take her someday. Needless to say, she was totally mesmerized by it all, but my favorite memory had to be one of the first things we did upon arriving at Magic Kingdom. Obviously, we had to go see the princesses. We were able to meet Aurora, Belle and Cinderella (her favorite). She listened to them so intently and as we were walking out of the room, she looked up at me with those big blue eyes and said, "That was so…" (she paused to try to find the correct word and then added)…"magical." I couldn't have said it better myself. (Submitted by Laura M.)
---
Published On May 30, 2012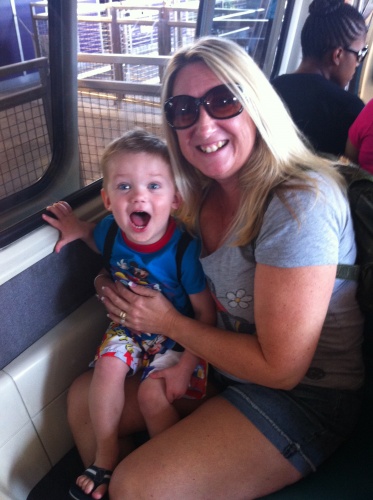 This photo is of my 2 yr old grandson Brantley and I as we boarded the monorail. Before his first visit we had looked at pictures on the computer for weeks, so when he saw the monorail (or the "monorail train" as he calls it because he loves the Disney show Chugginton) he was very excited as we sat down and start to move! To him, this was an exciting "ride!" What a precious first visit he had! (Submitted by Sandra H.)
---
Published On May 16, 2012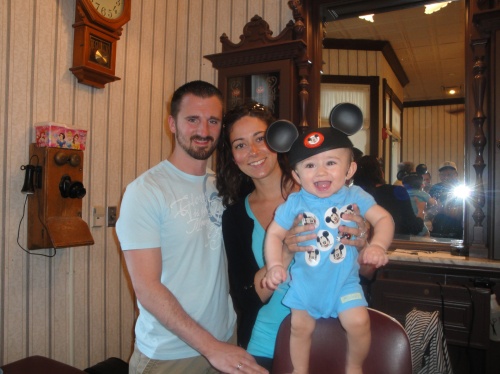 This is John at 9 months old. It was his first trip to Disney, along with his first haircut! He just loved all of the attention and the mouse ears! This smile was constant throughout our whole trip! Amazing memories thanks to Disney! (Submitted by Heather & John S.)
---
Published On May 2, 2012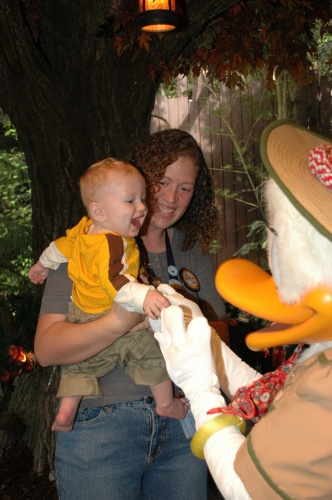 7 month old Justin during his first WDW visit. He loved all the characters, especially their noses. (Submitted by Celeste R.)
---
Published On Apr 18, 2012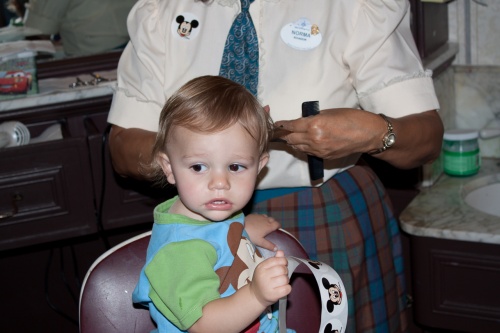 My son Ayden's first hair cut at 19 months old in Sept 2011. (Submitted by Lynn B.)
---
Published On Apr 4, 2012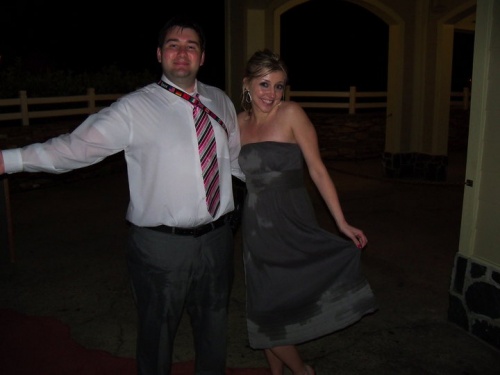 I will never forget being a bridesmaid in my friend's beautiful wedding that was held at the Wedding Pavilion in May 2010. After a beautiful ceremony and a delicious reception at the California Grill, the bridal party decided the night was still young, so we headed over to the Magic Kingdom in our wedding best. My husband (the best man) and I decided to have our own 'Trash the Dress' moment and got completely soaked on Splash Mountain! It was a night I will never forget! (Submitted by Theresa K.)
---
Published On Mar 21, 2012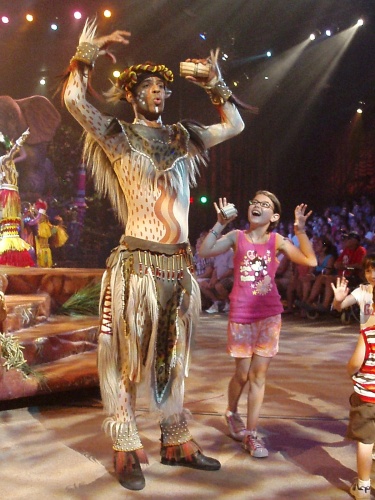 At the Festival of the Lion King, my granddaughter Michaela was chosen to participate. The expression on her face says it all. (Submitted by Carol M.)
---
Published On Mar 7, 2012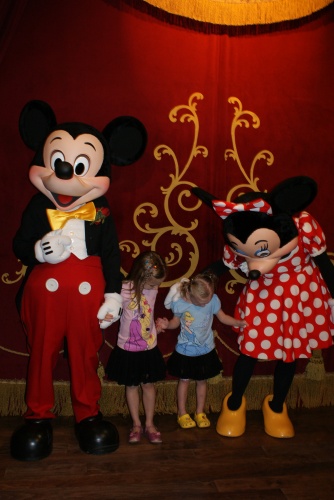 I took my two nieces (Ansleigh 5, Addison 2) to Magic Kingdom just before Christmas for their Christmas gift from Aunt Jeni. They have soooo many toys and "stuff" at the house, I thought vacation time and memories would be a better gift.
My youngest niece LOVES yellow and LOVES Minnie Mouse (she was Minnie for Halloween). She had never mentioned the fact that Minnie's shoes are yellow…until meeting her in person! This photo is what happens at the moment she realized that she and Minnie Mouse have matching yellow shoes! (Submitted by Jennifer P.)
---
Published On Feb 22, 2012
My 2nd son, Mitchell, has a annual tradition of asking Cinderella for a kiss. It started back in 2008 when he was scared of the big masked characters, so decided he liked the princesses! He's told me he's going to ask every year until he is 10 (now 7) and then reassess the situation! This kiss was taken at 1900 Park Fare character dinner at the Grand Floridian Resort. (Submitted by Becky)
---
Published On Feb 8, 2012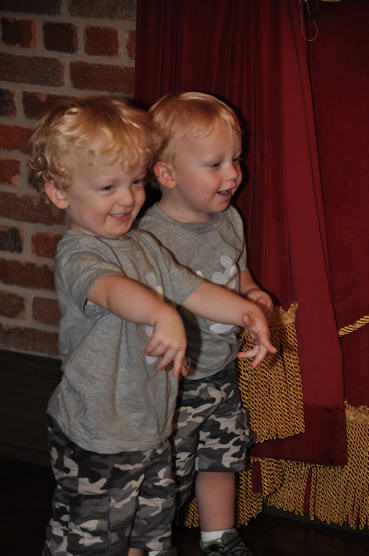 This is my absolute favorite picture! It was taken when our 2 year old twins, Trey and Ty, met Mickey for the first time. They adore Mickey so their facial expressions are priceless! Thank goodness for PhotoPass!
---
Published On Jan 25, 2012
Submitted by Carrie B.
---
Published On Jan 11, 2012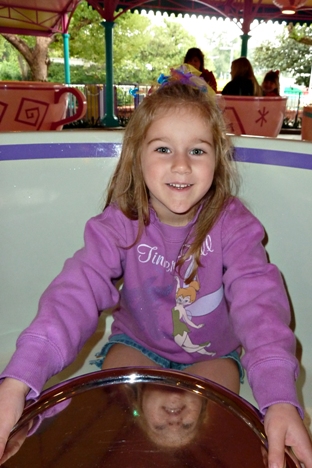 My granddaughter Caroline's first visit to WDW and our first time on the Tea Cups 🙂
(Submitted by Dawn)
Similar Posts: