When you get in trouble and you don't know right from wrong
Give a little whistle! Give a little whistle! – Jiminy Cricket
Q.   Hi! I have a question about where to stay. My husband and I have 6 children and the youngest is in a wheelchair.  We would also like to bring Grandma with us. Since we have a party of 9 and a wheelchair, what resort would best accommodate us and make it easy to get around with the wheelchair? It is ok to have multiple rooms as long as they are together. I have stayed at All Star Sports before and only had 4 children at the time and remember how hard it was to catch a bus that we didn't all have to stand on. It would be nice to take a seat while transferring from park to hotel.  (Submitted by Christy M.)
A.  Hi Christy!
It sounds like you are working on a great vacation!
First things first; How to best handle the bus situation with a wheelchair?  It is possible to ride the bus when you have a guest in a wheelchair in your party however one thing to keep in mind is that each bus can accommodate a limited number of guests in wheelchairs.  Most buses accommodate 2 guests in a wheelchair at a time although there are a few newer buses that can accommodate 3.  The problem is you never know which buses are going to show up when.
Keep in mind that Disney only allows the guest in a wheelchair plus 5 others to wait and board in the designated area. This means that, at times, your party will have to separate into different lines (because of the five person restriction) so you may end up waiting several rounds in order to get on the bus together or you may have to take separate buses and meet at your destination.
Unfortunately, bus transportation at Disney is something that you can't predict.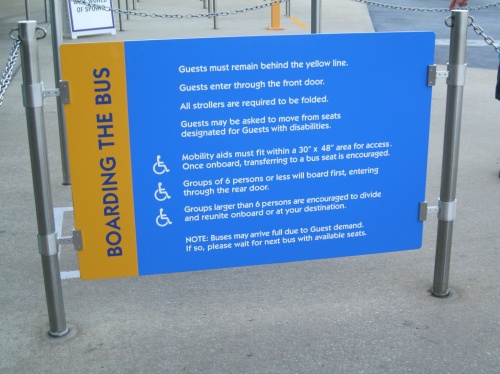 The best tip I can give you in this situation is to try to wait out the masses at the end of the night or leave a bit earlier if you want all of your party to ride together.  Otherwise you are just going to have to pack your patience when dealing with Disney buses.  If you are running on a schedule make sure to leave ample time for your party to get from one destination to another.  Again, you never know how long you may have to wait.
Another piece of advice is when you do pick a resort try to request a room near the first bus stop.  That way you will have a chance at being the first party with a guest in a wheelchair to get on the bus and you may not have to wait for other buses, hoping the next one will be able to accommodate your party.
My suggestion would be to try to stay at a resort where you won't have to rely on bus transportation for every park.  Yes, you may have to use it to get around to some places but not all.  Another option would be staying at a Monorail resort, (Grand Floridian, Polynesian or Contemporary) so you'll have easier access to the Magic Kingdom and Epcot.  If your family really enjoys Epcot I would suggest staying at the Beach Club, Yacht Club or Boardwalk.   Here you'll have walking paths to both Epcot and the Hollywood Studios.
If price is a major concern my suggestions change a bit.  You do have quite a large party and having multiple rooms at one of the Deluxe Resorts can become pricey.  The only challenge is that you will have to rely almost exclusively on bus transportation.  Staying at Port Orleans Riverside (a Moderate Resort) may be your best bet as they have trundle beds and can have 5 people per room.  You may want to look at 3 rooms at a Value Resort as well.
You could always rent your own car, too.  That way you know you will have no problems and can leave whenever you are ready.
The best thing to keep in mind is that while transportation is not always the best at Walt Disney World, it does have one really great thing going for it and that is that it's free.
If you have any concerns about traveling to Walt Disney World with mobility issues, please make sure to check out http://disneyworld.disney.go.com/guests-with-disabilities/mobility/
Hope you have a Magical Trip!
Similar Posts: