When you get in trouble and you don't know right from wrong
Give a little whistle! Give a little whistle! — Jiminy Cricket
Do you have a Disney dilemma? Are you wondering about a certain attraction? Are you curious about a resort or a cruise? Give us a little whistle and we'll help you sort out how to handle it. Questions should be sent to whistle@magically-speaking.com. If your dilemma is trip-related, please include when you will be traveling.
Q. We are planning a trip to Disneyland in December and would like to attend the Candlelight Processional. I have been checking all around and the only info so far is that it is usually held either the first or second weekend in December. Unfortunately, we can only be there one weekend so we need to find out which it is. Do you have any idea around the time they announce it, and if they offer the dinner package like they do at Walt Disney World? (Submitted by DKunze)
A. While the official dates for the Candlelight Processional in Disneyland are yet to be announced, it's traditionally been held on the first weekend of December, with two shows on Saturday and two shows on Sunday (so for this year, December 4 and 5). The information is usually announced in September with package tickets available for purchase in November. In 2009, the package was only offered to D23 members at a price of $275 per person with private dinner at Stage 17. Previous years, the price has been substantially lower and the package was offered to the general public with dinner options at several Disney restaurants.
What Disney plans for this year isn't known, but if they do offer a general public package, please know that in the past, the packages sold out immediately upon release. Truly, within seconds. The somewhat good news is that you can see the Candlelight Processional for free without the package. It does get crowded early, with people saving spaces as early as park opening. There is usually a parade in the afternoon, so street seating will not be allowed till after the parade has gone by.
For those of you who hope to see the Candlelight Processional at Epcot, and wonder when the 2010 dining package is coming out, get in line. This year, Candlelight Processional at Epcot runs from November 26 through December 30.We're now entering the traditional date-range for release of the package (where you book a lunch or dinner at an Epcot restaurant, and get reserved seating for a specific CP show). Late July and early August are good times to start looking for the package release, and we do recommend you look. The Walt Disney World packages also book fast (though not as fast as the much-more-limited Disneyland ones), and they're worth having unless you're the kind of person who enjoys long waits in line with the possibility of being completely shut out after that long wait. We'll be sure to post something on our Magically Speaking facebook page and, of course, in this newsletter.
Q. Hi, We have a trip planned to stay at Disney World from November 4 through 13, and we're wondering if the Osborne Family Spectacle of Dancing Lights at Disney's Hollywood Studios will be lit and dancing by that time. I am seeing some information that says they should be in operation from November 8 through January 4. Can you please confirm if they will be running during our trip? (Submitted by B.D.)
A. While the Disney World website doesn't have the dates listed yet, some Disney promo emails and other web applications note this year's opening date as November 8. So you should have no problem catching the Osborne Lights during your vacation. And they're sure worth it, eh? Thanks to Kenneth F. for sharing these shots of the Lights.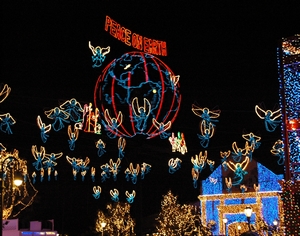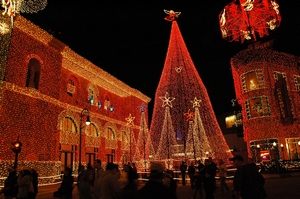 Q. Hello, We are traveling from Australia to Disneyland for Christmas in 2010. Could you tell me where we can have a Disney special Christmas lunch either in the park or at the resorts? Do they offer Character dining for Christmas Day? (Submitted by Charmon)
A. As far as we can recall, Disneyland always has special dinners, at various locations both Christmas Eve and Christmas Day. They've yet to announce their offerings, but we're sure we'll see something in the next months. For Storyteller's Café, there's usually a dinner buffet. Goofy's Kitchen usually has a special "Goofy's Christmas Feast" for Christmas Eve–no characters. Napa Rose at the Grand Californian Hotel usually has a prix-fixe Christmas dinner. We're fairly sure the Jazz Kitchen and Catal at Downtown Disney will have a Christmas menu as well–Jazz Kitchen has been serving their famous turducken during Thanksgiving and Christmas for years–yum!
As for holiday character meals, Charmon, a Disney park without character dining is like a day without sunshine–of course there's character dining on December 25 at Disneyland Resort! Which characters are you hoping to see? One of our favorite character meals is breakfast at Storytellers, at the Grand Californian Hotel, with Chip and Dale. But for lunch, you can catch the princesses at Ariel's Disney Princess Celebration (DCA). And the Disneyland Hotel buffet's open all day at Goofy's Kitchen, where you'll see–surprise–Goofy, with his friends. A non-character meal location we heartily recommend would be the Blue Bayou at Disneyland (spendy).
Whatever meal plans you make, know that, unlike Disney World, meal reservations aren't booked a full six months out at Disneyland. You can book Priority Seatings for the restaurants listed above sixty days out from your meal date. Just call 714-781-3463 between 7:00 a.m. and 9:00 p.m., Pacific Time, seven days a week.
On the non-meal but holiday-related front, remember that a few other Disney fans will also be visiting the two DLR parks on Christmas Day. And bringing thousands of their closest friends. Disneyland is pretty darn amazing over the holidays. You'll get to see the 60-foot Christmas tree that greets you as you enter the park and step towards Main Street. The Haunted Mansion will be decked out as "Haunted Mansion Holiday." "it's a small world" becomes "it's a small world holiday" (it's absolutely beautiful, nothing like what you see in Florida's Magic Kingdom, if you've been there). "Santa's Reindeer Roundup" is available in Frontierland with Santa and Mrs. Claus. The "Christmas Fantasy" parade runs daily, and each night the special holiday fireworks, "Believe…in Holiday Magic Fireworks Spectacular," is complete with snowflakes falling on Main Street. At Disney's California Adventure, the Sunshine Plaza is transformed into "Santa's Beach Blast" and "a bug's land" is decorated with giant Christmas decorations. There are also various Christmas decorations throughout the park, including another 60-foot Christmas tree located in Hollywood Pictures Back Lot.
Enjoy your holiday visit, Charmon. Drop us a note and let us know how it went.
Similar Posts: