In each issue we like to highlight tips and tidbits from our readers. If you have a tip to share, send it to us at magicallyspeaking@themouseforless.com.
---
Published on Nov 30, 2009
We recently ate at California Grill. Be aware of the dress code — "Business Casual: no swim wear, cutoffs or ripped or torn clothing." This includes the very trendy, very expensive jeans the teens are wearing with tears in them. They refused to allow our daughter in — we had to go buy her a new outfit which of course cost less than the jeans she was wearing! — Submitted by Gail J.

We went on the newly opened Space Mountain over the weekend. I have a couple of tips. First, DON'T stand in a 70 minute line thinking it's not really that long. IT IS that long and except for about 15 minutes where you can play those games, it's not that exciting! Second, the ride seems much darker than it used to be and there are more stars in the sky. I'm not sure why, it's so dark. Even from the TTA, you see nothing through the windows where you could previously see the ride. — Submitted by Carol V.

---
Published on Nov 16, 2009
Before the soft opening of Space Mountain began last Friday, I was able to take a photo of the new ride track with the lights on! We were on the Tomorrowland Transit Authority when I took this. I hope your readers like it. — Submitted by Kate G.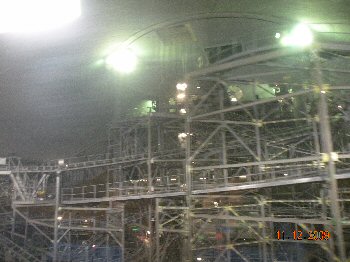 The Osbourne Lights display opened last week. We went to check it out and found one of our old favorites is back. The glasses that add angels to the lights are available again. They used to be free, but are now $1. We were still happy to see them again! — Submitted by Alex G.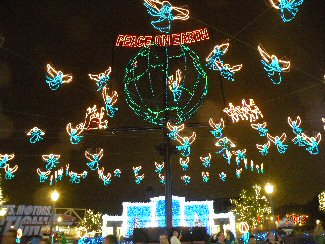 ---
Published on Nov 2, 2009
I just read your information about decorating your room at Disney for Christmas.
I stayed at Saratoga Springs last Christmas and we purchased a three foot tree at nearby Wal-mart, had a string of 50 lights, and my daughter picked about 30 of her favorite 'Disney pins' which we attached to small ornament hooks. Our little disney tree cost with lights and skirt, under $25 (as opposed to the $350 one the disney florist could provide).
We then learned that there was a children's hospital nearby that accepted donations of decorations, so we left the box at the front desk with a cast member and felt very good!
I also recommend stopping by Boardwalk lobby as they have a chocolate gazebo with Hidden Mickeys! — Submitted by Teresa R.

I am still laughing at the review of Max's adventure of finding the best chocolate cake on property! I have to say the reader was warned that he gave unbiased, explicit details, but when reading about the sauce looking like "snot," I laughed out loud. Great review and such a good idea for an adventure at Walt Disney World.
---
Published on Oct 19, 2009
Even though the weather might be getting cold where you live, Disney heats the pools, and the water parks as well. We have a great time swimming in December, although it does help to have a towel handy because the walk back to the room can be quite chilly! — Submitted by Kate G.

Take a look at all of your ticket options before purchasing. The cost of adding days to a ticket is very small after three days, so it might be worth it to add that extra day and spend a few hours in the park on the day you arrive or leave. We felt that the extra few dollars was a great price to be able to see the parks for a while and have dinner on the day we arrive. — Submitted by John R.
---
Published on Oct 5, 2009
While you're waiting in line or just relaxing at the park, the grown-ups in your group might like to notice some of the beautiful or unusual plants the Disney landscapers use to theme different lands. If you want more information about plants you see, check out sites like Plants of Disneyland (http://www.plantsofdisneyland.com/) or the Haunted Mansion Plant List (http://hauntedmansioncollectibles.blogspot.com/2007/11/haunted-mansion-plant-list.html). It's a fun way to find park "souvenirs"! — Karen and Gary, Fairfield, CA
---
Published on Sep 21, 2009
We are always afraid of losing our room safe key or one of us needing it and the other(s) have it. This solves the problem: buy a Command brand hook! They can be attached to any surface (like under a bed or behind a wall unit) and the key can hang in the room safe and available for all to use. When the vacation is over, simply pull the tab and the hook releases. It doesn't hurt the wall (or other surfaces) at all, like nothing was ever there. The key never leaves the room, nobody has to pay for a lost key and everyone who knows where it is has access to it. Magic, right? (Submitted by Barbara M.)

There are many different ways to use your digital camera for identification. If you would prefer to not label your digital camera on the outside, label it on the inside. Just take a picture of your business card before you leave for your trip. Your information will be on the camera should anyone find it and it can be returned to you. Make sure to take a picture of your room number if you happen to be staying at a place where the halls all look the same. It's safer than labeling your room key. (Submitted by John R.)
---
Published on Sep 7, 2009
Southwest Airlines now lets passengers pay a $10 fee for guaranteed early boarding. Southwest will automatically check you in for the flight 36 hours before departure. Although there is a fee, that means no more trying to check-in from a cell phone while in the parks! (Submitted by John R.)

If you have an iPhone, check out the Toy Story Mania app. It's played a lot like the game at the parks. There is even special wallpaper that can be downloaded if you use it at the park. My kids love playing it, too. It's rather large, though — 10MB, but it's worth it if you're a fan of the game. (Submitted by Lisa L.)
---
Published on Aug 24, 2009
Cat Cora's restaurant had their soft opening on August 15, 2009 and the grand opening will be in September. They are taking reservations as we speak. We are going there on August 16. [Ed. Note: This tip was submitted before Donna's reservation. We hope you had fun. Let us know how you liked the restaurant!] (Submitted by Donna S.)

We just got back from Walt Disney World and received a bounceback offer in our room for 2010. It offered the dining plan for a stay next year between August 15 and September 30. If you're going soon, be on the look-out for the offer! (Submitted by John R.)
---
Published on Aug 10, 2009
If your small children are afraid of the "life size" Minnie and Mickey in the parks and restaurants, take them to the Disney Pin Traders store in Downtown Disney. There are Minnie and Mickey and Donald and Daisy statues in the store that make for excellent photos. Plus, there are many other statues all over Downtown Disney for even more photo opportunities! (Thanks to Cindy L. for booking this trip!) (Submitted by Kristie A.)

I just wanted to thank you all so much for the last newsletter that you sent out on July 27th. The information about the free dining being open to the public was such great information and you guys saved me over $700! I booked our family vacation a year ago for Dec 3-13. Then I received your e-mail and you guys stated that that dining offer was open to the public. I called Disney and explained everything: that I was a Visa Rewards cardholder, got that e-mail, then received an e-mail that the offer was open to the public. I explained exactly what you wrote about the free quick service dining plan, but could upgrade to the regular dining plan for a fee. (The regular plan is what we had for our vacation package.) The agent chuckled and she said, "WOW, you got it and you understand it all, normally I have to explain all that and try to get people to understand, but you nailed it!" Then she said, "Let me see if there are any packages available for where you are staying." Then she said, "Yes, there is!" Thank you guys very much for giving people like me such great information on ways to save! (Submitted by Julie P.)
---
Published on Jul 27, 2009
I really enjoyed this article by Teresa Pitman (Getting Wet in the Disney Parks, July 13 edition). My son (now almost 8 years old) has a knack for finding those spots where you are likely to get soaked! But you missed 2 of his favorites: in the Magic Kingdom, the "leaky Tiki" statues in Adventureland, and the "bubble fountain" which you will encounter as you make your way out of Kali River Rapids at Animal Kingdom. I'm not sure the true name of this fountain, but it has sure kept him spell bound. I'm including a picture of him enjoying the fountain at Animal Kingdom. (Submitted by Holly H.)

My daughter went to the pool at the Beach Club and experienced a great treat! Cast Member Raul helped her and other children build sand castles and play games in the pool and sand. The Beach Club has the greatest pool with a sandy bottom. Raul also has a Scavenger Hunt every afternoon where the kids get to follow clues to find a "Hidden Treasure" of plastic jewels and coins. (Then they get to keep some of them!) After the scavenger hunt, Raul took all the kids to Beaches and Cream Ice Cream Shop for a FREE Mickey Mouse Ice Cream Bar. (He even took my wife!) Raul is paid to do this, so I'm looking forward to "retirement" so I can apply for his job! (Submitted by Don G.)
Similar Posts: