When you get in trouble and you don't know right from wrong
Give a little whistle! Give a little whistle! — Jiminy Cricket
Do you have a Disney dilemma? Are you wondering about a certain attraction? Are you curious about a resort or a cruise? Give us a little whistle and we'll help you sort out how to handle it. Questions should be sent to whistle@magically-speaking.com
Q. I'm almost embarrassed to ask this question, as I know that Hall of Presidents is joked about as a nap location by many Disney fans. But it's one of my favorite attractions, and I'm looking forward to hearing about the changes that Imagineers made in the recent refurbishment. Do you have any details? (Submitted by Elizabeth)
A.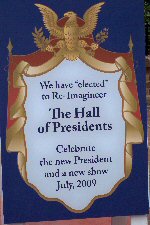 Elizabeth, you and Walt Disney have something in common. The Hall of Presidents was a pet project of his, something he would have liked to have completed for the 1964-65 New York World's Fair, and a definite plan for his Florida vision. We're sure he didn't see it as a nap place. In fact, when it first opened, the Hall of Presidents was an E-ticket ride, along with Haunted Mansion and Jungle Cruise.
This isn't the first renovation that the Hall of Presidents has had in the almost 38 years since it debuted with the Magic Kingdom on October 1, 1971. There was a significant renovation in 1993, with a content change to the movie and a revised speech for President Lincoln. This was when the sitting U.S. president got a speaking role in the Hall of Presidents: Bill Clinton was the first president to record a speech with Disney Imagineers.
Another change over the years, of course, is that a number of presidents have been added to the Hall of Presidents' stage. Since 1971, Gerald Ford, Jimmy Carter, Ronald Reagan, George H. W. Bush, Bill Clinton, George W. Bush, and, most recently, Barack Obama, have brought the presidents' numbers to 44. The narrators have also changed, from Lawrence Dobkin in 1971, through Maya Angelou and J.D. Hall, to the current pick of Morgan Freeman.
This renovation includes the addition of a speech role for our first president, George Washington; he delivers words inspired by his second inauguration. The audio-animatronics have "refreshed" costumes and their beards and some wigs were replaced. There's a new digital video projection system, lighting system, and show control system. Even the curtains are new. The content of the show was also revised, with the help of American historian, Doris Kearns Goodwin. The show now ends with a choral rendition of "America the Beautiful."
For those primarily interested in getting a glimpse of the newest audio-animatronic president, Barack Obama, you can see a clear photo of him in the most recent Disney Insider. There's also a fun and funny video up on the White House YouTube channel of the President doing his recording for the attraction. You'll see that someone clearly didn't properly brief Obama for this meeting.
If you're not yet napping, Elizabeth, read on, because we sent our woman on the ground, Jane Jones, to investigate the Hall of Presidents attraction. Here's the report she filed with us:
I was lucky enough to see the newly renovated Hall of Presidents during the recent Passholder and DVC Member preview on June 28. There was quite a bit of buzz and excitement, and unlike a normal visit to this attraction where the seating is most often plentiful, the auditorium was packed in anticipation.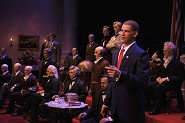 The opening program has been updated, highlighting those presidents who were "new" and "different" from their predecessors. There was a focus on Andrew Jackson (which was respectfully and humorously done and his witty quotes received laughs), Abraham Lincoln, and of course President Obama. More notable to me was when the audio-animatronic Lincoln gave his Gettysburg Address alone — no other presidents were on the stage — midway through the first section. It was reminiscent of the "Great Moments with Mr. Lincoln" attraction at Disneyland. Following Lincoln, the story of America continued in film clips and narration.
Finally, all of the presidents were introduced. George Washington begins by sharing a few points about our country's history. Then, of course, President Obama was highlighted and he did a nice little speech. His remarks were well-received, no matter the political affiliation within the audience.
I enjoyed the new slant the attraction took. The writers did not shy away from the historically unpopular or the uncomfortable. There was a touching section on 9/11. It made us all proud to be Americans.
I hope everyone will take the time to see this quality attraction. It is more that just a cool place to put your feet up (or take a cat nap) on a hot afternoon. It reminds us of what it means to be an American, and that anyone can achieve anything in the United States!
So, as you can see, Elizabeth, you're not the only one who thinks the Hall of Presidents is more than a good place for a quick snooze.
Similar Posts: