When you get in trouble and you don't know right from wrong
Give a little whistle! Give a little whistle! — Jiminy Cricket
Do you have a Disney dilemma? Are you wondering about a certain attraction? Are you curious about a resort or a cruise? Give us a little whistle and we'll help you sort out how to handle it. Questions should be sent to whistle@magically-speaking.com
Q. Hi guys! I love your newsletter — thanks a million for the work you do on it! 🙂 I'm wondering if you can help me find the Blue Fairy (you know, Pinocchio's special wish-grantor!) when we go back to WDW in November 2009. I saw the actual Blue Fairy character for the first time in WDW's 2008 planning DVD and was very excited that it might be possible to finally meet and have a photo taken with my favorite character in all of the Disney realm. Any ideas? I asked in September 2008, was told by a Cast Member that he'd seen her only in a few parades. I remember when she was a carved figure on a float with Geppetto, Pinocchio, and Cleo, but she was not a real person character. I kind of wondered if the Cast Member was thinking of that former parade float or really if he even knew who the Blue Fairy was for sure. Thanks for any info you can give me! (Submitted by Joy L.)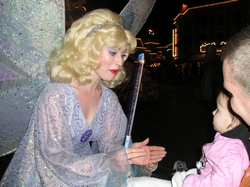 A. Joy, your question was a bit of a stumper for us, so we went to Brad from StitchKingdom.com — he's our go-to guy for all things character related. He let us know that while he's never known the Blue Fairy to do a meet and greet, in the past she has been in parades at the Magic Kingdom and Disneyland. Unfortunately, he doesn't believe she's in the current Magic Kingdom "Celebrate a Dream Come True" parade. Thanks to Julie and Bret for photographic evidence that the Blue Fairy indeed does exist, in real life — she's shown here in Disneyland in 2007.
Q. Help! We just booked an early July trip, including the dining plan, and don't have any ADRs. Is it worth it to even try at this point, or should we just wing it when we get there? (Submitted by Josie B.)
A. Hi Josie. We're big believers in the value of at least a little advance planning when it comes to Disney vacations. We're also big believers in making our food dollars go as far as possible, and on the Disney Dining Plan, that's only a slam-dunk if you've arranged a good number of ADRs ahead of time. Because of the popularity of the Dining Plan, the days of walking up and getting a seat at a popular dining location are, regrettably, gone. For every night of your stay, we recommend you have at least one ADR. The good news is that it's definitely not too late to try for some ADRs, even at the more sought-out locations, especially if you are willing to eat your meals a little early, or a little late.
You don't give much information on where you are staying, or how many nights you'll be at Disney World, so we'll just give you some generic advice about how to pick and plan your ADRs. Before you call to make your meal reservations, try to get a general idea of which park you'll be in each day. Then come up with two or three restaurants that are acceptable to your family, either in or near each park. (You can check the menus on TheMouseForLess.com, if you aren't sure which locales will work best.) So for Epcot, maybe choose a couple World Showcase restaurants as well as Epcot-resort restaurant. For your Magic Kingdom meal, perhaps you could eat at a monorail resort (we like Kona Café at the Poly), if all the ressies are taken for in-park dining. If you are staying at a Moderate or Deluxe resort, you might also want to book one dinner there. If you pick a mid-trip evening for your resort meal, that will give you an easy night to re-energize for the remainder of your visit.
If you aren't able to get your first choice picks for meals, know that you can always check for openings once you arrive at WDW. The concierge desk at your resort can help you, as can Guest Services at any of the theme parks. But having pre-made ADRs in your back pocket will ensure you don't go hungry, or waste those table service credits. Enjoy your visit, Josie, and bon appétit!
Similar Posts: