Published on: Dec 18, 2006
Yes, we did give you a big hint for the last "Lost" photo, and you all were paying attention and got it right! Of course, this was a picture of Brer Rabbit from Splash Mountain. That tricky Rabbit is starting his journey, hiding from Brer Fox and Brer Bear. This very detailed water ride, based on the movie "Song of the South," culminates in a five story drop!
Congratulations to Rob Wilson who knew the answer and is the lucky recipient of a trading pin.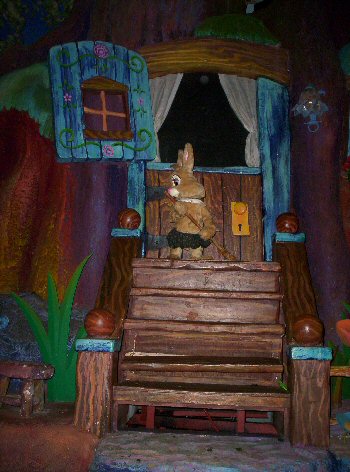 ---
Published on: Nov 20, 2006
Do you remember the last last photo? We know it's been a while, but lots of you realized that this was a photo of the lamp atop of the Magic Carpets of Aladdin. This "Dumbo-like" ride has an added twist: a spitting camel. Not only can you get a little wet on the ride, but there is another camel ready to catch you as you are walking by the attraction. It's lots of fun for the kids, since Mom and Dad are usually sitting on the outside of the carpet, they can try to get the camel to give them a little surprise.
Congratulations to Donna Gainey who knew the answer and is the lucky recipient of a tradng pin.
---
Published on: Nov 6, 2006
So how did you fare with last photo? It was, of course, Animator's Palate. This dining experience aboard either the Magic or Wonder ships is a treat for the senses and a tribute to the magic of Disney animation. The restaurant begins with the black and white of an animator's sketch and ends in the full color wonder of an animated masterpiece. Not only do the walls, wait staff and music transform, but the food is a delight, too!
Congratulations to Bobbie M. who knew the answer and wins our special Cruise prize: a Pirates of the Caribbean watch!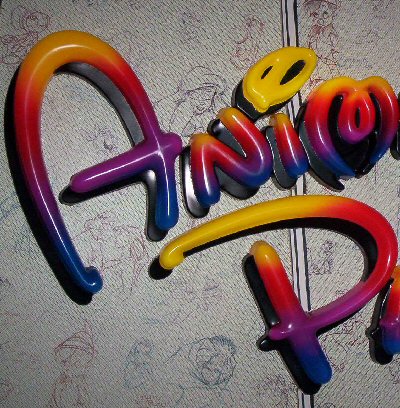 ---
Published on: Oct 23, 2006
You were right on target when finding the location of our last photo. Although Cinderella's coach generally isn't hanging around in guest areas, it does make an appearance at Mickey's Not So Scary Halloween Party. It sits in the area that once housed a Skyway entrance in Fantasyland near it's a small world. Guest can join the queue of Halloween revelers waiting to pose in front of this classic icon.
Congratulations to Damian D. who is the lucky winner of the pin drawing this issue.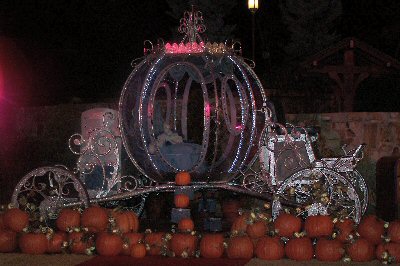 ---
Published on: Oct 9, 2006
The bridge pictured in our last issue, was none other than that wonderful "back door" of Epcot known as the International Gateway. This second entrance, located between the UK pavilion and the French pavilion, is the only way guests staying at the Yacht and Beach Club, Boardwalk, Swan or Dolphin can enter Epcot. It's also a great passageway to exploring and dining at some wonderful Epcot area resorts. It is even the location of the boat that runs between Epcot and MGM (and the walking path for those of you whose feet aren't already hurting).
Congratulations to Michael & Katharine Ormond! They are the lucky winners of the pin drawing this issue. We can't help put wonder which one will get to put in on his/her lanyard, though.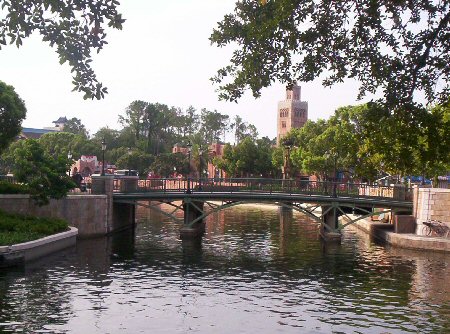 ---
Published on: Sep 25, 2006
Our photographer found the inscription "Castillo del Morro," pictured in the last issue, as she entered the queue area entrance to the Pirates of the Caribbean attraction in the Magic Kingdom in Florida. The design of the building facade for this attraction is based on the famous Caribbean fortress of the same name, located in San Juan, Puerto Rico.
Congratulations to Michael Phillips! He is the winner of the pin drawing this issue.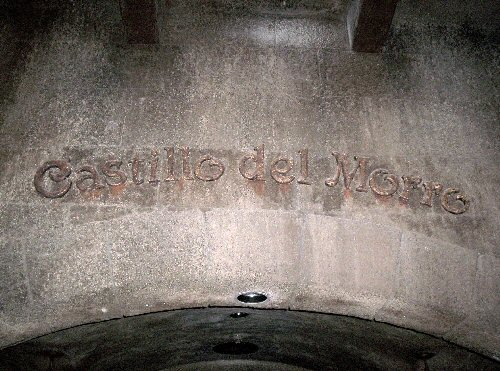 ---
Published on: Sep 11, 2006
Our photographer found the water station pictured in the last issue, by the tiger habitat at the Maharajah Jungle Trek in Animal Kingdom Lodge. The art and architecture of Anandapur (the fictional area where the trek is located) is filled with wonderful paintings and artifacts hinting of India, Nepal, and China. Take time to go through this area on your next trip and look at the details. The Imagineers at Disney did a wonderful job with this attraction.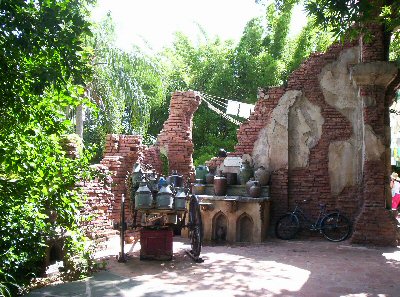 ---
Published on: Aug 28, 2006
Our readers sure do know their floors! The photo in the last issue was indeed of the floor: the floor in the waiting area of the Country Bear Jamboree, that is! This hand-clappin' and foot-stompin' classic attraction in located in Frontierland at the Magic Kingdom. The animatronics are loads of fun and this is a favorite show of young and old alike, although some like it equally for the fun and the possible 17 minute power nap out of the Florida sun it can provide.
Congratulations to Patty Greenberg! She is the winner of the pin drawing this issue.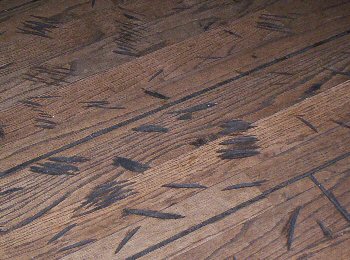 ---
Published on: Aug 14, 2006
Everyone heading through Africa in Animal Kingdom must be pretty busy heading towards the safari ride. The door in last issue's photo is directly across from Tusker House, by the restrooms. We thought the writing on the door might be a clue, but this was a tough one! So tough, in fact, that even though a few of you made some valiant guesses, no one actually got it right! So, we'll just throw the pin back in for next time.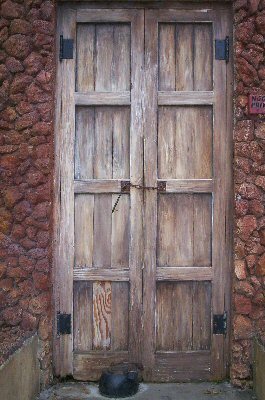 ---
Published on: Jul 31, 2006
Last issue's photo is none other that the classic Monstro at the entrance into Storybook Land Canal Boats at Disneyland. We heard from many of you how much you enjoy this charming ride. For those who haven't seen it, the boat trip passes by many miniature scenes from beloved Disney classics, including Aladdin's Agrabah, Alice in Wonderland, the ball where Cinderella met Prince Charming, and, of course, Pinnocchio.
Congratulations to Lynda C. for knowing the correct answer and winning the random pin drawing!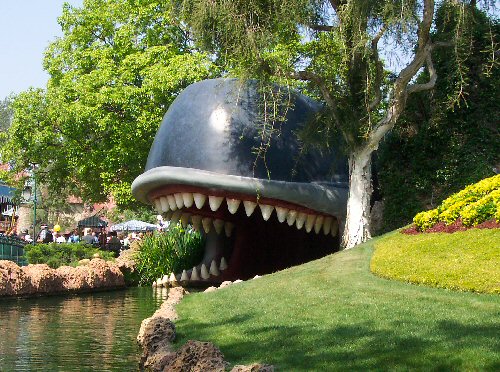 ---
Published on: Jul 17, 2006
Wow, you sure know your Christmas pictures. As most of you knew, last week's photo was taken in Mickey's Country House found at Toontown in the Magic Kingdom. This fun house is a great place to walk through and the Big Cheese himself can even be found out back posing for some photos. In the area is also Minnie's house and Donald's Boat.
Congratulations to Frances Fiorenza who is the lucky winner of the random drawing and the Epcot Holidays Around the World lanyard.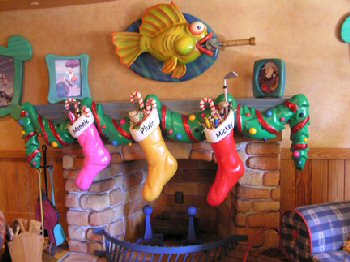 ---
Published on: Jul 6, 2006
Oh, it seems we've stumped you again! Well, we have to tell you last week's photo was not taken on Tom Sawyer's Island, as so many of you guessed (and it was a good guess). It was actually taken near the McDonald's Fry Cart in Frontierland. Although you won't be able to satisfy your craving for a Big Mac, you will be able to get some authentic McDonald's french fries. We sure know some happy kids (and adults) who are happy the settlers left this for us.
Congratulations to Kelly Mormak who was one of the few who figured this out and she is also the lucky winner of the random drawing and a lovely Disney trading pin.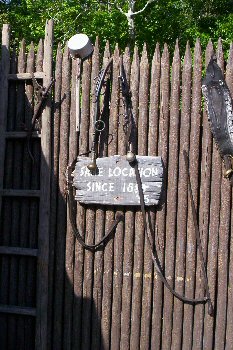 ---
Published on: Jun 19, 2006
Our wonderful readers certainly redeemed themselves this week! We had a clean sweep – everyone got the answer right. So we probably don't need to tell you where last week's photo was taken, but we will just for the record. The items in the photo are part of the marketplace display towards the end of El Rio Del Tiempo. Authentic items from Mexico can be purchased in the Plaza inside the Mayan temple at Epcot's Mexico, and some are quite a bargain. And we love a good Disney bargain!
Gayle Keller was one of the Epcot experts who go this right, and she is also the lucky winner of the random drawing and a lovely Disney trading pin.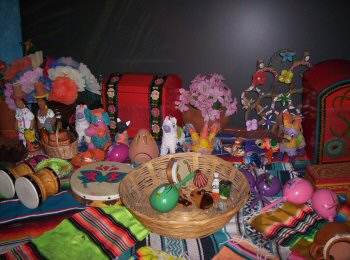 ---
Published on: Jun 5, 2006
We think many of our readers were lost right along with our photographer who took last week's photo. The key was thatching, which can only be found at the Enchanted Tiki Room in the Magic Kingdom. Although many of you thought the picture was taken in the Japan pavilion at Epcot, we looked around and found that the roof there is indeed tile. A bit tricky to figure out, but we like to keep our readers on their toes.
James Hickey has spent some time looking up at the Magic Kingdom. He provided the correct answer and was the winner of the random drawing and a lovely Disney trading pin.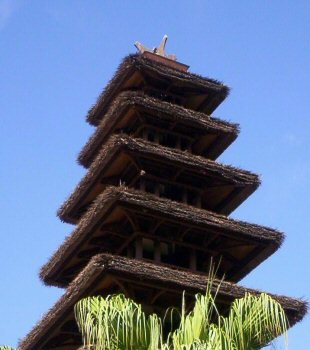 ---
Published on: May 22, 2006
So many of you have visited Coronado Springs! That was the location of our photo. Indeed, our photographer was staying at Coronado Springs and snapped the picture of Panchito's, which is the gift shop that sells not only typical fare, but also Southwest and Mexican crafts and merchandise.
Imelda Kubota was jumping up and down to tell us the answer and was also selected in the random drawing. We hope she enjoys her pin.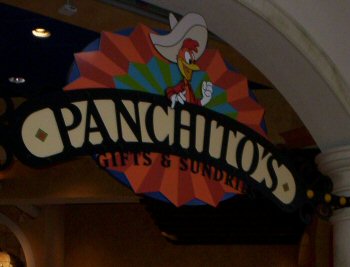 ---
Published on: May 8, 2006
Brer Rabbit is the star of Splash Mountain but you won't find this bronze statue of him in Frontierland. Our perpetually lost photographer found him among one of 12 detailed bronzes surrounding the "Partners" statue of Walt Disney and Mickey directly in front of Cinderella Castle in the Magic Kindgom.
Janice Hardeman, knew the answer and is the winner of a Disney trading pin, too! She also offered that she heard on a tour at the Magic Kingdom that the creator of this particular piece was an Imagineer who worked on Splash Mountain.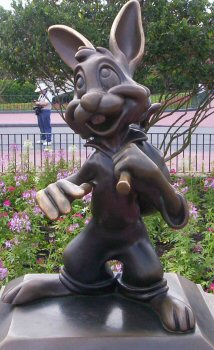 ---
Published on: Apr 24, 2006
Last issue, our lost photographer stumbled upon Tony's Town Square Restaurant, located at the bottom of Main Street USA next to the Camera Shop in the Magic Kingdom. Themed after Tony's Restaurant from Lady and the Tramp fame, it is known for pasta and Italian food and the most wonderful Tiramisu dessert our photographer has ever eaten. Tony's serves lunch and dinner (plus a great Grand Gathering breakfast), and if you time it right you might get lucky and find a seat on the porch. It's a great place to sit and view one of the many parades.
This wasn't too tricky for Nancy (nancyrn14), who knew the answer and is the winner of a Disney trading pin, too!

---
Published on: Apr 10, 2006
Although you probably knew the who from our last picture, the where was a bit trickier. Unless you spend some time at Downtown Disney looking up. Genie stands tall in Downtown Disney's Marketplace overlooking the splash fountain between Once Upon a Toy and Mickey's Pantry. Downtown Disney is Disney's dining entertainment and shopping complex stretching over 120 acres. It is comprised of three sections: The Marketplace, Pleasure Island, and the West Side. The Marketplace is home to the World of Disney which is over 50,000 square feet of Disney merchandise and has recently been renovated to include the Bibbidi Bobbity BooTique, and the Adventure Room where young (and young at heart) can find pirate and Stitch merchandise. Pleaseure Island offers some grown up entertainment featuring restaurants and a variety of night clubs. The West Side is home to DisneyQuest, Cirque du Soleil and more exciting shops and restauarants.
This wasn't too tricky for Cathy Maiewski, who knew the answer and the winnder of a Disney trading pin, too!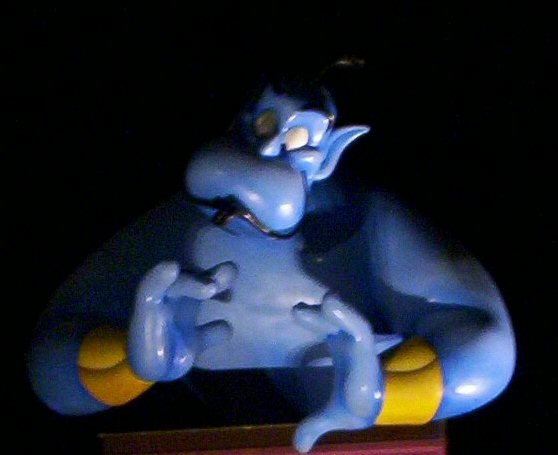 ---
Published on: Mar 13, 2006
Wow, a lot of our readers must spend some time resort hopping. We had a record number of entries for our last Lost picture. So, where was the picture? In the lobby of Animal Kingdom Lodge, of course! It is the Igbo Ijele (pronounced e-bo e-gelay), an African ceremonial mask. Although 16 feet high, it is worn by just one of the Igbo people of Nigeria during important events. This is the only known mask of its kind outside of Africa.
A big congratulations to Mary Waite who knew where our photographer was and won a Disney trading pin, too!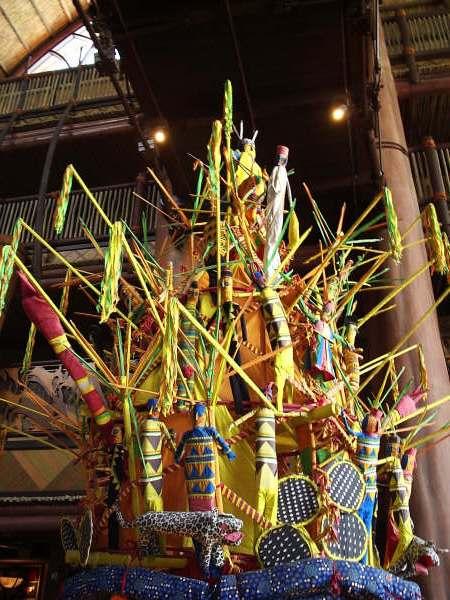 ---
Published on: Mar 13, 2006
We were really fishing for some help on our last Lost picture. If you have taken some time to look around while visiting Camp Minnie-Mickey in Animal Kingdom, you would have seen Donald is having about as much lucky fishing as our photographer does in finding her way around the parks. As you pass Donald, Mickey and Goofy trying their luck with the fish in the brook, take sometime to notice the hand crafted Adirondack benches that adorn the area.
A big congratulations to Cathy Maiewski who knew where our photographer was and won a Disney trading pin, too!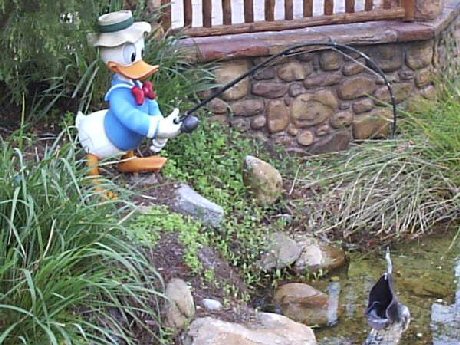 ---
Published on: Feb 27, 2006
Were you cooking with this answer? If so you may have been one of the many who have visited The Land at Epcot and seen the Jr. Chef Program. This 30 minute hands-on cooking experience for children is offered at various times throughout the day. Children get to don a paper chef's hat, and assist Disney Cast Members with making chocolate chip cookies. Participants learn about proper cooking hygiene, measuring, kitchen safety, and fun facts about cooking. After all is said and done, there are cookies to eat!
Congratulations to Lydia Griffin for knowing the answer and being the lucky recipient of this week's pin!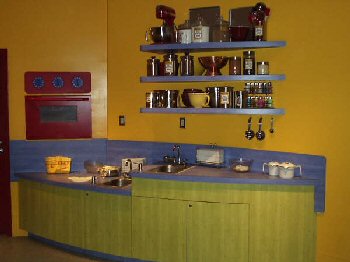 ---
Published on: Feb 13, 2006
Was your imagination running wild over our last "Lost in the World" picture? If not then you have probably been racing through the entrance of Journey Into Your Imagination! This fun filled slow moving ride tests not only your vision, hearing and smell, but also lets your imagination run wild thanks to Figment. No, not that figment, but the loveable winged purple dragon Figment who turns the ride upside down, literally, when he takes over a supposedly logical attraction. Kids and adults alike are taken with this ride and enjoy the Imagination Labs that follow. Make sure to spend some time bouncing, waving your arms and imagining. You can even send an electronic postcard to your best friend back home for free!
Congratulations to PNO4TE for being imaginative enough to know where our photographer was lost last time and being the lucky recipient of a Disney trading pin for really using some imagination!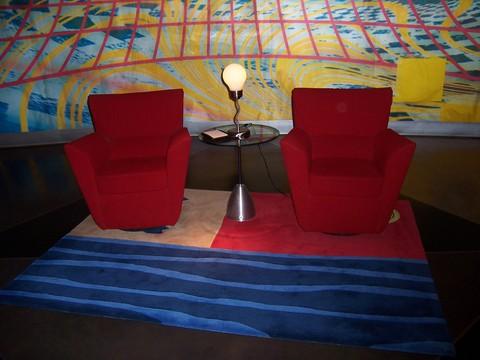 ---
Published on: Jan 30, 2006
Did you take a high flying guess at our last Lost picture or were you right back on track with where you were? In our last issue we gave you a glimpse of part of the track of the newest Disney World attraction Expedition Everest at Animal Kingdom. This rickety ride and escape from a Yeti will make Big Thunder Mountain Railroad seem like a kiddy ride! But never fear, after turns, climbs and plunges you will still arrive safely back at Animal Kingdom with your heart racing and screaming "Let's do that again!" Check the Magically Speaking archives for Erica's wonderful account of her Everest experience! Oh, and if you were wondering where you went from that point? The answer is backwards!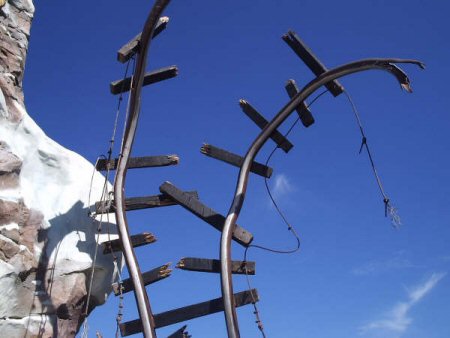 ---
Published on: Jan 16, 2006
Did you know where to go with last week's picture? Probably, but did you know where you were when you saw it? If you have had the fortunate experience of dining with the Big Cheese himself, then you will have known that you were in Chef Mickey's. Chef Mickey's is a character dining experience located at the Contemporary resort. Arriving via monorail is a must for any meal at the Contemporary, but especially dandy if you happen to have reservations with Mickey, Minnie, Chip, Dale, and Goofy. This all you can eat buffet meal is a favorite of many guests and if you happen to be celebrating a special day, make sure to mention it when making your dining reservations. Laminated placemats, a celebration cupcake and extra attention from the characters are a given if it is your special day. Be careful, you may even get a kiss from Minnie!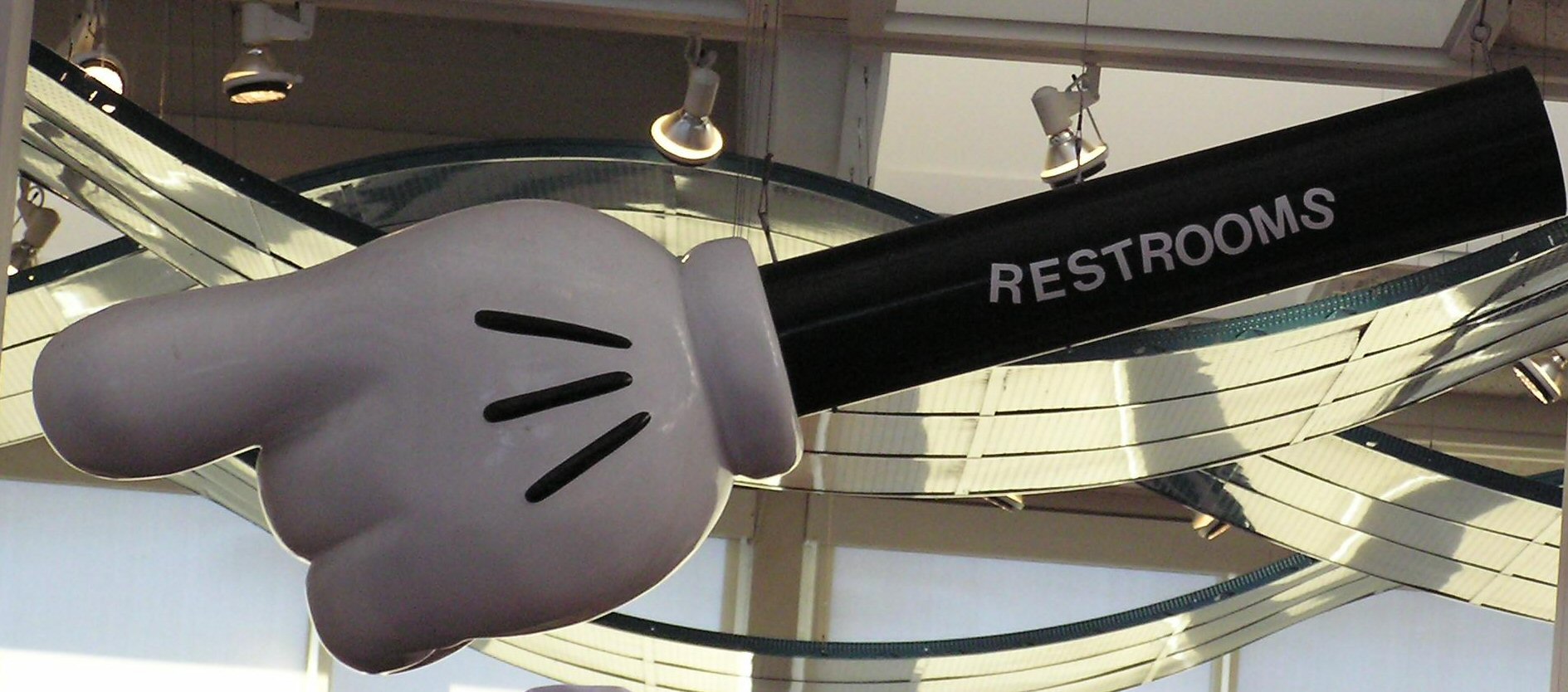 ---
Published on: Jan 2, 2006
Were you singing with glee when you saw last issue's picture or did it meet you with a sour note? If you have been to Epcot and gotten a chance to see the pre-show to the American Adventure, then you most likely knew right away that the last place our Lost Photographer was located was a performance of The Voices of Liberty. This small choir or 8-10 singers dressed in period costume from the Revolutionary War delights guests throughout the day greeting them prior to showings of The American Adventure. The rotunda of this building has beautiful acoustics and carries their a capella voices delightfully into the rafters. Whether you are on the floor or upstairs in the gallery, you are in for a treat. Make sure to include a performance into your next Epcot plans!
Congratulations ring out to Becki Bishop for knowing the correct answer and winning a pin!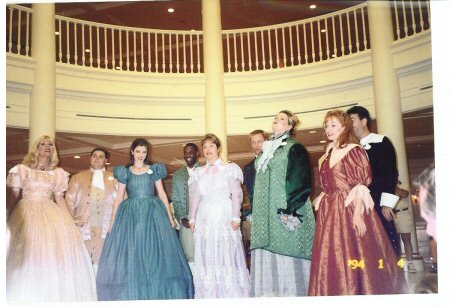 Similar Posts: