Published on: Dec 19, 2005
Did this picture ring a bell for you? If you are a citizen of the United States you should have at least recognized this cracked symbol of our freedom. No; this wasn't a trick and our photographer wasn't that lost. The real Liberty Bell still hangs in Philadelphia. This one is found in Liberty Square at the Magic Kingdom. The reason that it looks so much like the real one is really quite simple. This bell was cast from a mold that was made from the actual Liberty Bell, crack and all. Did you know that the Liberty Bell cracked on its first use and was repaired but cracked again? They decided that there was obviously a flaw somewhere in the bell and decided that patching it would be the best thing to do as the only other option was to melt it down and recast it. The Liberty Bell is just one of the many educational opportunities that you will run into at Disney.
And congratulations to Moe Palmer for knowing the correct answer and winning the random pin drawing.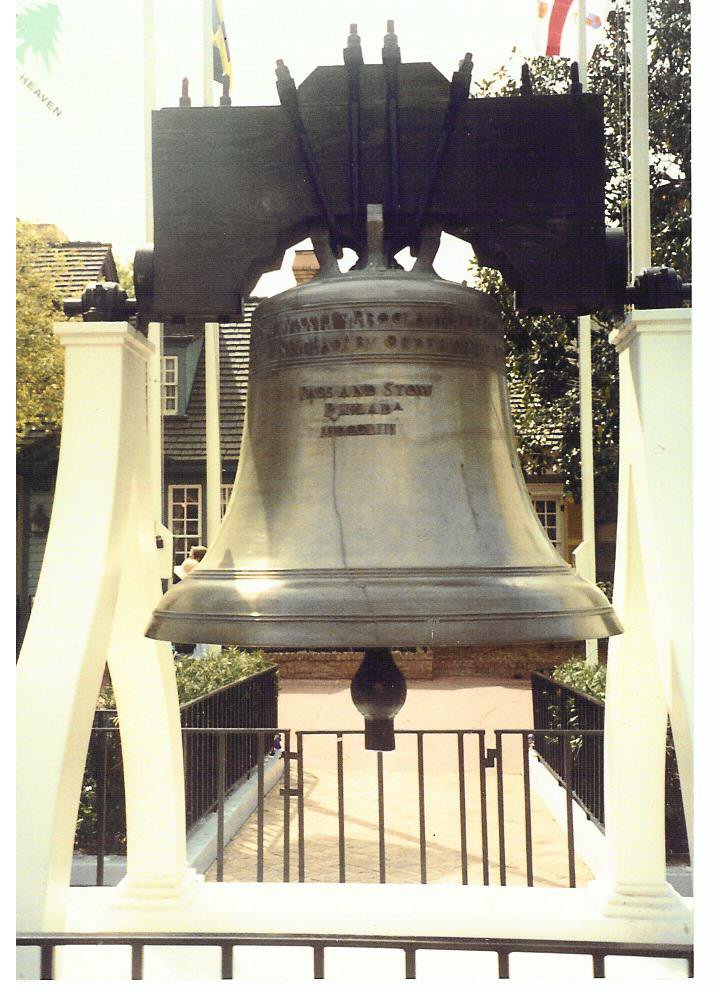 ---
Published on: Dec 5, 2005
No one can call you bird- brained if you didn't answer this correctly! And Anne & Howard are surely our Wise Old Owls this week for being our lucky winners. For those of you that were a tad puzzled, don't feel bad. You probably just have never taken the time to see Flights of Wonder at Animal Kingdom. This is a large nature amphitheater that has the ruins of an old Asian castle on the stage. Here birds come hopping, fluttering and flying out of nooks and crannies performing exciting displays of bird talent. They've even been known to fly so close over the top of the audience that they have grazed guests' heads with their feet! While this show is very entertaining, it is also educational. Children and adults alike will be thrilled at meeting many of Animal Kingdom's birds, including an American Bald Eagle. Be sure to have your camera ready as the birds have been known to be very photogenic.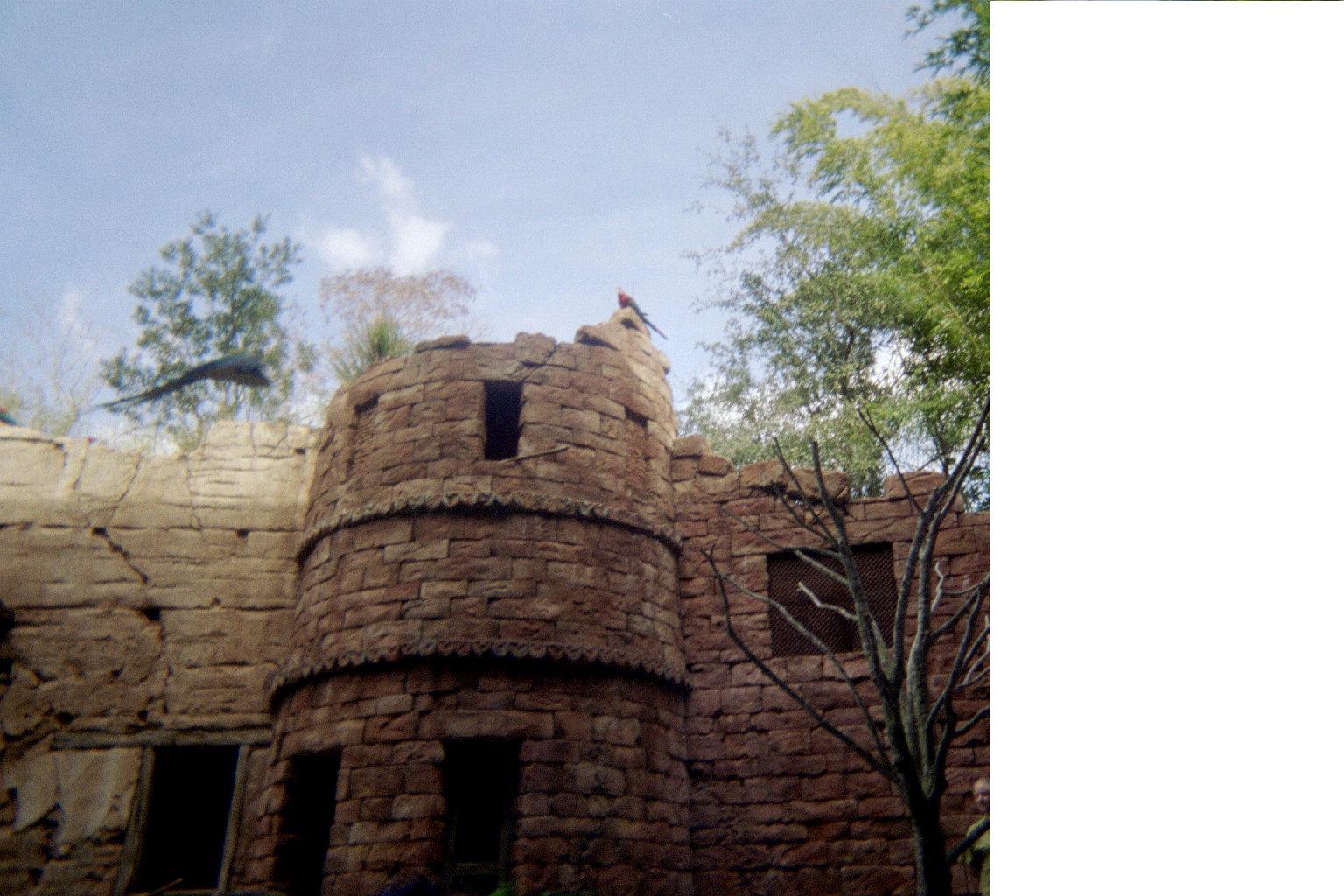 ---
Published on: Nov 21, 2005
Raise your glasses high if you knew that our last Lost photo was a picture of the Boardwalk. Raise them even higher if you knew that it was taken from a ferry boat leading from Epcot! Disney's Boardwalk has that reminiscent feeling of Coney Island, Atlantic City or old Miami. A beautiful water view with stores, restaurants and bars lined up along the planked walkway. Guests can easily get to the Boardwalk through Disney transportation buses, a ferry boat from either Epcot, MGM Studios or from one of the Lagoon resorts. If boating isn't your thing, the International Gateway to Epcot is not that far away. Enjoy delicious foods like burgers and ice cream, Italian food, and even steaks. Some of the shops that you will find along the Boardwalk include Wyland Galleries featuring the artwork of Michael Wyland and Thimbles and Threads. Nightclubs include JellyRolls, Atlantic Dance and the ESPN Club. While this is part of the Boardwalk resort, the Boardwalk is open to all Disney guests.
And congratulations to Anna Whitaker for knowing the answer and winning the pin this issue!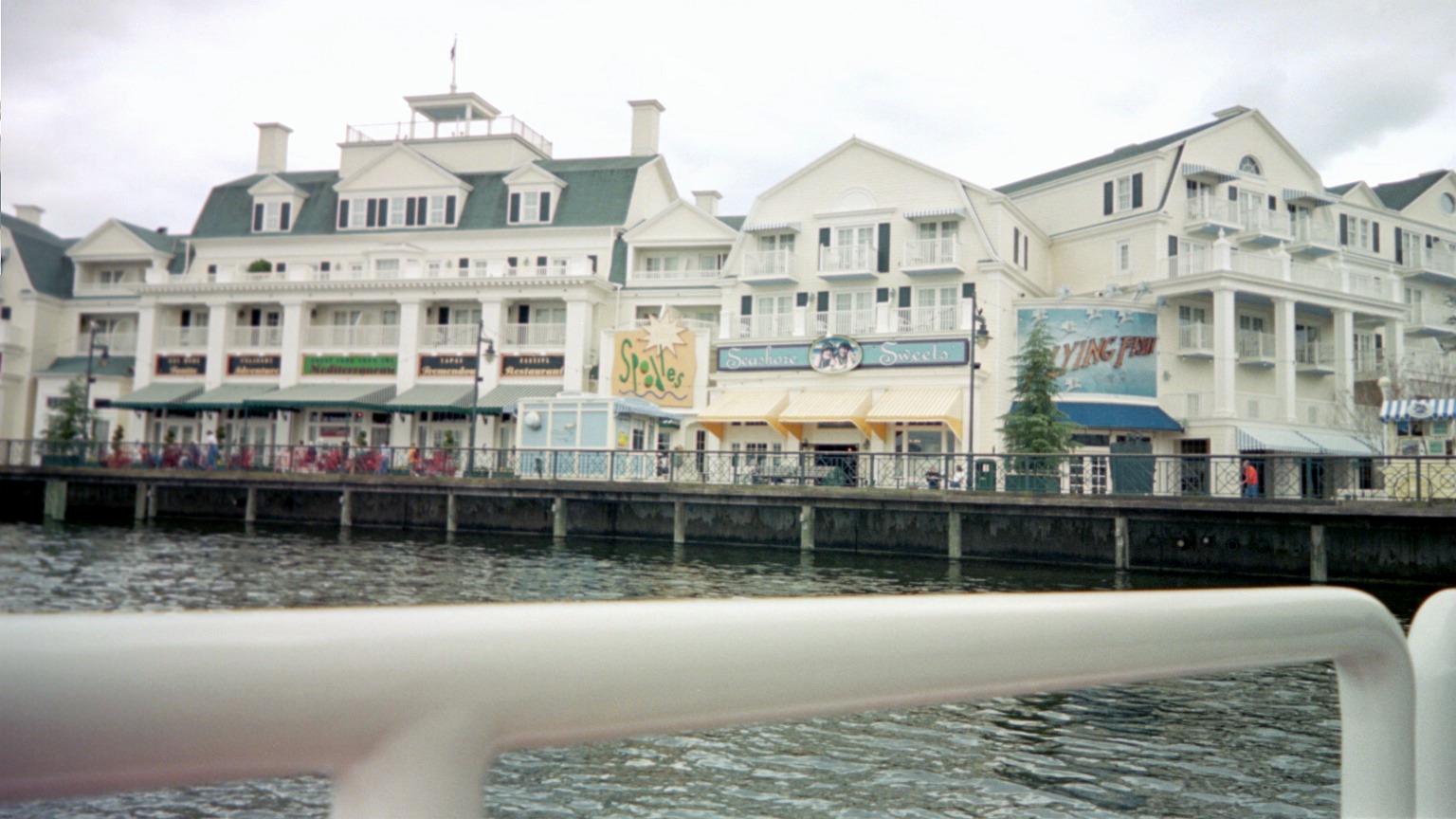 ---
Published on: Nov 7, 2005
I was all a"buzz" to find out how many people got the last Lost in the World picture correct. Kelly in MD gets the Mr. Potato Head award (and a pin!) for correctly identifying that this gigantic Buzz Lightyear resides in Andy's Room. No, no, no! Not the Andy's room from the movie Toy Story, but Andy's Room, an oversized playground at Disney World's All Star Movies Resort. Here you will find enormous checkers, a bigger than life Bo Peep, a tyrannically sized Rex, and, of course, Buzz Lightyear of Star Command! This is a perfect place to get some great photo opportunities while your kids pose beside some of their favorite toys! We've heard rumor though that late at night after Pleasure Island has closed that the toys really do come to life (wink wink). The Value Resorts are a great option for families on a budget or for those that don't want to spend a lot on their hotel room. They offer the three S's: sleep, shower, swim, while still giving you the Disney touch and access to Disney transportation.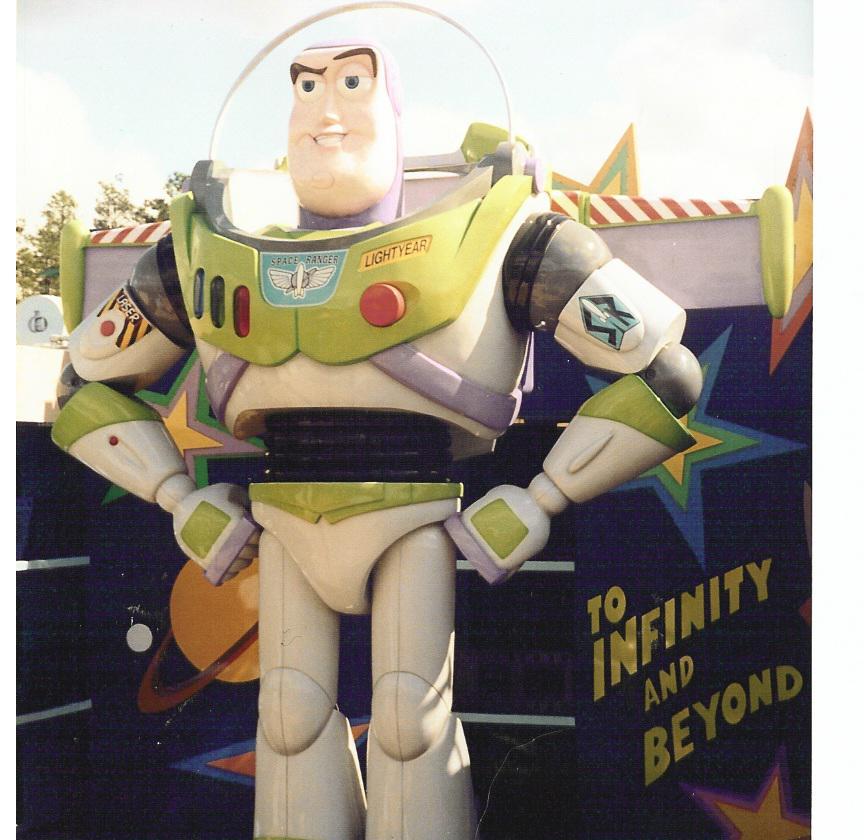 ---
Published on: Oct 24, 2005
"I know you, I've walked with you once upon a dream!" Ah, the strains of Sleeping Beauty's waltz. That's what you should have been humming after reading last week's "Lost in the World." Because Sleeping Beauty was the answer to who slept in the castle in the picture. Disney has different castles in its five theme parks. The Magic Kingdom at Disney World and Tokyo Disney each house Cinderella's castle. Disneyland Paris, Disney Hong Kong and Disneyland in California all play host to Sleeping Beauty's Castles. While each is unique, Disney chose these two princesses to be represented at their parks. Each park can be identified solely on its castle as each one is styled differently from the other castles. Don't believe me? Then take a world tour and see for yourself. Although, don't be surprised if you don't recognize some of the castles as they are being decked out in honor of The Happiest Celebration on Earth!
And congratulations to Jill Gates for being the correct answer drawn for last entries.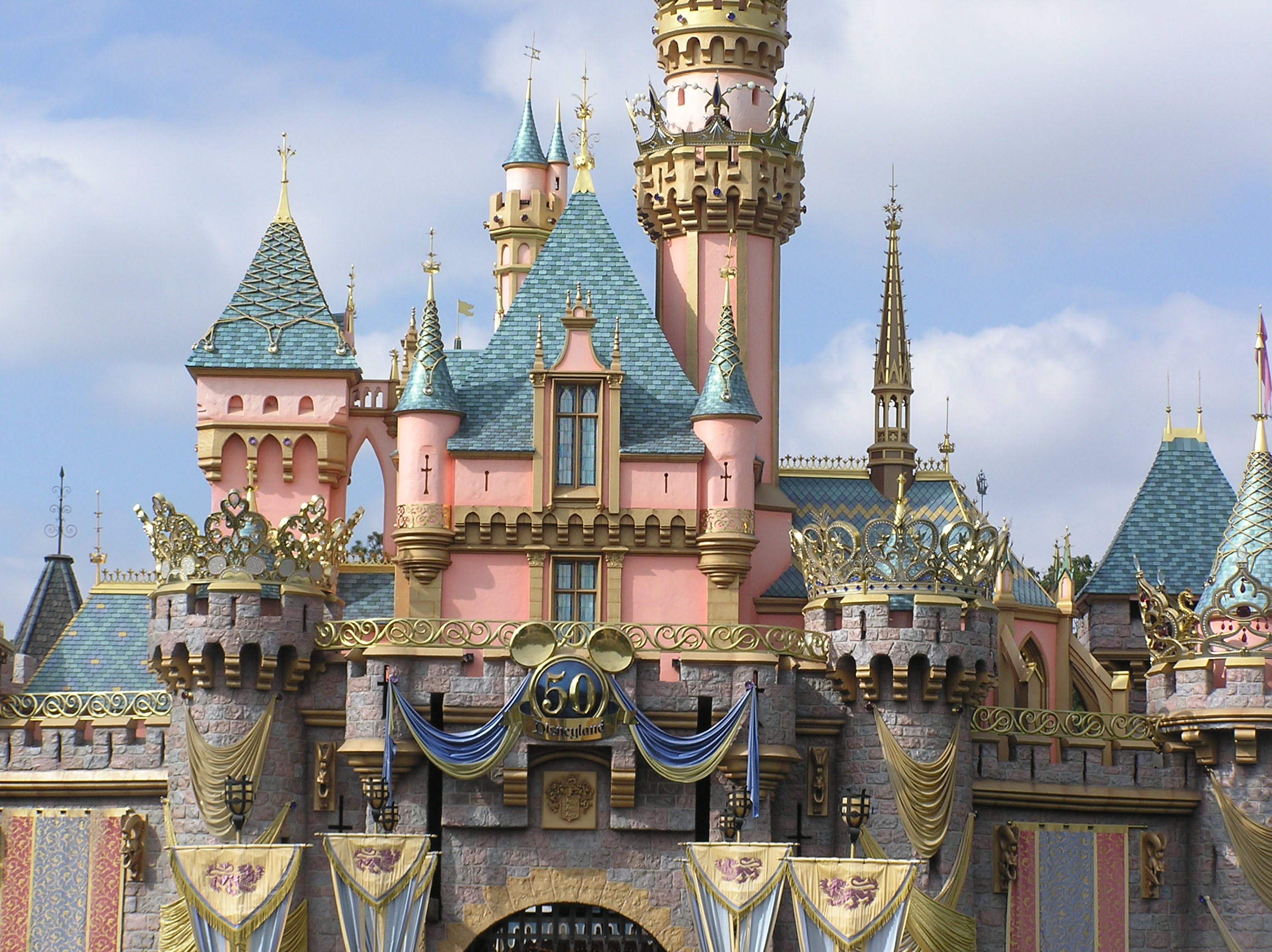 ---
Published on: Oct 10, 2005
If you recognized last issue's picture, you obviously didn't volunteer to stay with the 999 happy haunts at Disney World's Haunted Mansion. Yes; that's right, this horse drawn hearse is an actual 19th century artifact that can be found in Florida. At Disneyland in California, there are rumors that circulate that the white hearse outside its Haunted Mansion in New Orleans Square actually carried Brigham Young to his grave, but the clever team at Magically Speaking can find no evidence supporting this rumor. In fact a spokesman for the Church of Latter Day Saints has stated several times that there was in fact no hearse that carried Brigham Young to his funeral. But the real question that we all have is, "Just what is pulling the hearse?" (Enter your favorite Haunted Mansion cackle here.)
Congratulations to Michelle Wilson for knowing the correct answer and winning the random pin drawing.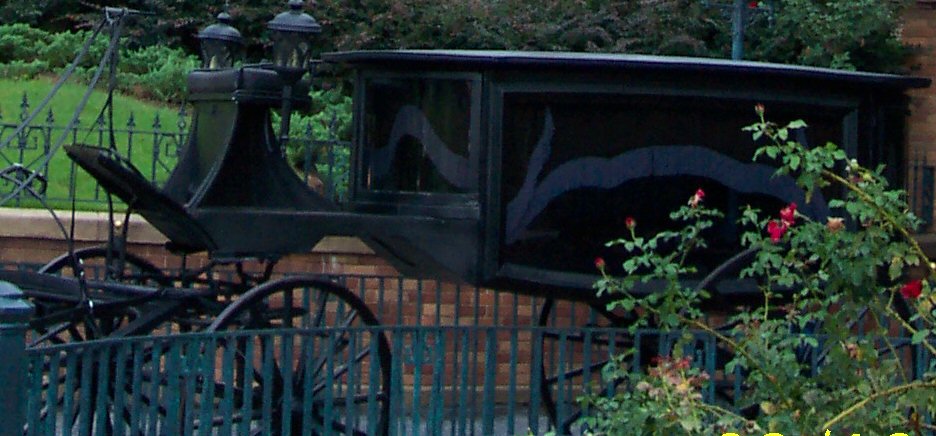 ---
Published on: Sep 26, 2005
How many of you are Hidden Mickey fans? How many of you have kids that dig for dinosaur bones? If so, then the "lost" picture in the last issue should have been a snap! For those of you who aren't into Hidden Mickeys or who don't have children who dig for dinosaur bones, last week's picture was located inside the Boneyard in Dinoland, USA at Animal Kingdom. This energetic play place is a great place to let kids run off stored energy from standing in lines and a cool place for mom and dad to take a break for a bit. Aside from a giant pit filled with actual dinosaur bone castings that kids of all ages can help "excavate," there is a huge tangle of ladders, tubes, slides and climbable rocks just waiting for kids to explore. And if you are looking you can spot a few more Hidden Mickeys through this giant jungle gym!
Congratulations to Gail Johnson for knowing the correct answer and winning the random pin drawing.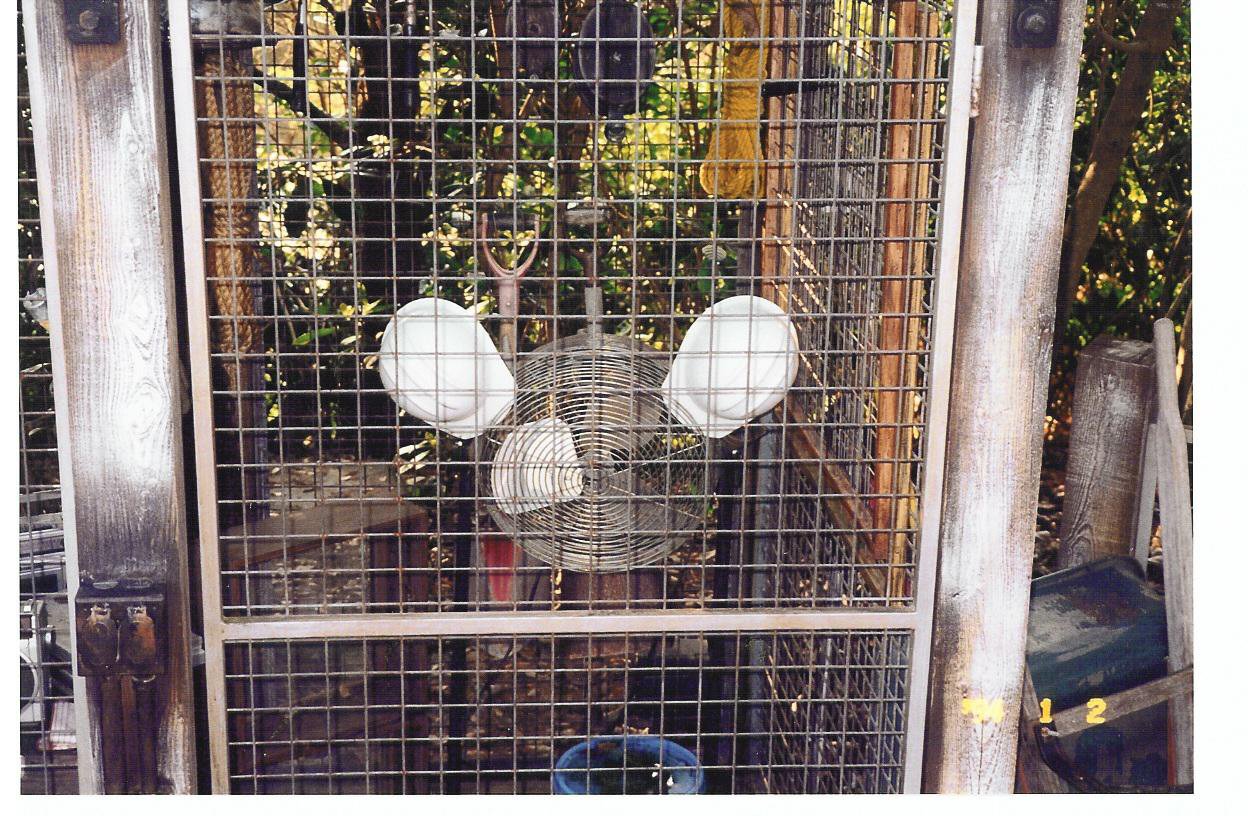 ---
Published on: Sep 12, 2005
We weren't monkeying around with you in our last issue. Really. The location was at Disney World. In fact it was at Animal Kingdom. The "Monkey Ruins" is one of those other delightful touches that Disney has thrown into the middle of their theme parks to make it more than just another theme park. This "invisible boundary" natural habitat houses a family of Gibbon monkeys. Extremely playful and very social, this troop can send you into fits of giggles as you watch them fly and swing all through their ruined temples. This feature is located conveniently at the end of the Maharajah Jungle Trek. It is a great place to meet up with family members who may have gone on Kali River Rapids without you or just a place to rest and eat an ice cream before watching Flights of Wonder.
Congratulations to Jan Hoelscher for knowing the correct answer and winning the random pin drawing.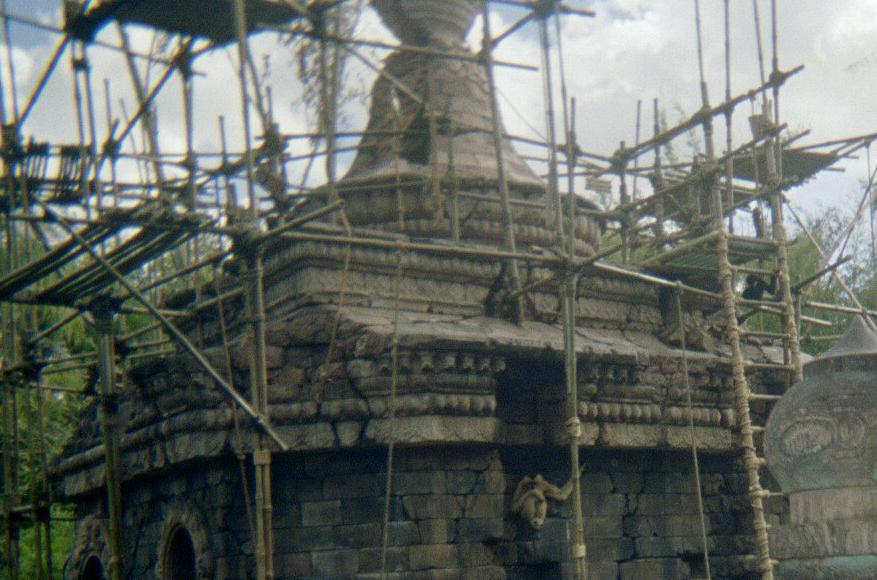 ---
Published on: Aug 29, 2005
You should have easily recognized Epcot's most famous building. "It's the BIG BALL, mama!!" can be heard all through the entrance of Future World by little kids. Some may have an intense desire to go play a round of golf after seeing it. Yes; our photo last issue was taken of Spaceship Earth.
Many people are surprised to find that there is actually a ride inside Spaceship Earth. "This slow moving journey back through time" will take you slowly up, up, up around the inside of the ball showing you the development and progress of communication while the soothing voice of Jeremy Irons shares not only the history of how we learned to communicate, but, as we descend back to the ground, where communication is going in the future. From the advent of Egyptian papyrus to the engineering of data communication devices, we are shown how resourceful mankind has been and continues to be to effectively communicate with each other.
We are happy to announce that HDRONZ was one of our 34 correct responses. Congratulations!
For all of those who were guessing, this picture was taken off to the side of the Imagination Pavillion.
Newsletter Picture Full Picture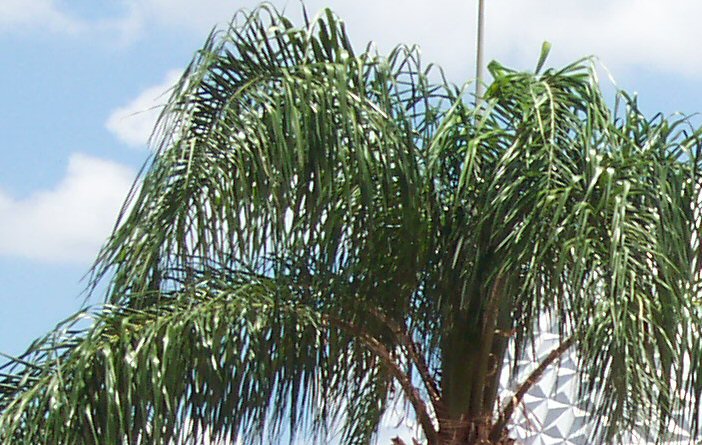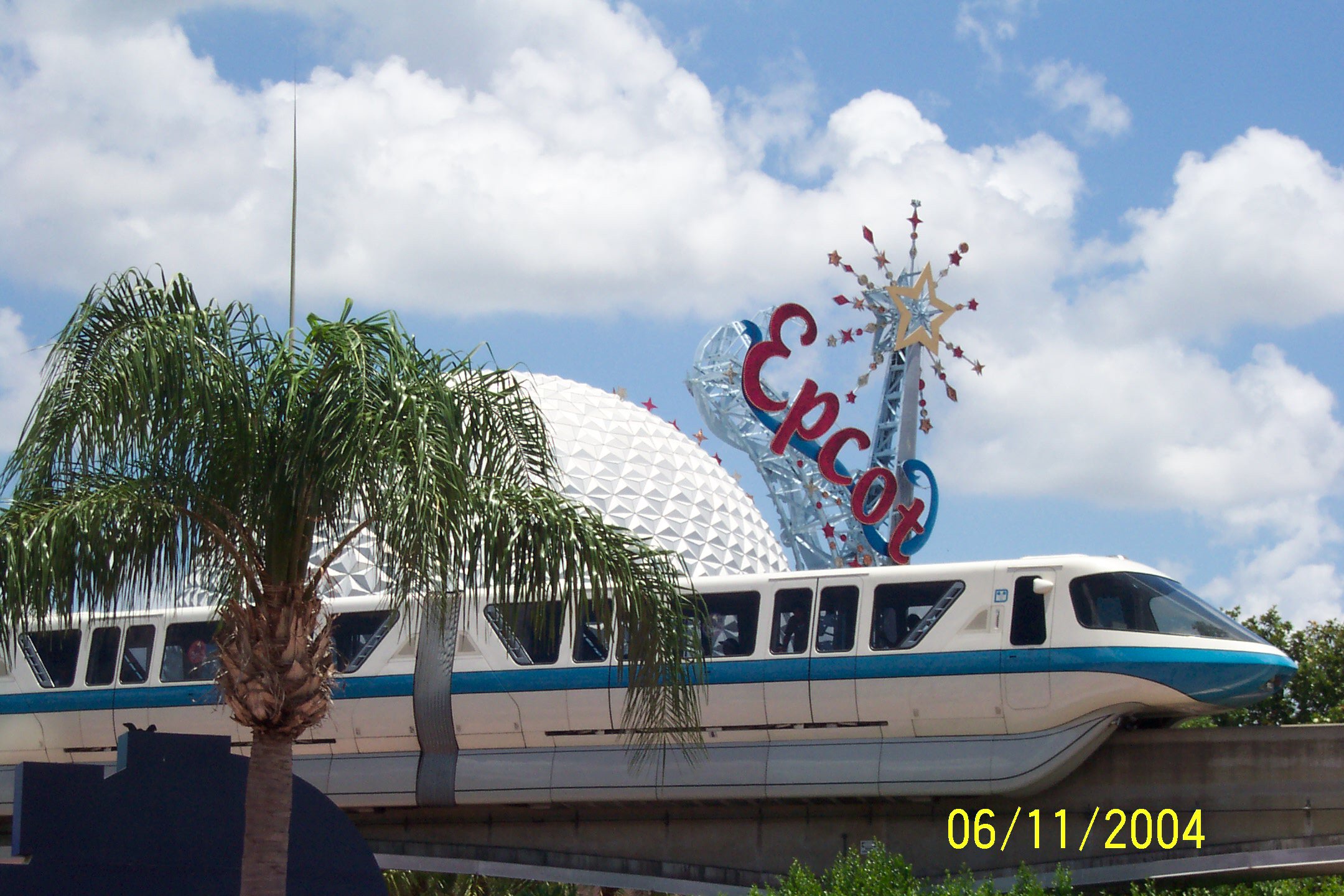 ---
Published on: Aug 15, 2005
How many of you didn't get this picture? Hmm? I shouldn't see any hands at all because you all got it right (and Linda Norton won the pin drawing)!! In fact having said that even those of you that didn't see last week's picture should know, just from reading this, that it was a picture of the castle at Magic Kingdom. As the centerpiece of Magic Kingdom, the spires of Cinderella's Castle stand tall welcoming guests to the Happiest Place on Earth! While normally blue and grey with white spires and waving flags, Cinderella's Castle has also been made up like a birthday cake covered in sweets and is currently bedecked in gold ornaments to celebrate Disneyland's 50th anniversary! While there is no ride at this location, the castle does house stage shows that change with the seasons and events. Located upstairs is Cinderella's Royal Table, a grand dining location that presents a princess breakfast each morning and elegant dining in the evenings. (Reservations are not only recommended they are almost always required, especially for breakfast!) Aside from taking pictures of the castle's beautiful outside, take time to walk through the archway to see the gorgeous Italian mosaic that plays out the Cinderella story in itty bitty pieces of cut glass and ceramic tiles. But don't try to add to the mosaic with your gum. Cameras are set up in the archway and the mosaics are constantly monitored.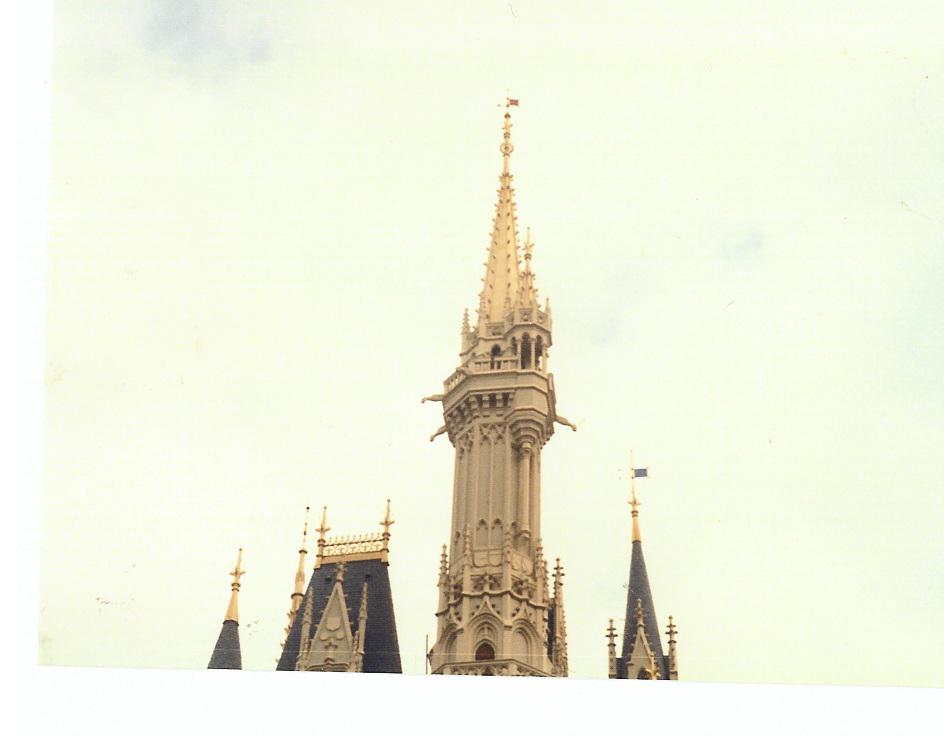 ---
Published on: Aug 1, 2005
OK, all of you that said that last week's picture was taken at Animal Kingdom Lodge need another ride on the Safari. Yep, that lovely giraffe's mug was snapped along Kilimanjaro Safaris at Animal Kingdom and Michelle Robinson wasn't tricked this week. While AKL does indeed have giraffe's on their savannahs, this giraffe resides at Animal Kingdom. Kilimanjaro Safaris is a lovely 20 minute ride through Animal Kingdom's grasslands, kopjes, watering holes and craters while viewing animals such as hippos, elephants, zebra, giraffes and the cute little Thompson's Gazelles (which you will find out are called Tommies!) This is the most popular attraction at AK and Fast Passes help avoid long lines during peak seasons when waits can be over an hour. Delays are common on this attraction as sometimes the black rhino likes to stand in the middle of the road and do a bit of people watching.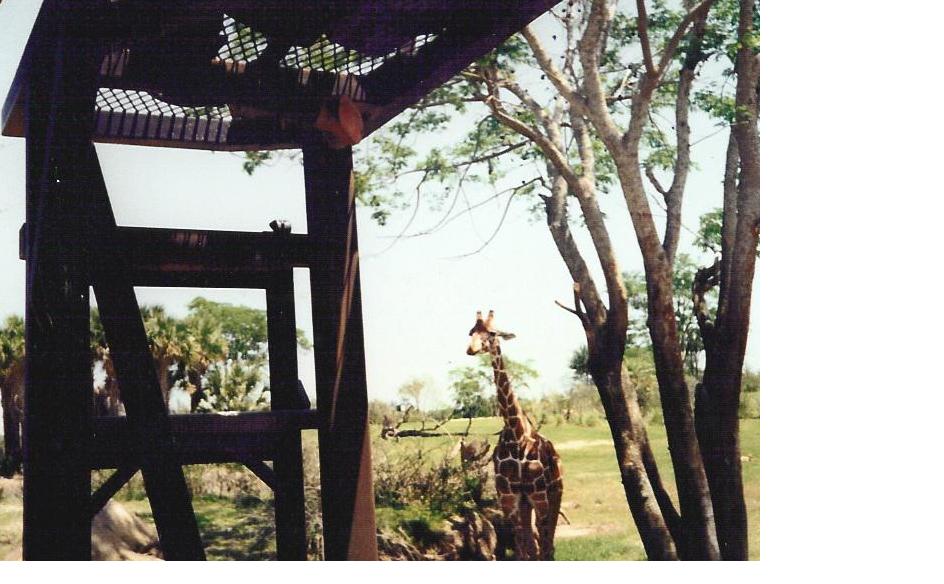 ---
Published on: Jul 18, 2005
I have it under good authority that some of you actually got the hint that we provided for our last Lost in the World contest. And Michelle Price was the lucky correct entrant who won a trading pin! Congratulations!
So where was our photographer last lost? At the Grand Floridian, of course! This life size gingerbread house is covered in nothing but gingerbread. From the shingles to the siding to all the decorations, gingerbread and icing are brought together by the Disney Grand Floridian bakers to create this delicious-looking masterpiece. And while Disney doesn't want you taking a bite out of the house, it is edible. Fortunately, they also package extra shingles and decorations for purchase in the back of the gingerbread house. It is a truly wonderful treat to grab a few pieces of gingerbread before sitting down to tea in the afternoon. The beautifully decorated ornaments can be eaten or saved to go on your tree at home!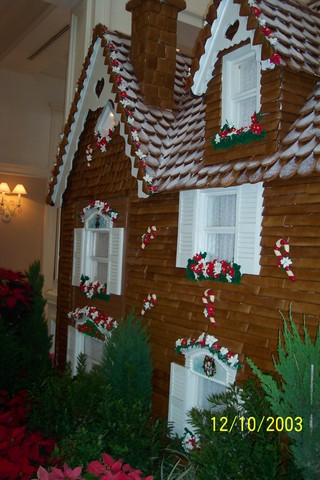 ---
Published on: Jul 4, 2005
Alrighty then! Everyone who said that last issue's picture was from It's a Small World raise your hand. Now everyone who said it was from Disney World, look a little bit closer. We did give you a really big hint (it was the Disneyland issue)! If you looked close at the picture, you could see the sky, too. The correct answer, of course, was that it was It's a Small World from DisneyLAND! This cute attraction with the catchy tune was first shown at the 1964 World's Fair in New York. The ride was a benefit with the Pepsi-Cola Company for UNICEF. It was one of the original attractions that was operational opening day at DisneyLand. As a slow-moving boat gently glides you through various lands, tiny animatronic dolls dressed in culturally specific clothing sing to you in several different languages. This is an attraction that delights guests of all ages!
In honor of the 50th Anniversary, our 50th entry was the winner. Congratulations to Kris in Hawaii!
---
Published on: Jun 20, 2005
It seems as though only 19 people who fly into Orlando on their WDW vacations are aware of more than just getting their luggage and heading to the World. That's how many correct answers we received to our last Lost in the World Challenge and Susan Albert was our lucky contestant who will receive a Disney Trading Pin for being the one drawn from the correct entries. Yes; this was sort of a trick because this picture wasn't even from a Disney park! Orlando airport (or MCO as it is commonly called) houses a Disney Store so that you can get some Disney shopping done before you hit the parks or pick up something that you may have forgotten before boarding on your return flight. We apologize to all the folks who drive and have never been graced with Snow White's presence at the Airport!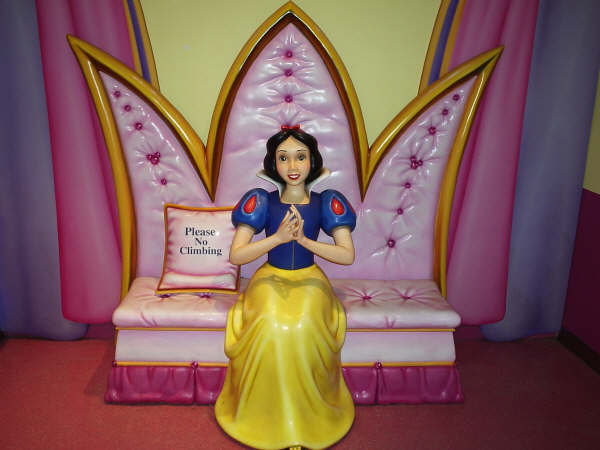 ---
Published on: Jun 6, 2005
Were you blown away by last issue's "Lost in the World" or did you know exactly where that picture was taken? Kurt Miller knew where it was, but only one other reader submitted a correct entry. That sneaky picture was from a table top at the Studios 50's Prime Time Cafe. This fun dining location features "aunts" and "uncles" who make you clean your plate and keep your elbows off the tables. This is genuine American mid-twentieth century cuisine including onion rings, chicken soup, pot roast and meatloaf. Vegetarians will find themselves not forgotten with a delicious vegetarian stuffed green pepper! All in all this is a fun restaurant and a great place to get out of the Florida sun for a while!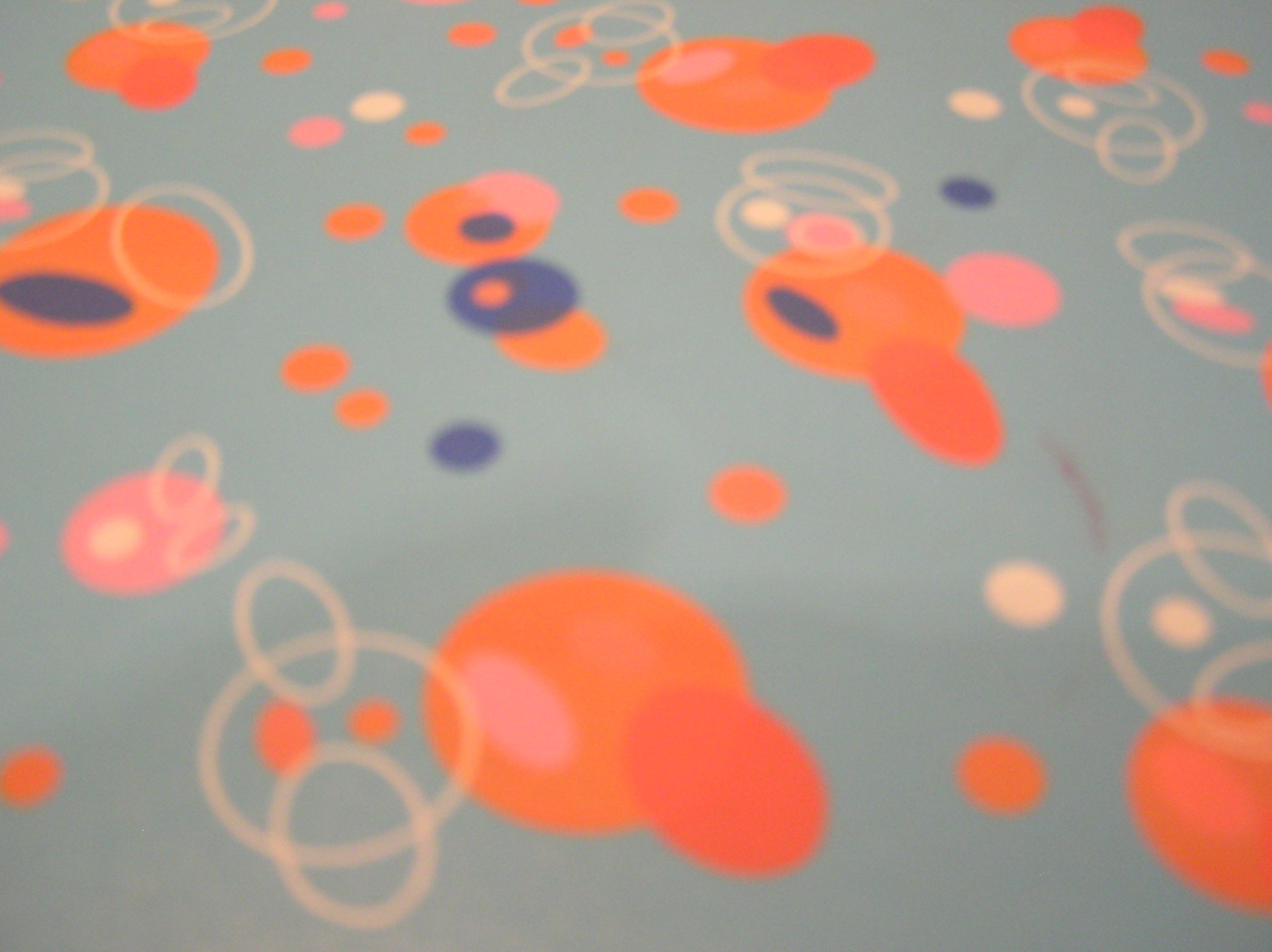 ---
Published on: May 23, 2005
So were you able to help find our ever lost photographer last issue? Phyllis Wirick knew where the photo was taken! Those colorful lizards climbing the walls were located in one of the dining areas at Pizzafari at Animal Kingdom. Pizzafari offers a variety of salads, sandwiches and, as its name suggests, pizzas. This is one of the dining locations available with the Animal Kingdom Meal Plus Certificates. Check out the full menu on our website.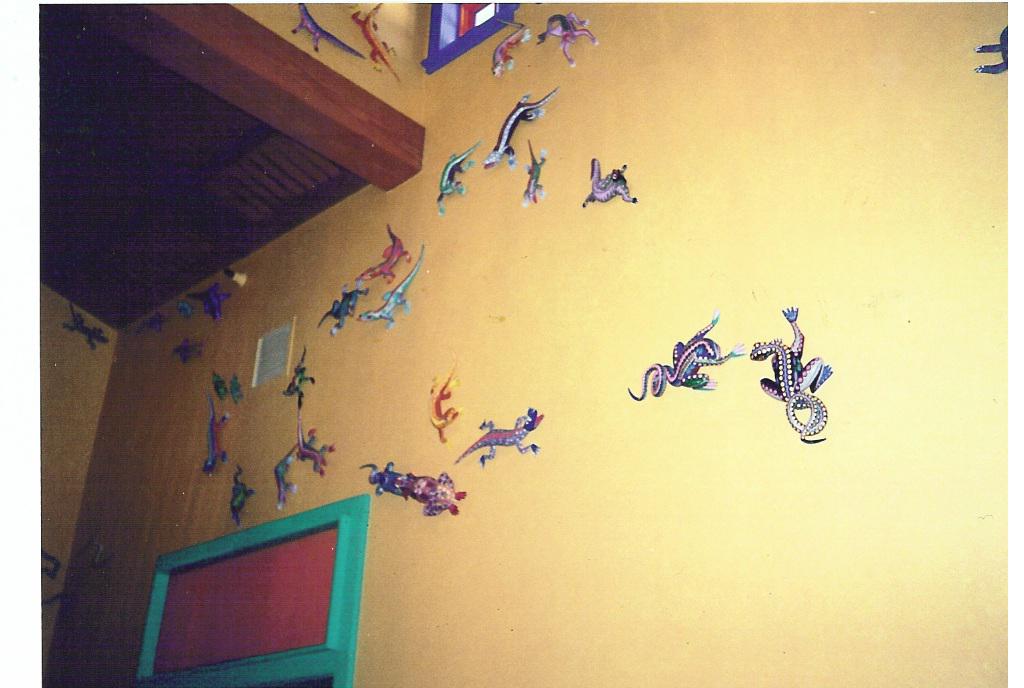 ---
Published on: May 9, 2005
Surprisingly, there were quite a few people who didn't know where that Hidden Mickey was! Marie Lemmon was one of those that did know and won a Disney pin. That particular Hidden Mickey isn't all that hidden. You will find it at Mouse Gear at Epcot! It's behind one of the main cash registers! Mouse Gear is a wonderful treasure trove of souvenir finds at Epcot. You can find everything from shirts to coffee mugs from toys to pins and even CD's of your favorite park music.
---
Published on: Apr 28, 2005
So did you figure out where last week's picture was taken? It seems as though it was a real toughie as many people thought that it was at the Mexican Pavillion at Epcot. Anne Lisle, though figured out that it was at MGM. In fact it was at Keystone Clothiers at the Studios to be exact. Look at the expanded picture and see if you do a V-8 slap! Keystone Clothiers is one of the many shops within Disney MGM Studios where you can find a shopper's delight. Most of the clothes are more upscale business casual clothing, but look closely to see that these aren't your average polo shirts, neckties and socks! Studios offers a plethora of shopping experiences from household goods to hand dipped candy apples (just make sure you know which side to bite from!)
Picture from the Newsletter
Expanded Picture: Now do you recognize it?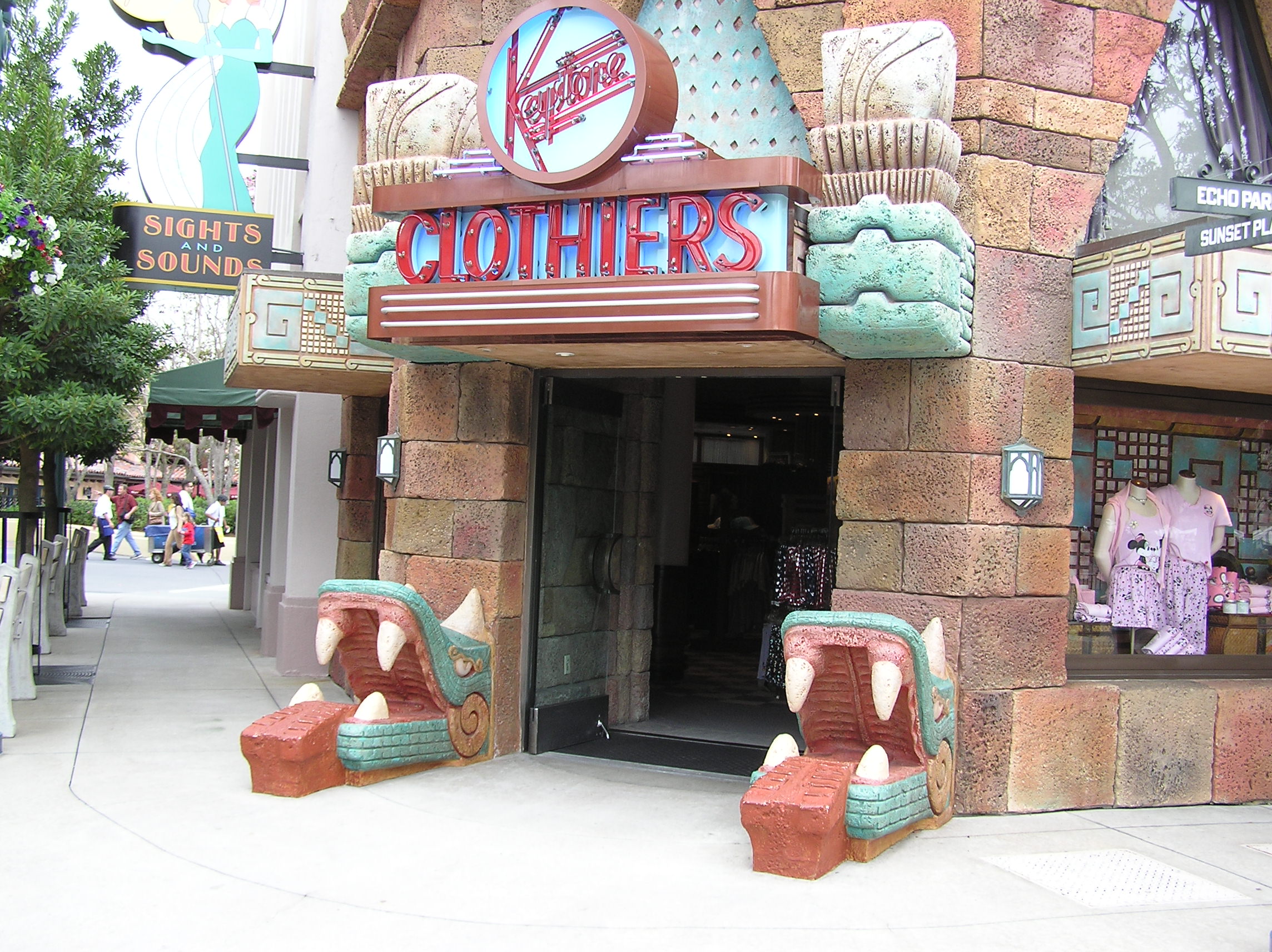 ---
Published on: Apr 11, 2005
Did you think that last week's answer was too easy? We had 50 entrants who thought that they knew, and Elise M. was the lucky one from correct entries whose name was drawn to win a Seven Dwarfs pin. So where was last week's picture? It was in Epcot outside of the Living Seas. There you will find a lovely display of Nemo, Marlin, Dory and the Tank Gang waiting for you to have your picture taken with them!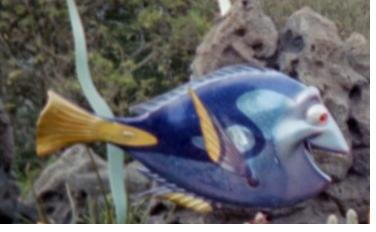 ---
Published on: Mar 28, 2005
Congratulations to Mary W., who knew the correct location and was randomly selected to . It was in the lobby of Crystal Palace in Magic Kingdom. This beautifully dining location is where you can meet the 100 Acre Woods friends, Pooh, Tigger, Piglet, and Eeyore. Character buffet meals are available for breakfast, lunch and dinner and Priority Seating is advised. Mary W. wins an Ariel pin donated by one of our ImaginEARs.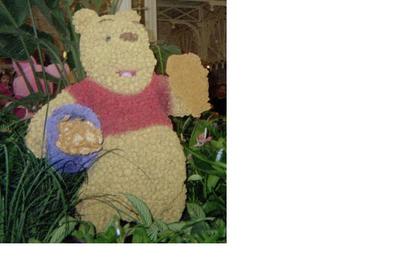 ---
Published on: Mar 14, 2005
Congratulations to Moe P. who was randomly selected from the correct entries. The photo was taken in Animal Kingdom. Specifically it was a lamp post from within the dining area of Flame Tree Barbeque. Flame Tree is one of the dining locations available with the Animal Kingdom Meal Plus Certificates. This beautiful dining area is made up of several different eating pagodas set amongst lush vegetation and trickling streams. Each pagoda is themed after an animal. Be it anteaters, alligators, or owls and rabbits, each provides a shaded and fairly quiet moment to enjoy the ribs, and barbeque sandwiches that this dining establishment is known for.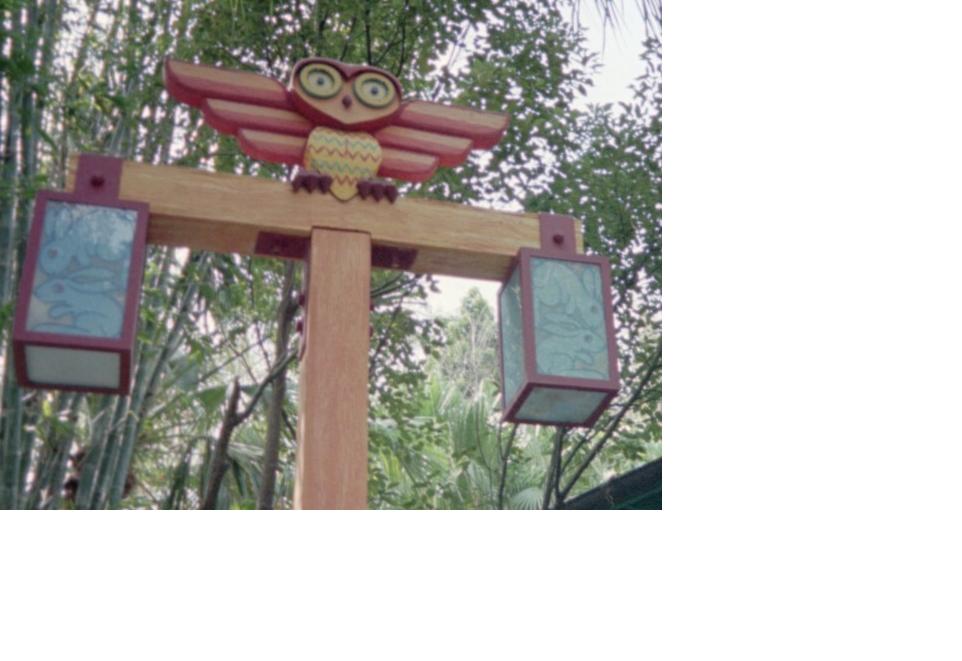 Similar Posts: