Sacred Valley, Machu Picchu, Cusco & Lima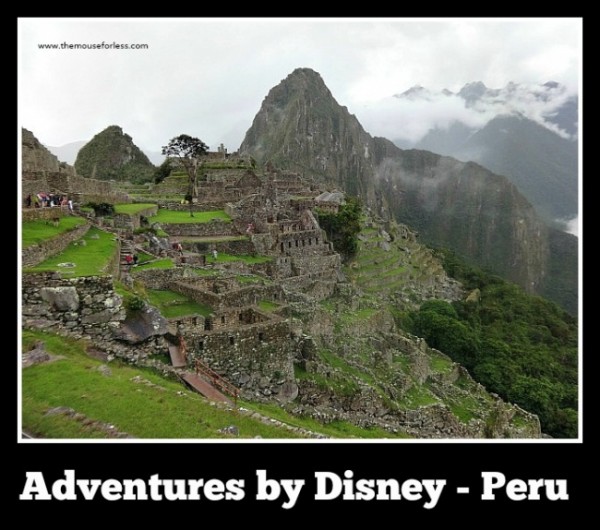 Highlights    Dates    Rates    Accommodations, Meals & More
Let an expert assist in planning your Adventures by Disney vacation. The
The Magic For Less Travel
, an Authorized Disney Vacation Planner, offer complimentary concierge planning services. In addition,
The Magic For Less Travel
is offering an exclusive Adventures by Disney promotion that can help you save up to 5% of the of your Adventures by Disney vacation.

Adventures by Disney Peru Trip Highlights
Pachamanca Feast and Inca Dancing
Enjoy a traditional Andean feast known as Pachamanca. Learn the history behind this event, then watch Teatro Sol y Luna perform the dances and stories of the Incas.
Urubama River Rafting
Hold onto your hat as you raft down the Urubamba River. Local experts describe the fascinating cultural and natural history as you glide along this scenic route.
Moray and Maras
Take the ancient Incan path into these ancient ruins and venture into the Sacred Valley as you visit the fascinating salt pan terraces.
Privately Guided Machu Picchu Tour
Spend the afternoon exploring these 15th-century Incan ruins and stunning views of the magnificent structures surrounded by green peaks glazed by a soft mist.
Peruvian Weavings
At the Center for Traditional Textiles in Cusco, master weavers demonstrate their intricate art, as well as how to spin and dye alpaca wool.
Adventures by Disney Peru Departure Dates
This itinerary offers Summer departures and Adult Exclusive dates.
2017
June 7-Jun3 15, 2017 (Special Pricing)
June 18-June 26, 2017 (Special Pricing)
June 29-July 7, 2017 (Special Pricing)
July 9-July 17, 2017
July 20-July 28, 2017
July 30-August 7, 2017
August 9-August 17, 2017 (Special Pricing)
September 23-October 1, 2017 (Special Pricing, Adult Exclusive)
October 7-October 15, 2017 (Special Pricing, Adult Exclusive)
December 20-December 28, 2017
December 24, 2017 – January 1, 2018
Adventures by Disney Peru Rates
2017 Rates
Adult: starts at $4,699 per person
Child: starts at $4,469 per person
PRICES ARE BASED ON DOUBLE OCCUPANCY. AIRFARE TO AND FROM DESTINATION IS NOT INCLUDED IN LAND PACKAGE PRICES.
Adventures by Disney Peru Accommodations, Meals & More
Accommodations
The Westin Lima Hotel
Sol y Luna Lodge and Spa
Libertador Palacio del Inka Hotel Cusco
Meals Included
8 Breakfasts, 6 Lunches, 5 Dinners
Airports
Arrive: LIM (Lima)
Return: LIM (Lima)
2 Internal Flights Included
Ages
Minimum Age: 4
Recommended Age: 8+
Information subject to change.